As I am sitting in my office typing this up in live time, I can see the sun coming down on the front half of my neighborhood from the window. Hallelujah! The weather didn't get as bad here yesterday as they predicted, but it still was an ugly day full of uncertainty.
We have slowed down a little at work, so I am hoping to take advantage of some time outside today with Zoe. But also, the state of the real estate market is a huge question mark right now and it makes me uneasy.
I have seen so many people post the Hell Zone twitter post this week. Here it is if you don't know what I am talking about…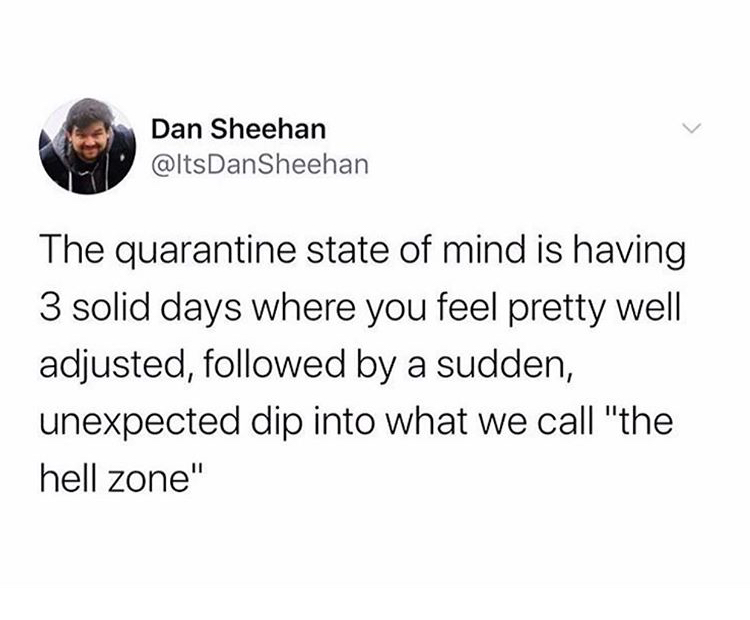 I have to say, I feel like I dip in and out of hell zone. Anyone else?
I have been taking my aggression out on our kitchen floors with the spin mop I ordered last week and a $20 box of powdered Tide. I think we have all fallen hard for the gocleanco account. I posted a story on my mop yesterday, and a local friend who isn't a blogger was like "OMG I JUST BOUGHT THAT MOP BECAUSE OF THOSE BITCHES! " So their reach is wide right now. (Can we all agree they work for O-Cedar or Tide??) At least we all have clean houses. Until your three year old spills chocolate milk all over the floor an hour after you cleaned them. My life right now.
Favorite Purchase: After weeks of looking at different outdoor furniture, we ordered some a few days ago! I cannot wait until it comes in!!!! We have an amazing back deck that has plenty of room for all of this, plus a dining table that I want to add later on. I thought I wanted a sectional, and that is what I had been looking at. But the more I thought about it, the more I decided that a couch and chairs was going to be the better route for us and how our deck is set up. I found a picture of it styled, and I have been dreaming of what kind of pillows and side table I want to get. We already have an outdoor rug to go with it!
Favorite Recipe: I made some parmesan meatballs earlier this week that turned out amazing. There are no breadcrumbs so they are keto friendly and super simple. Zoe kept saying "mmm mmmm mmmm these are delicious!!!!" after every bite, and dancing in her chair. So clearly she approves. I will try to share the recipe next week. If you can call it a recipe. They don't look like much. I wasn't really planning on sharing a picture, may need to make them again to make them look pretty hahaha.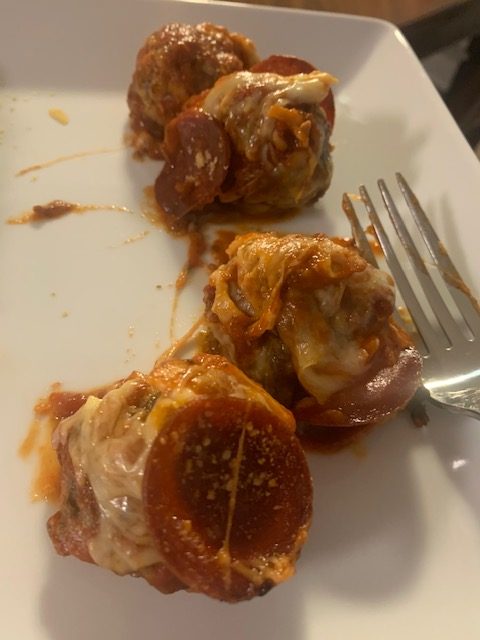 Favorite Moments: Trying to make the most out of our time at home. And stay sane juggling work and homeschooling and just coming up with things to keep the kid happy. We both have our moments where we are over all this, and sometimes it happens at the same time. Lord help us! But I have really been enjoying quiet afternoons outside.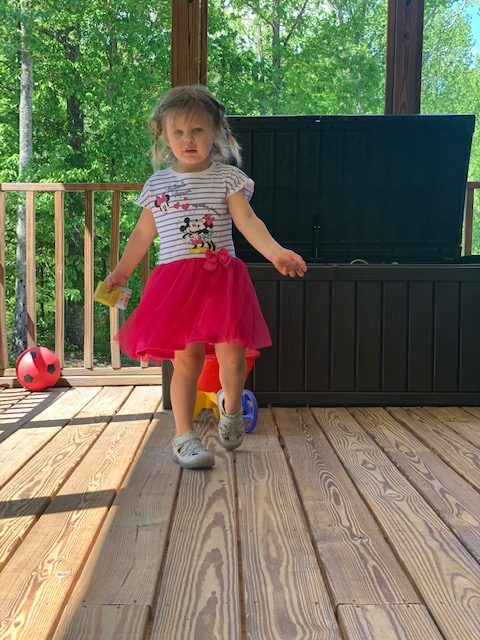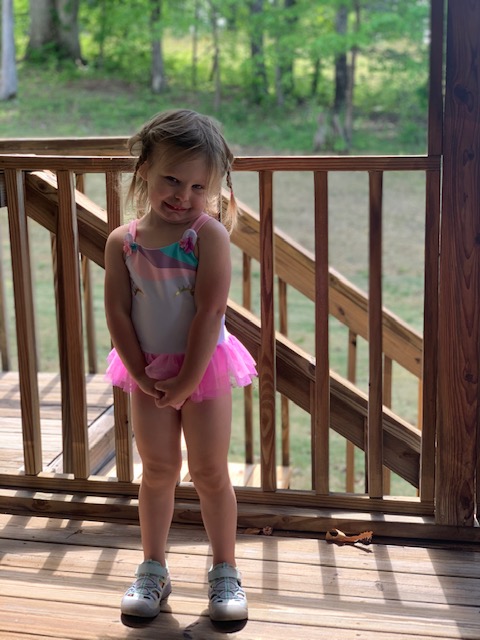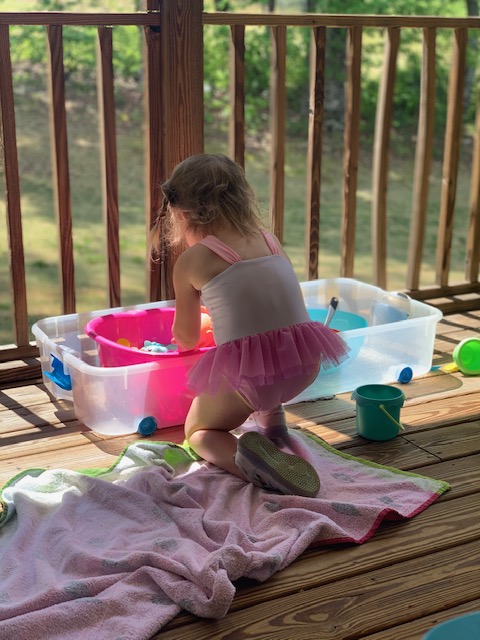 Or turning Tuesday into a special princess party breakfast, making banana nut muffins and using our fancy cupcake liners left over from Zoe's birthday.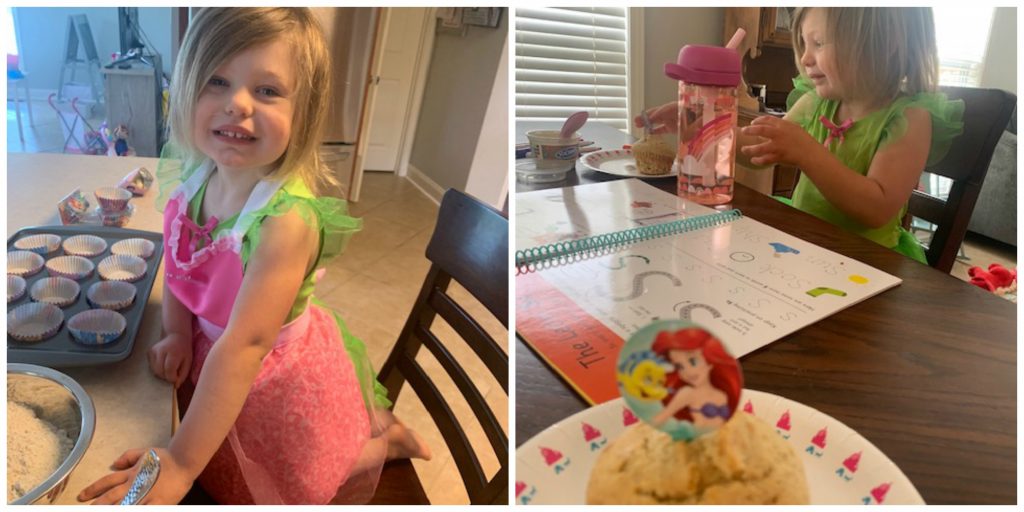 And these two are pretty sweet together. Even if someone can be a grumpy old man sometimes.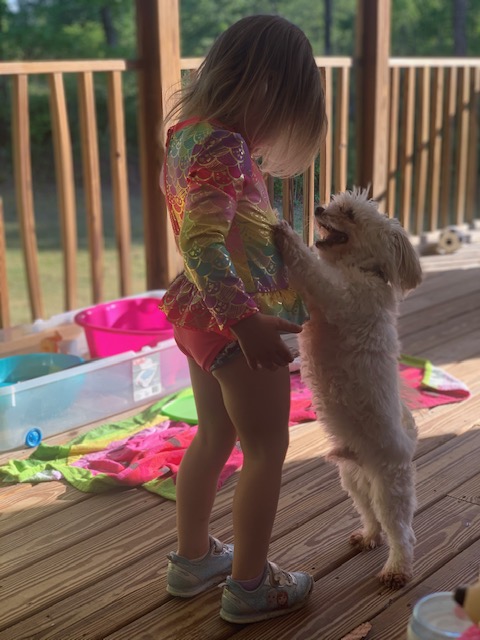 Favorite Funnies: