When you live in the south, you are very passionate about BBQ. Everyone has an opinion on who has the best, and sometimes it is hard to chose because every town has at least a few places. Even where we used to live, where the town radius was like a 3 mile stretch….we had a BBQ place. And it is on the top 5 list for the whole state in my book.
But you know the one issue with eating BBQ when you are trying to lose weight?? The amount of sugar and crap in the sauce. Because lets be honest, the sauce is what you are there for!!! Enter this low carb crock pot BBQ Chicken Recipe!!!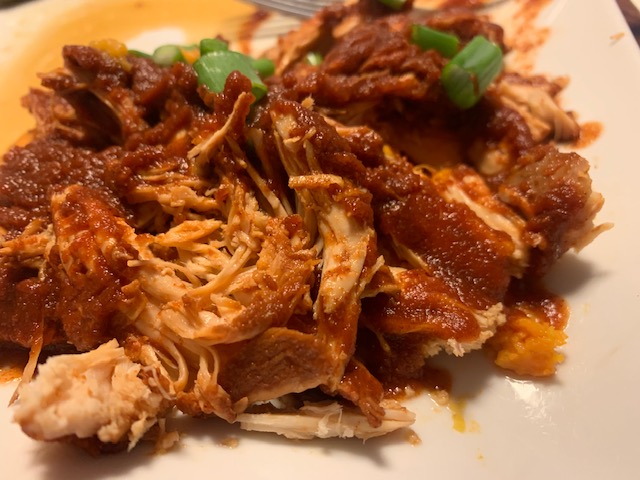 What You Need
Chicken breast (I had just over a pound, get as much as you need. You will have extra sauce.)
15 ounce can tomato sauce
2 TBSP Swerve brown sugar (can replace with real brown sugar or completely omit)
2 TBSP Worchestershire sauce
2 TBSP mustard
2 TBSP apple cider vinegar
1 TBSP onion powder
1 TBSP chili powder
2 TSP Liquid Smoke
1 TSP salt
1 TSP garlic powder
What You Do
Dump it all in the crock pot on high for 5 hours or low for 8 hours. Boom! can it be any simpler than that???
I threw some green onion on ours when I plated it for a little extra something something. Chris had his with a side of green beans, I ate mine over half a sweet potato because I am not longer doing keto.