Four Months. Somehow, four months have gone by since the day that we finally got to meet you. Words cannot begin to describe my feelings for you. I am truly blessed that I was chosen to be your mother. I know that your daddy feels the same way. I have so much fun watching the two of you together. Your personality has always shown, but I think it comes out stronger more and more now. You are such a happy baby!!!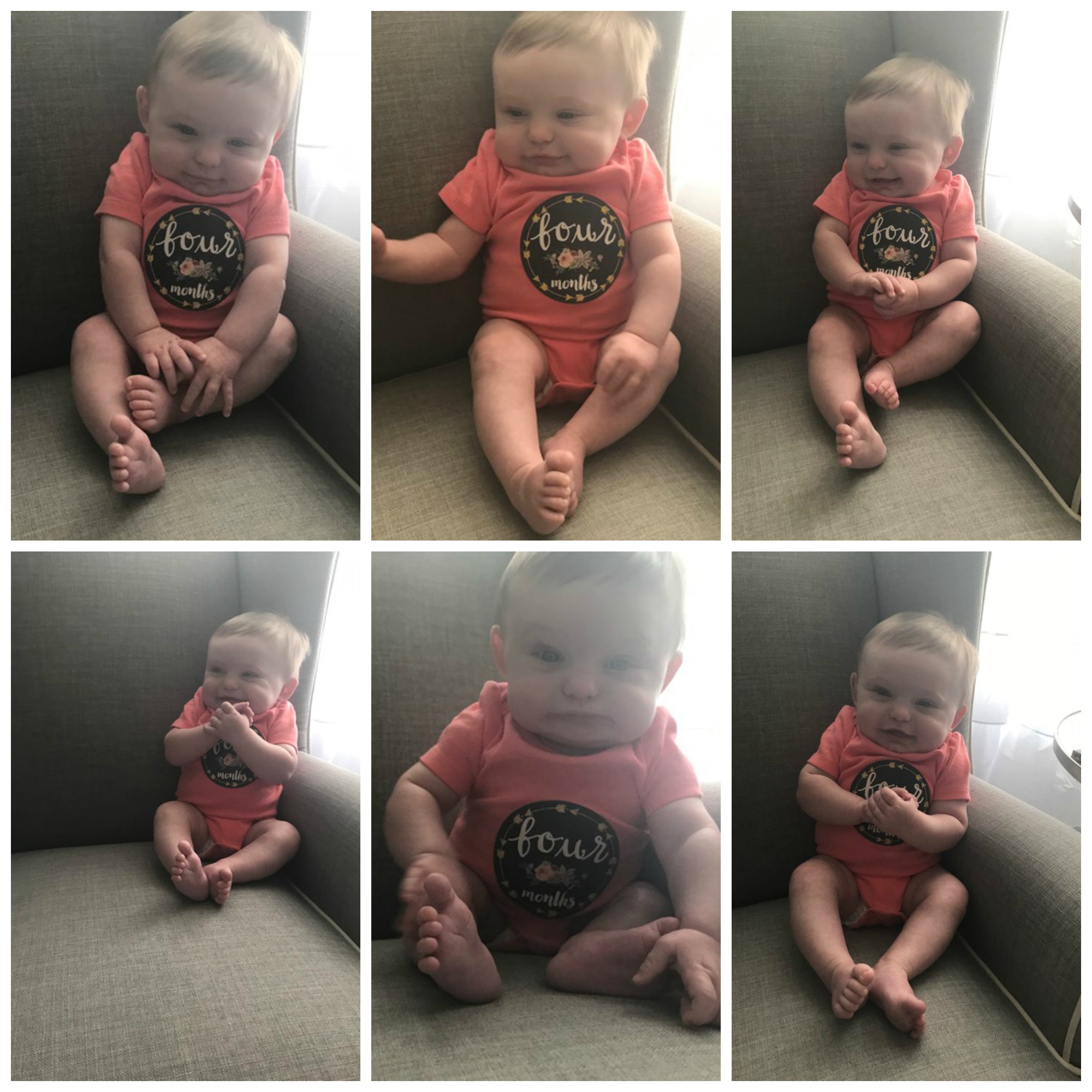 Nicknames: Little Z, Zoe Bear, Z, Cheeks, Kiddo
Loves: Smiling, chewing/sucking on hands and fingers, grabbing your feet, reading A Great Day For Up and The Going to Bed Book, playing with blocks, laying on your activity mat, and finally tummy time!! Now that you have mastered rolling over from back to belly, you have been doing tummy time all on your own. You are just the cutest laying there on your belly looking around. You have even been rolling onto your belly for some of your naps.
Hates: Naps. Sometimes you take one just fine, but more often than not you are fighting them! I am not sure if you have FOMO or what. I always ask you if mommy can have your naps instead!
Milestones: You have truly mastered grabbing things with your hands, it is much more controlled. You are rolling over multiple times per day from back to stomach, and every now and then you will do a full roll from stomach to back again. You have started trying to stand on our lap when we hold you on our shoulder. And you also have started sitting up when we are holding you in our laps. During your tummy time, you try so hard to crawl!!! You start getting frustrated because I can tell that you want to move, you just cant figure out how yet.
Clothing: Two weeks ago I moved you up to size 2 diapers, and we have started pulling out your 6 month clothes! I think you have really hit a growth spurt and I am anxious to see what you weight and your height at your wellness check up next week!
Feeding: You take 4-6 ounces every 2-3 awake hours. You have been an awesome night sleeper!!! You usually go down for bed between 7-8 pm and wake up between 5-6 am.
Looks: Your eyes have stayed the same light blue this past month, and your hair has gotten even lighter.
Things I want to remember from this month…
–How you whine yourself to sleep when you are fighting it.
–On March 19th you started to discover your toes while sitting in your chair and you kept grabbing them and looking at them.
–How you love to look around and people watch when we are out.
–Your pterodactyl noises.
–When you're tired and taking a bottle, you rub one of your hands up and down the bottle and the other hand holds one of my fingers.
–One day you started screaming from your crib and I came and picked you up and all you wanted was to sleep on my chest. It was the sweetest thing ever and you laid there fast asleep on me for over two hours. I cherished every single second of it.
–The way you love to cross your legs at your ankles. I find you sitting like this all the time now! You even do it during diaper changes.
–I took you to lunch at Saw's with my coworkers one Friday and you were seriously the best. You let several people hold you without making a fuss and you were the perfect angel the entire time we were out. Everyone couldn't get over how good you were. You have such a chill/go with the flow personality. I like to think you get that from me 🙂