I have some more empties for you today! This makes a small dent in the bag full of them I have. These are all face products, one of them being face sunscreen! Let's just get to it, shall we??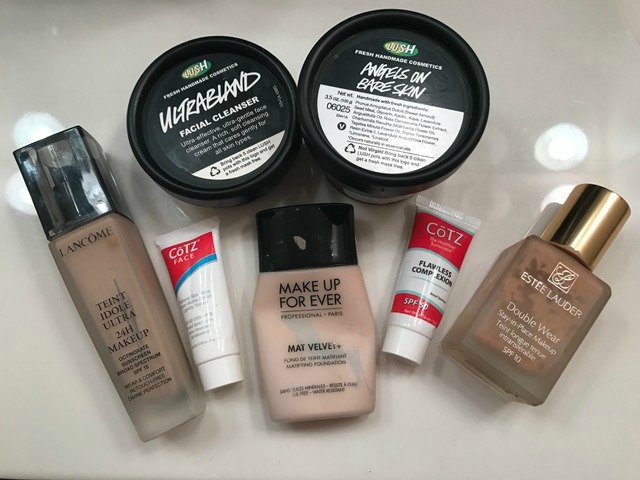 Lush Ultrabland – I really enjoyed Ultrabland to remove my make up and clean my face in the evenings without drying it out. The smell takes a little getting used to, but it isn't terrible or anything like that. I liked that you put it on your dry face and wiped it with a warm wet cloth. I felt like it took a step away from my nightly routine, which was a win. I would repurchase this again, but I enjoy the makeup remover balms more.
Lush Angels on Bare Skin -This is a scrub that smells very much like natural lavender. So you have to be ok with that scent to power through this container. I liked this alright, but to be honest…I got tired of the little "nature" like stuff getting stuck on my shower walls and floor and such. I suppose if I used it only at the sink, it wouldn't have been as bad. I liked this alright, but I was barely able to use it all before the use by date and I had purchased the smaller container that is offered. I probably wouldn't purchase this again because I like my Yes to Grapefruit scrub better, plus it is more easily found and less expensive. I will say that this was great for when my skin was super sensitive.
Lancome Teint Idole Ultra 24H Makeup -I love this foundation. It is my second favorite behind the Estee Lauder Double Wear. It provides a medium to full coverage look and you can make it look more matte or dewy depending on how you apply it. My favorite way is with a beauty blender. I have a perfect match in this line for color. I would repurchase this again.
Cotz Face – I absolutely LOVE this stuff. I wore this on my face all last summer at the beach, and the summer before cutting grass. I like that it doesn't burn my eyes at all or break me out. I cant say enough good things about this, I highly recommend you get this for this year!!! It is time to stock up on these things. Remember I have super pale sun-sensitive skin and I had no issues with this! Have repurchased and will again this year!
Makeup Forever Mat Velvet -This provides a medium matte coverage. I liked the coverage alright, and it worked great in the summer with oily skin in the Alabama humidity. However, I could never find a color from Makeup forever that matched my skin tone perfectly. I also felt like this was almost too dry for my skin, and I am combination. I wont be repurchasing this.
Estee Lauder Double Wear – This is my holy grail IT foundation you guys!!! I used to wear it a long time ago and came back to it last year and I am not even in the market for anything else anymore. This provides medium/full coverage, lasts alllllll day long, looks great on my skin and has the perfect shade for me. Which is hard to find for some reason. Love love love this stuff and I have recommended it to several people. Have and will repurchase.
Fun tip, you see my foundation bottles up there? When I am running low and can't pump/pour out anymore, I take a small brush and scrape out on the sides. I get about two more weeks out of my foundations doing this. You gotta save money where you can, am I right?! Have you used any of these things? Which products are you finishing up right now that you would repurchase?