To prove that January was the longest month ever, somehow I have a TON of books to review. At the bottom I left a list of must reads and ones to skip. I still provided you with my thoughts and bottom line like I do every month. I have some really good ones in here!!! Linking up with Steph and Jana.
Dr. Emory Charbonneau, a pediatrician and marathon runner, disappears on a mountain road in North Carolina. While police suspect Jeff of "instant divorce," Emory, suffering from an unexplained head injury, regains consciousness and finds herself the captive of a man whose violent past is so dark that he won't even tell her his name. 
I love a good Sandra Brown thriller romance! This one did not disappoint!!! It captivated me immediately and had a few twists that I didn't see coming. I really got wrapped into these characters and the side plots and how it all came together.
Bottom Line: Read it! So good!
When Janey Sweet, CEO of a couture wedding dress company, is photographed in the front row of a fashion show eating a bruffin…her best friend and business partner, Beau, gives her an ultimatum: Lose thirty pounds or lose your job.
I thought that January was the perfect time to read Fitness Junkie, as I am trying to hop back on the bandwagon. While there is a lot of fitness and health talk in the book, there is so much more. I found it to be a book about self love and discovery. The characters and situations really cracked me up at times. I think this is a perfect tribute to our weight obsessed culture to be honest.
Bottom Line: This was a great read. If you have ever been on a diet or workout plan, you could definitely relate to Janey.
**I received a copy of Fitness Junkie from Netgalley in exchange for an honest review. All opinions are of my own.**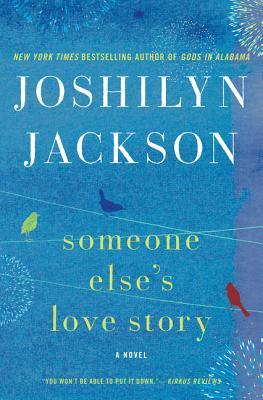 Shandi and William's lives collide in destiny one afternoon in a gas station hold up. Shandi is juggling finishing college, raising her three-year-old genius son Natty and doesn't know that her blond god Thor who stepped between her son and a gun, has his own complications. When he looked down the barrel of that gun he believed it was destiny: It's been one year to the day since a tragic act of physics shattered his universe. 
I picked this up from the library after Kelly told me that most of this author's books take place in Alabama. Funny enough, this book is actually in Lumpkin County Georgia and Atlanta. Driving around all the areas I used to frequent daily. I loved that part of it. But more than that, this book was so good!!! It really captivated and I had to know what was going to happen. I loved all the characters in the book.
Bottom Line: Read it!!
Eleanor knows she's a mess, but today will be different. But before she can put her modest plan into action-life happens.
I enjoyed Where'd You Go, Bernadette a lot so I was excited to dive in to this one. I really liked that this book takes place all in one day. But other than that, the character in this book was too similar to Bernadette. Her kid even goes to the same school as Bernadette's kid. And she has the same issues with the other moms. The same quirky personality. I just got really bored with this book and thinking that it was a lessor version of Berndette. So I quit. Perhaps if I would have read this one first, I would have liked it more.
Bottom Line: Meh. It wasn't horrible,  but I didn't love it either. If you have already read Bernadette…you might be disappointed.
When I got this book, I thought it was going to just be another cookbook to add to my collection. I was pleasantly surprised to see that there was a lot of literature on Thai food and culture as well. There are some wonderful photographs throughout the book and a lot of different recipes that I have never seen anywhere else. While I feel like some of the recipes require more than I am willing to do (live shrimp), I can tailor them to fit my needs just fine. I will say that some of the ingredients would be hard to find in my area, and some of the recipes sound complicated/labor intensive. So I wouldn't recommend picking up this book just for the recipes. There aren't as many recipes in the book as I thought there would be.
Bottom Line: If you like travel books or Thai cuisine, this would be a great addition to your collection.
** I received a copy of Pok Pok: The Drinking Food of Thailand from Blogging for Books in exchange for an honest review. All opinions are of my own.**
For 10 years Arlene has kept her promises, and God has kept His end of the bargain. Until now. When an old schoolmate from Possett turns up at Arlene's door in Chicago asking questions about Jim Beverly, former quarterback and god of Possett High, Arlene's break with her former hometown is forced to an end.
This book takes place in a small backwoods town in Alabama. You get the Southern Baptist ridiculousness, the racists against a mixed race couple and small town drama. This book went in a direction I never saw coming. I had mixed feelings about Arlene and for awhile I was just trying to figure out where it was all going. I liked how the book bounces back and forth between what is currently going on and memories that she had. They all lead you to what happened and why.
Bottom Line: I enjoyed this one. I liked Someone Else's Love Story better, but I plan to continue to binge some more from this author.
Beau Fortier moves into Lauren's parents guest house when she is just a teenager in high school. She had a major crush on him. Now she is back in New Orleans ten years later and Beau seems interested. But things have changed. Lauren is older and more confident.
I was so so so excited to receive an ARC of this book!!! I was hooked right from the beginning, and really loved the past and present view points of the book. Grey had me back in school listening to Wonderwall and excited to get on AIM!
This book was hilarious and the characters are totally relate-able. I especially loved the setting in New Orleans with a splash of the culture and food scene. I haven't been in a really long time and the book had me yearning for a trip. There were so many quotable, hilarious lines that had me laughing out loud.
I really love a good slow burn of the romance and the hot hot  hot chemistry! The inner dialogue  was perfect. This was my first R.S Grey book and I can promise you, it won't be my last. I am on a quest to binge and read them all now. I read this book in two sittings, which is saying A LOT considering my current phase in life.
Bottom Line: The perfect RomCom!!! I highly suggest this book!
**ARC received from the author in exchange for an honest review.**
Min Green and Ed Slaterton are breaking up, so Min is writing Ed a letter and giving him a box. Inside the box are items and a story along with why they broke up.
Min came off as a bitter ex and I got tired of hearing her say GD a million times. I also got tired of her referring to herself as arty and different. Yeah yeah yeah, we get it. Let's move on!!!! The chapters ended with "and that's why we broke up," right after talking about something nice Ed did that had absolutely nothing to do with why they broke up. And I didn't finish the book, but it seems like Min fell in love with this ass of a jock after just two weeks of knowing him? Sort of ridiculous if you ask me.
Bottom Line: I broke up with this book, it just wasn't for me.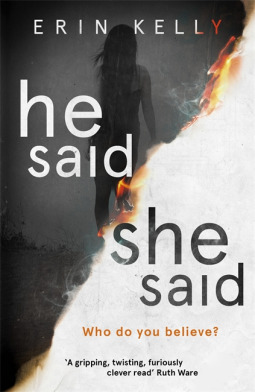 Laura witnesses a brutal attack. She and her boyfriend Kit call the police, and in that moment, it is not only the victim's life that is changed forever. 
So, it wasn't that this book was bad by any means. It's just that it moved really slow, and didn't really keep my attention. It took me forever to read it, and I often ditched it and went to something else. The last little bit of the book picks up and was more attention grabbing. I think if you don't mind waiting til the very end of the book for a twist or thrill, then this would be good for you. I didn't mind the alternating POV's, but I wasn't real big into metaphor of the solar eclipse and bright and dark people.
Bottom Line: If you like a slow developing thriller, then this might be for you.
**I received a copy of He Said/She Said from Netgalley in exchange for my honest review. All opinions are of my own.**
I waited forever to get this book from the library! When it came in, I dropped everything else I was reading. This book grabbed me from the start. There were so many times I just wanted to scream or was just do disturbed. It really makes you think what you would do if you were in Grace's situation.
Bottom Line: YES!!!! SO GOOD!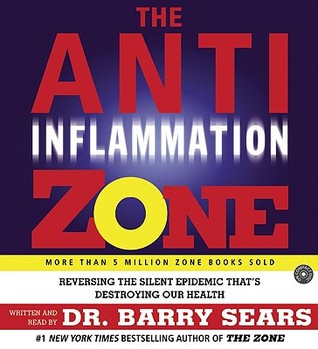 I think that the Zone diet in general brings valid points, but is hard to keep up with 100% of the time. Everything in moderation is a better approach for long term maintenance. I felt like the author uses scare tactics and I don't like that approach. I can summarize the book for you by saying take fish oil, follow the Zone diet, exercise and reduce your stress. There is nothing mind blowing in this book. He emphasizes fish oil over and over again. I cant stand the taste of most fish and the thought of taking an oil that may either make me smell like it or taste it repulses me.
Bottom Line:  I already summed it up for you! No need to read.
One minute, pregnant Leah Andrews is throwing up over the side of a yacht and the next, she's married to party boy Brooks. It's an arrangement born of sheer desperation to save her job, but now the tabloids are all over them, their friends are running a pool betting on whether they'll actually stay married until Baby Day, and worst of all, she and her new husband might just be falling for one another. 
I really loved the first book in this series, 69 Million Reasons I Hate You, so I was really excited to read this book. You get little snippets of  Cole and Kiersten from the first book, and get to know Leah and Brooks more in this book. This was a super cute story and I enjoyed it. Not as much as the first, but still good in its own ways.
Bottom Line: Cute read! If you are looking for a fun love story series, try this one out!
**I received a copy of The Billionaire's Unexpected Baby from Netgalley in exchange for my honest review. All opinions are of my own.**
Currently Reading:
In Conclusion
Must Reads: Behind Closed Doors, Someone Else's Love Story, The Beau and The Belle, Mean Streak Fitness Junkie
Skip: The Anti Inflammation Zone, Why We Broke Up, He Said/She Said and Today Will Be Different