Book day is here!!! Normally I don't like Tuesdays. They are my least favorite day of the week. Book day makes them so much better! I read several really good ones this month, so let's just jump right in. Linking up with Steph and Jana.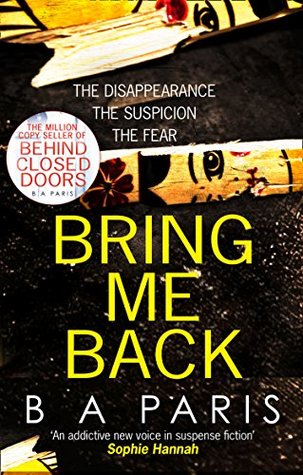 Coming back from holiday, Layla goes missing at a rest stop. Finn moves on many years later, but then an item appears that can only be from Layla. Is she alive? Finn is engaged to be married and is happy now. But he cant help but wonder. Has his first love somehow come back to him after all this time? Or is the person who took her playing games with his mind? 
B.A. Paris really knows how to suck  you in to a book and get you hooked! You can never trust any of her characters for very long, and I love that I am always trying to guess what is really happening and looking for clues. I had figured this one out early on, then ditched everything I believed only to have been right from the start. I love how I (and Finn!!!) kept changing our minds on what was really happening. I liked The Breakdown and Behind Closed Doors a little better than this one, but it was still good!
Bottom Line: This book will be out in June, be sure to get on the wait list at the library now!! If you enjoyed her other two, you are sure to like this as well.
**I received a copy of Bring Me Back from Netgalley in exchange for my honest review. All opinions are of my own.**
Smitten by Janet Evanovich
Single mom Lizabeth Kane isn't exactly carpenter material — she's never picked up a hammer in her life. But she desperately needs the construction job that builder Matt Hallahan is offering. And even though he knows trouble is ahead, Matt can't refuse Lizbeth's irresistible smile.
I actually didn't realize that this was the second in a series until I grabbed the link to write this post. It totally works as a stand alone novel. I love Janet Evanovich and have read all of the Stephanie Plum series and a  few other of her novels. I am going to be honest and say this was probably my least favorite from her. It is one of her early day novels (from 1990) and is just sort of silly. The relationship between Elizabeth and Matt moves way too fast and is just absurd at times. Elizabeth sort of reminds me of Stephanie Plum with her brown curly hair and her inability to do simple tasks like put a lid back on a can of paint. Then there is Aunt Elsie who is basically Grandma Mazur. I believe I read somewhere that Evanovich actually modeled Grandma Mazur after Elsie. She was actually pretty hilarious and just what you would expect from an Evanovich character. The novel was really short, and so at least there weren't any dull, unnecessary parts.
Bottom Line: Overall, the story line was pretty cute. I just didn't really love Matt or Elizabeth to be honest. True Evanovich fans would really appreciate Elsie though. And it was worth a read if you are just looking for mindless fluff to pass the time.
Leonora, a reclusive crime writer, reluctantly agrees to make the trip to a hen weekend with an old friend she has lost contact with. Forty-eight hours later, she wakes up in a hospital bed injured  with the knowledge that someone is dead. She tries to piece together the events of the past weekend, and remember things from the past.
I was hooked from the very beginning of this one! I liked how the book started out in the hospital, and then moves back and forth in time between the present and the past. You aren't quite sure who you want to trust the deeper you dig. I enjoyed the imperfectness in the relationships with some of these characters as well as their development throughout the book. I had a hard time putting it down.
Bottom Line: This was a really good read!
Every Crooked Nanny by Mary Kay Andrews writing as Kathy Hogan Trocheck
Former cop Callahan Garrity trades in her badge for a broom and starts a housekeeping business. She's on the job when her client announces that her nanny has disappeared—along with jewelry, silver, and some sensitive real-estate documents. Soon Callahan and her crew are involved in a job messier than any they've ever encountered. Illicit love triangles, crooked business deals, long-distance scams— it's going to require some industrial-strength sleuthing on Callahan's part to solve this one.
I love a cozy mystery. I was drawn to this book because I enjoyed The Weekenders by MKA and saw that this book takes place in Atlanta. It was written in 1992 and I loved that aspect of it. Before social media and all of that. Plus, those of you in the south remember Rich's department store??? Nostalgia at it's finest.  I ended up enjoying this book a lot more than I thought I would. I did this on audiobook and the southern accents were perfection. As you can see below, I went and binged on the second in this series directly after, that is how much I loved it.
Bottom Line: This is a super fun cozy mystery series if you enjoy that kind of thing!
To Live and Die in Dixie by Mary Kay Andrews writing as Kathy Hogan Trocheck
Callahan Garrity has no idea what she's getting into when she agrees to work for infamous antiques dealer Elliot Littlefield. The first day on the job she and her crew discover the bloodied body of a young woman in a bedroom — and are soon on the trail of a priceless Civil War diary stolen by the killer. As if two crimes aren't enough, deadly serious collectors, right-wing radicals, and impulsive teenagers make the case even more difficult to tidy up … and more dangerous.
I enjoyed the first in this series so much, I decided to jump on the second while it was still available at my library. This one is just as good as the first. I am so invested in Callahan and her mom Edna. This one takes place shortly after the first and we get a whole new cast of characters that are just as quirky. You are never sure who to pin the murder on and have several theories before it is all said and done. I love that.
Bottom Line: This is a super fun cozy mystery series if you enjoy that kind of thing!
Shay Benson adored her younger brother, Caden, and that got her into trouble. When he owed money, she realized she would give up everything for him. Now, determined to start fresh, she finds herself in search of a place to stay and wanders into a church to escape from the cold. Pastor Drew Douglas lost his wife. Now, as he too is thinking about a fresh start, he walks through his sanctuary and finds Shay sitting in a pew. The pair strike up a friendship—Drew helps Shay get back on her feet, and she reignites his sense of purpose.When Caden returns to town, it threatens to destroy everything Shay has rebuilt.
I do love a book about second chances. This is much more faith based than the other Debbie Macomber books, but I didn't mind. In fact, if you are looking for a good love story….but don't enjoy the sexy talk, this would be for you. There is no graphic scenes in the book.  I really loved the main characters in this book, you get to know them on an emotional level and there is a lot of development. This story is rich with deep emotion and intense feelings. I feel like the ending was perfect as well, it wasn't rushed at all.
Bottom Line: I enjoyed this one. If you are looking for a story about hope, faith, second chances…this is for you.
**I received a copy of Any Dream Will Do from Netgalley in exchange for my honest review. All opinions are of my own.**
Everyone in Cedar Creek, Texas, knows Jack McNight is an arrogant devil. When Meredith shows up on his door step at the Blue Stone Ranch needing a job and a place to stay, she has no idea what she is getting in to. 
Every time I think of RS Grey and her books, I cant help but smile. I fall in love with her characters so quickly!! She is hilarious and these are true romantic comedy books that I have read so far by her. I couldn't get enough of Jack and Meredith's banter. I loved all Meredith's thoughts and inner dialogue that we get. Total perfection. This is a good, slow burn. You have the love/hate relationship, some cute side characters, a wonderful farm/ranch setting in the heat of Texas. Love love love! This is a story of second chances, restarting your life. The way this one progressed is so believable and not forced.
Bottom Line: Read it!!!!!!!!!!!!!!!!! This is on pre-sale right now for 99 cents!!!!!
**I received an ARC copy of Arrogant Devil from the author in exchange for my honest review. All opinions are of my own.**