We have all seen the Tasty videos being shared on Facebook. The ones you can't help but watch. They get you salivating and ready for your next meal! I was excited when I saw that they had their own cookbook!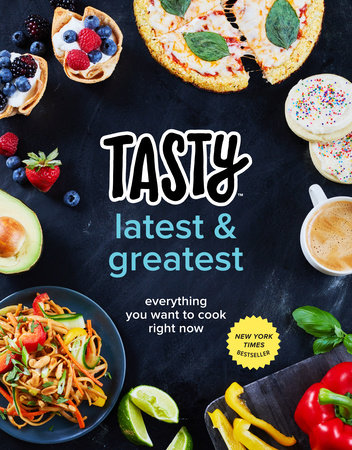 The book itself is filled with gorgeous pictures!! There are some recipes that have lots of pictures, and others that don't. This is the perfect cookbook for hosting a party or tailgating during football season. This is probably the last cookbook you will pick up if you are on a diet. There aren't too many waste friendly options. But YOLO! You have to enjoy and indulge sometimes, am I right? There are a few vegetarian options, so you definitely get something for everybody.
I think the recipe I am most excited to try are the carne asada fries! Basically fries covered in meat and all kinds of delicious toppings. The  pastel glitter-bombed unicorn cake would have been perfect for Zoe's birthday party!! The one thing I will say about the book, there is no rhyme or reason to the order of the recipes. They are sort of all over the place which makes narrowing down a specific meal a little hard.
What do  you think of the Tasty videos? Have you made any of the recipes yourself?
**I received a copy of Tasty Latest and Greatest from Blogging for Books in exchange for an honest review. All opinions are my own.**