I absolutely love a good acai bowl. It is like having dessert as a meal! We have several places in Birmingham that specialize in acai and other power fruit bowls and they are wonderful! But you know what else they are? Filled with sugar. Fruit is already sweet, and when you are trying to watch what you eat…you don't need a bunch of hidden sugar in an otherwise healthy meal.
I hesitate to call this a recipe, because it really is a dump in the blender and go kind of thing. And you can make this based on what you have on hand or what you are feeling like for that day. I never actually measure anything out either, just a little of this and a little of that. It always turns out perfect, and I basically eat this every weekday morning.
When I was keto, I made this just using the acai packet and a handful of frozen strawberries. I added collagen protein powder to it, sometimes topped with unsweetened coconut flakes and stayed in my carb range for the day. Now that I have added more carbs back into my diet, I like to throw in some banana, berries and top with coconut flakes and peanut butter. It is so delicious!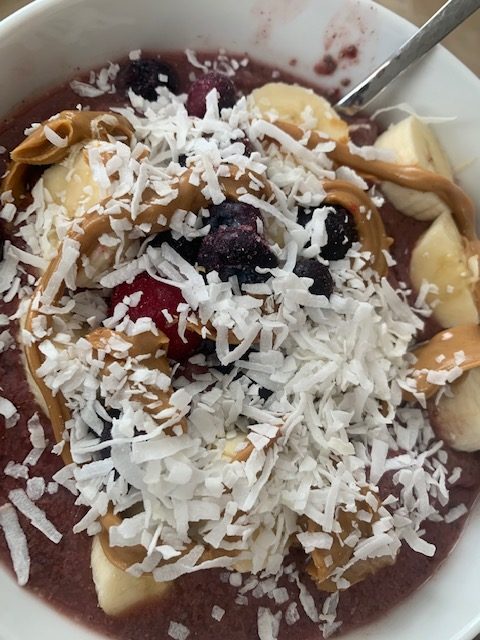 I always use unsweetened acai from Sambazon. I find these in the frozen fruit section at Target or Publix. It is really the only brand I see anywhere.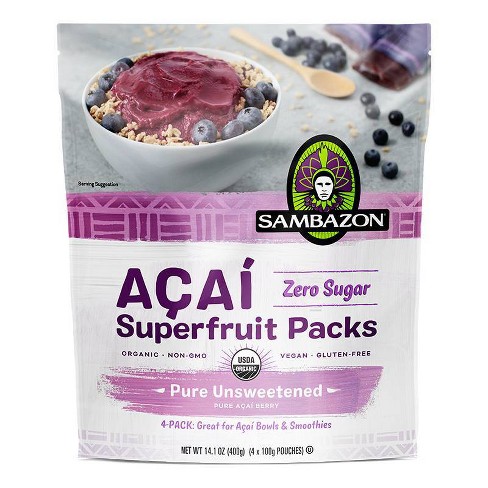 What You Need
1 packet unsweetened acai
5-6 frozen strawberries (a big handful, depending on the size you could need more)
1/2 cup original unsweetened almond milk
1-2 tbsp chia seeds
1-2 tbsp flax seed
Optional toppings….
1/2 banana, sliced
blueberries, raspberries, blackberries
unsweetened coconut flakes
almond butter or peanut butter (if you are trying to get an instagram worthy shot, you can heat this up to make a pretty spread. I just dump mine in because I don't like extra dishes)
What You Do
Put the acai, frozen strawberries, chia seeds, flax seed and almond milk in the blender. Blend for the consistency you are looking for. Pour in a bowl, top with sliced bananas, blueberries, unsweetened coconut flakes and almond butter. Enjoy!