Well hello there. Did you get a visit from the Easter Bunny this weekend?
Why does the bunny look so disgruntled?
This weekend was a busy one for sure! Let's get to it!
Friday – Friday evening we attended my friend Amanda's 30th birthday party at Southern Kitchen Bar and Grill. It was a beautiful rooftop party and while it was a little chilly up there, it was so pretty to see the sunset. Of course, I didn't take any pictures of said sunset, but it was an enjoyable one!
Saturday – We started off running some errands and a lunch at Blackwell's. We then headed to our nephew's 4th birthday party at Chucky Cheese. We might have went to the wrong one at first, ladies….if you think you are right and your husband is wrong about the location….go with your gut! Oopsy. Alas, we arrived at the right location! There is something about that mouse that scares the crap out of me to this day….but whatever! It was a fun time.
After the party, we headed out to another little get together at one of our friend's houses in Helena. We hung out there for a few ours, grabbed some take out and came home and crashed. A great day!
Sunday – Of course, Sunday was a day for family. We headed over to Chris's parents house around noon and spent the majority of the day there eating, conversing, sitting outside. We had a huge group, Chris's parents, his sister and her family, his brother and his family, his cousin and her family, his aunt, his grandma and her husband and then us of course. I loved just hanging out with everyone and enjoying the beautiful weather. We watched the kids hunt for eggs and play golf in the front yard, I played a game of minion operation with one of my nieces, and we got to visit our two new babies!!!!!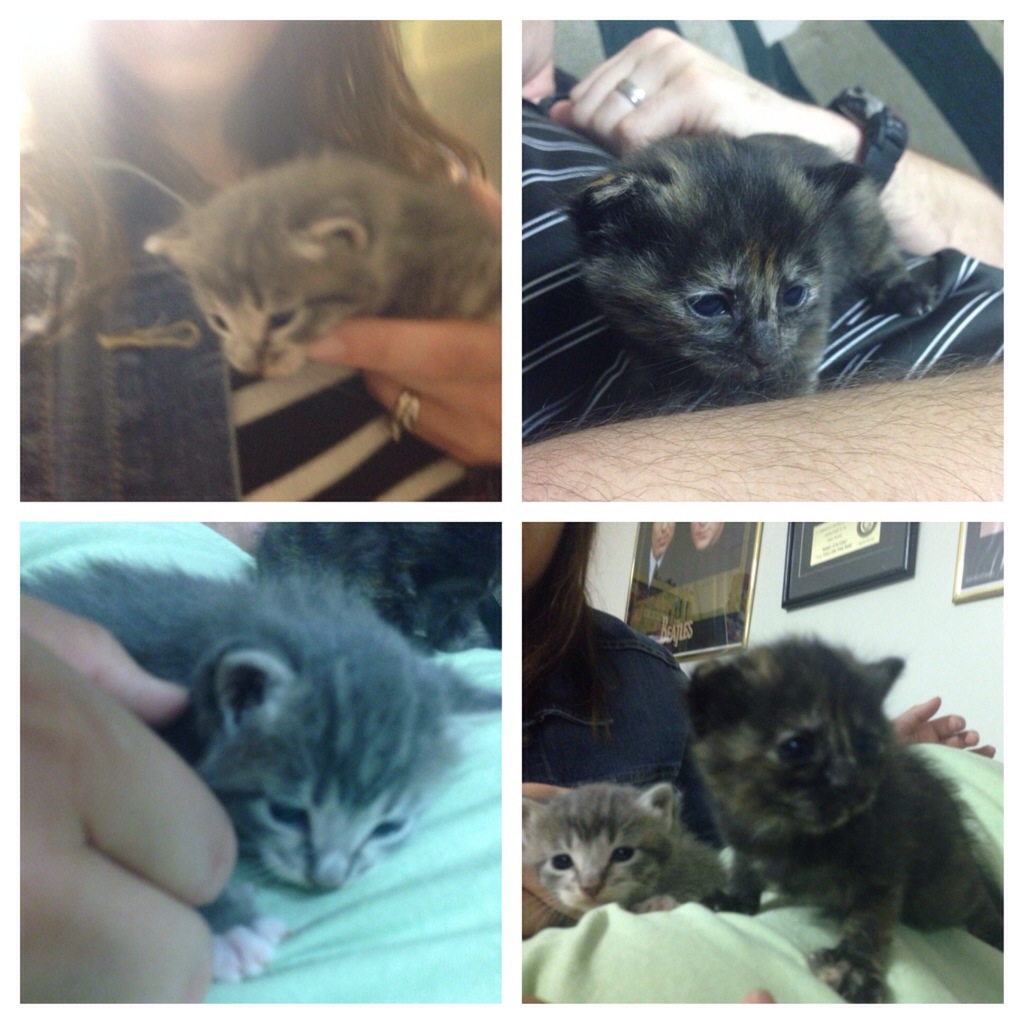 They will be coming home with us in a few weeks when they are done feeding with their sweet mommy. Look at those little faces!!!!
After we left Chris's parents house….we headed to Walmart to pick up a few groceries for the week since it was the only place opened. I hate Walmart. They seriously had hardly anything that I needed. Go figure. It was my once every few month trip. Ha!
I hope everyone had a wonderful weekend! I suppose we are back to reality this morning. It sucks. Shouldn't today be a holiday to recover from a weekend? I think so….