Well hello there Monday. You snuck up on us once again!!!
Friday – Chris picked up his PlayStation 4 on Friday, so Friday evening we of course headed to Game Stop so he could check out the games. He picked up Need For Speed and Call of Duty Ghost. When we got home, I made a pizza and watched him play. Then I fell asleep on the couch. Fun times.
Saturday – We woke up early and headed up to Huntsville. Our friend is moving out of the country, and so we wanted to make one more trip up to see her before she left. We had a great time just hanging out and watching football. I cant believe that Georgia/Auburn game. Dont even get me started on how Auburn won. Damn their luck!!! Georgia really pulled it out in the last quarter and I really thought that we were going to have a Dawg win. Not so much 🙁
Anyways, in Huntsville we went to Bargain Hunt and found nothing. They have been pretty disappointing lately. Then we went to Gamer's Paradise and picked up Diddy Kong Racing. I cant wait to try it out! Then we stopped and got a snack at TGI Fridays and waited for Amanda to catch up with us. We had skipped breakfast so we were starving when we got there!
After we left there, we headed to Pie in the Sky to meet up with some more of our friends and catch the game. I didn't have anything to eat there, but I did order a Vapor Trail Creme Ale. It was delicious!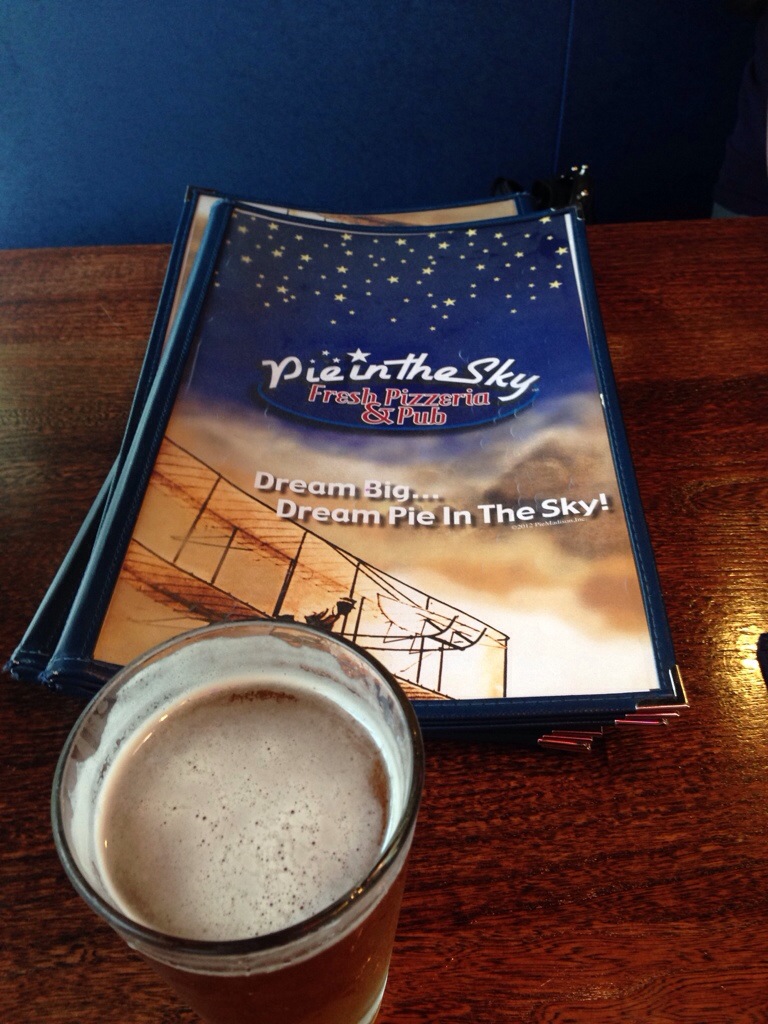 Great times with great friends!! We sure are going to miss Amanda! We left Huntsville around 5:00 pm and headed back down to watch the Alabama vs Mississippi State game with Chris's dad. What a game. I thought it was going to be boring, but Mississippi State sure did show up to play. Every single team always plays Alabama the hardest. I feel like Mississippi State's whole season is around trying to upset Alabama perfect season. As is every other teams! They sure did try their hardest, but we were able to hold them off in the second half. With Auburn's win over Georgia….the Iron Bowl sure is going to be one hell of a game. I am already having anxiety!
Sunday – It was so dreary, dark and rainy here all day. I saw on Twitter and Facebook that there were tornadoes in the Midwest. Makes me sad for them. We know all to well about that down here.
I did some meal planning and grocery shopping first thing yesterday morning. When I got home, I unloaded and put everything away, then Chris and I had breakfast and watched Vampire Diaries. That show has gotten weird. But we keep watching. Chris wanted to get some more gaming in, and while I really wanted to just lay on the couch….I decided to tackle Mac's hair. He has looked like a homeless puppy for far too long. TWO HOURS later, Mac looks like a new dog. And I was exhausted! I had every intention of decorating for Christmas yesterday, or at least getting the tree up but it just didn't happen. Oh well, it is probably more socially acceptable to wait until next weekend anyways! It was just so dark all day that there wouldn't have been enough light in our garage to see what I was doing.
Last night we finished up The Lying Games. I really enjoyed that show, even if it was only two seasons. It ended on sort of a cliff hanger and you don't really know exactly what to think about it. We looked up the ending of the books and it sort of pisses me off so maybe it is for the best that it didn't last long enough haha.
Well, it is time to tackle this week! We got this!