I can chow down on some pimento cheese!!! These days, it just isn't something you spread on crackers. I see restaurants putting it on burgers, hot dogs, sandwiches. It has become quite the star! Everyone should have a trusty pimento cheese recipe in their possession should the occasion arise for a party, tailgate or fancying up a backyard burger!
No need to fear, my sister shared hers with me and now I am sharing it with you after bragging to anyone I know that her pimento cheese is just the damn best! Have I mentioned that my sister is a non-criminal Martha Stewart? Because she totally is. I keep telling her she needs to open her own catering and cake decorating business.
Anyways, without anymore babbling from me, here is the recipe!!! You can always add or tweak things to change it up. Some people want something really spicy, I would add a pinch of cayenne pepper or hot sauce. My sister throws in sunflower seeds from time to time. My favorite addition to any pimento cheese recipe? Splash of Worcestershire sauce. It really adds something!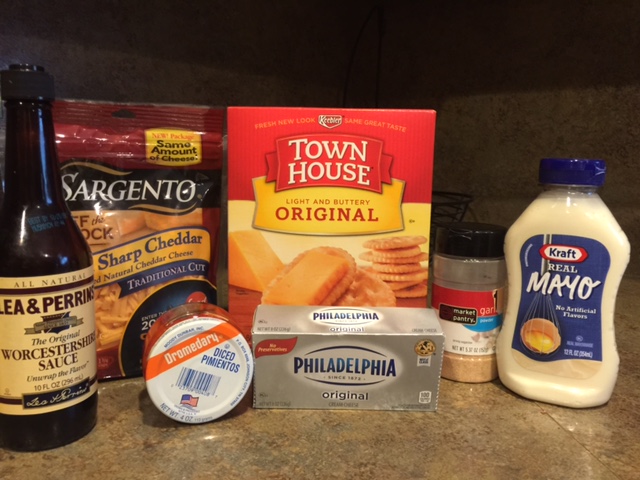 What You Need
1 (8 ounce) package of cream cheese (softened)
2 1/4 cups of extra sharp cheddar
1/3 cup mayonnaise
1 (4 ounce) jar of pimentos (rinsed and drained)
1/4 tsp of garlic powder
1/2 tsp of Worcestershire Sauce
What You Do
–Use a mixer to blend cream cheese until smooth.
–Add in the extra sharp cheddar cheese and keep using the mixer.
–Mix in the mayonnaise, Worcestershire sauce and garlic powder.
–Stir in the pimentos.
–Place in a bowl with a lid or cover with saran wrap and chill in refrigerator until ready to serve.
Enjoy!!!