One of my absolute favorites meals, is the baked pork chop recipe I shared years ago. It cooks in a delicious sauce that I LOVE to dip roasted potatoes in. Nothing makes me happier!!!
Since I still tend to eat lower carb in the evenings, and Chris is still completely Keto…I needed to find a replacement recipe. Enter these perfect oven pork chops! They cook up amazingly well, and you don't need to light up the grill. These are also Zoe approved. In fact, she constantly requests them now!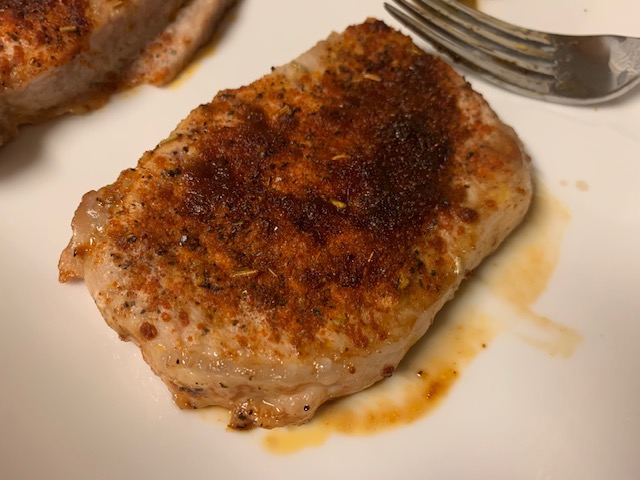 What You Need
pork chops (I usually have a package of 4)
Olive Oil or Avocado Oil
2 TBSP Swerve Brown Sugar (you could use regular if you aren't keto)
1 tsp paprika
1/2 tsp Italian seasoning
1/2 tsp garlic powder
1/2 tsp sea salt
1/4 tsp black pepper
What You Do
Preheat oven to 375
Mix together all the seasonings and brown sugar in a small bowl
Place pork chops on a baking sheet, and rub them down with the oil on both sides.
Rub the seasoning on both sides of the pork chops
Bake for 25-30 minutes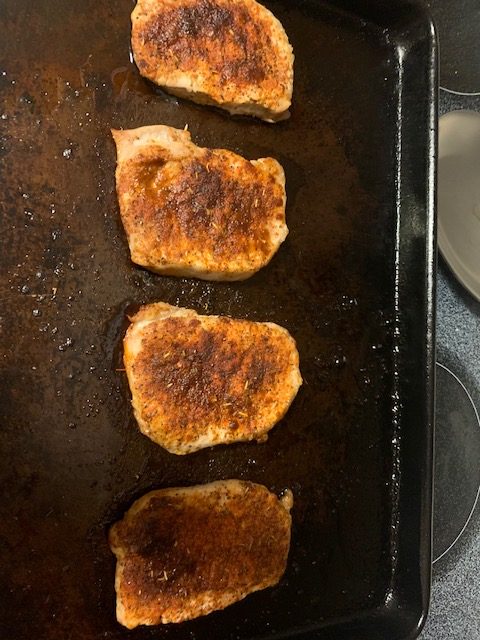 A picture of Zoe's plate. Pork chops and applesauce. Who remembers what show that is from???? Am I dating myself, or what??