Well, I am not quite sure where the weekend went?! It is quite certainly over though. I think I have lost my mind. This morning I had to turn around because I couldn't remember if I turned my straightener off or not. Ridiculous!!! OCD at it's finest people! Also, my knee is KILLING me and I have no clue why. I feel like I slammed it into something, but I have no bruise and don't remember running in to anything. Like I said, I have lost my mind. And because I cant help myself:
Friday- We kept it simple Friday evening. I painted my nails so they look like peachy spring time, appropriate for the blast of warm weather we  had this weekend. We ordered Chinese food, I just got egg drop soup #willpower and watched TV.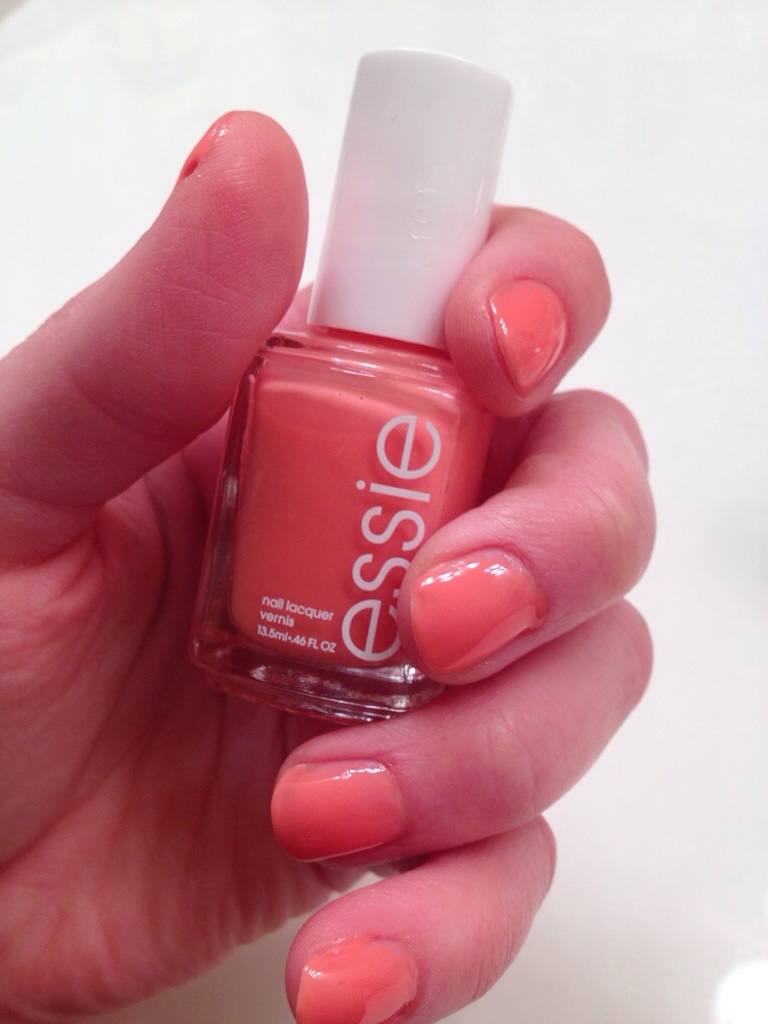 Saturday- I made scrambled eggs a new way this weekend, thanks to Liz. I added feta cheese when I was mixing them up and they were AMAZING. My new favorite way to have eggs for sure!!!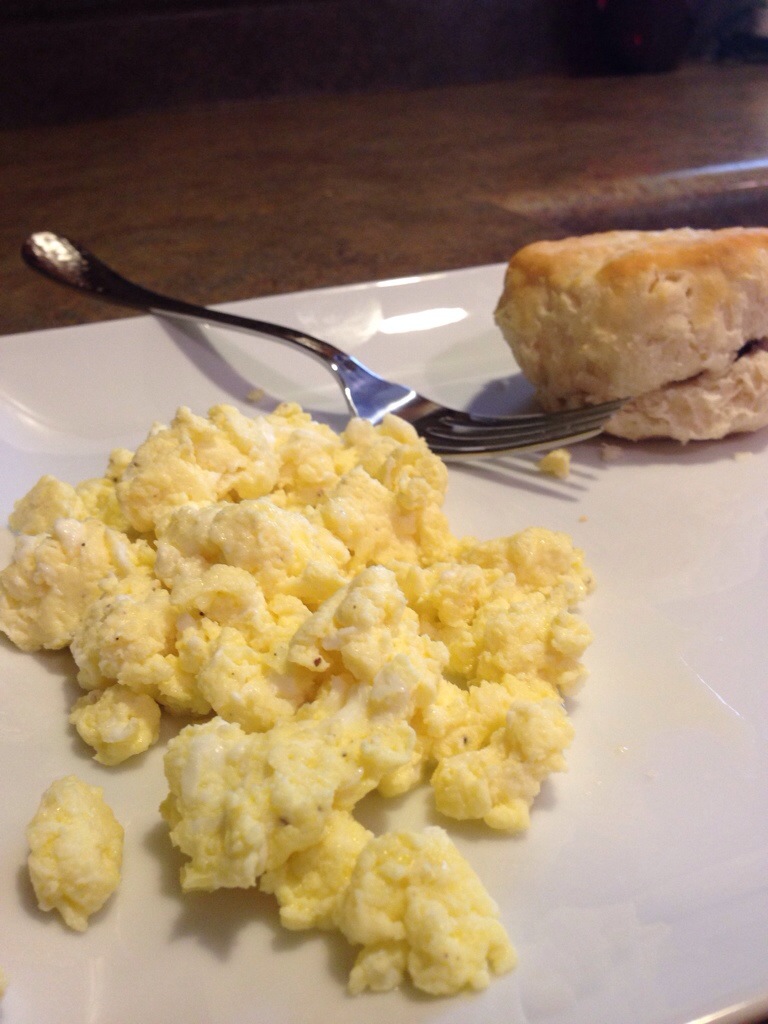 After breakfast, I cleaned the house from top to bottom and did a load of laundry. We then decided to head out and do a little shopping. Chris wanted to get some stuff to decorate his new office with, and I was on the hunt for some shoes. We found some great Alabama pictures for Chris's office, and realized that the new Donkey Kong game came out for the Wii U. We were super excited, but I wouldn't recommend it. We tried it out yesterday and it was really hard to play. Too many different buttons for moves to remember. It might be fun if you have time to sit and study the manual, but we do not. But, my momma didn't raise no quitter, so I am sure I will still play it from time to time.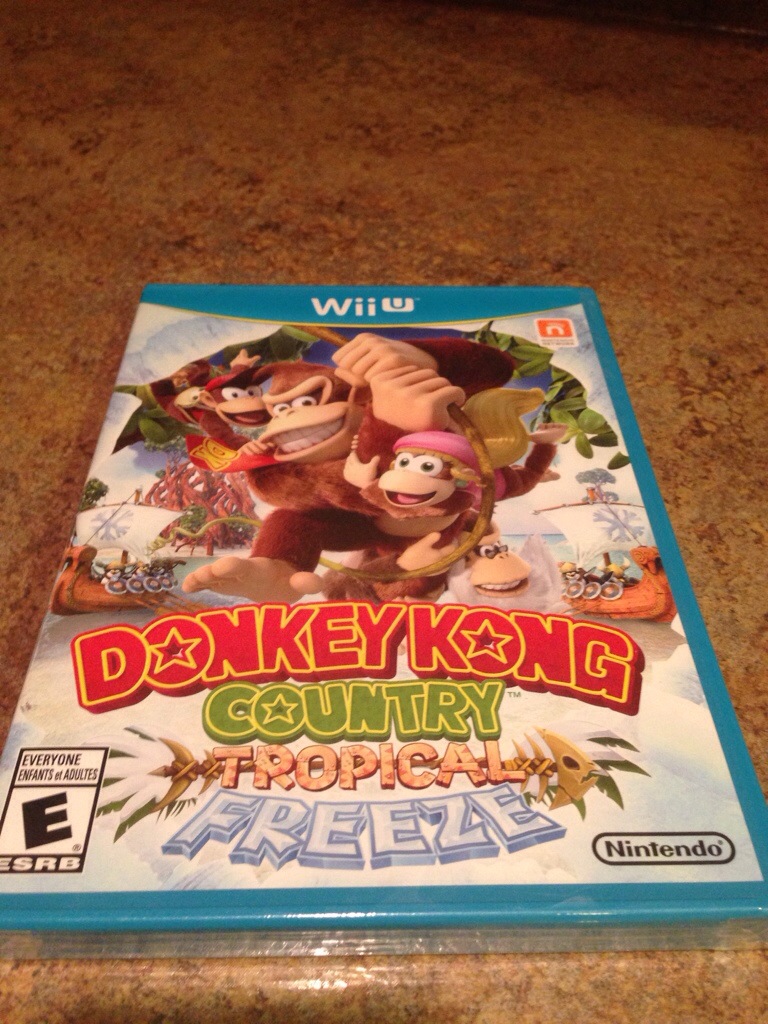 Unfortunately, we didn't find me any shoes. Why is it so damn hard to find some comfortable winter shoes that aren't boots? I have never found a pair of flats that I can wear for more than an hour without killing my feet. Maybe its the deep arches in my foot? Or maybe flats just aren't as comfortable as they look for anyone? Either way, I surrender and put up my white flag. I will order the same pair I currently wear to work from Kohl's since the store doesn't ever have them in stock and then count down the days til flip flop/sandal season for my weekend shoes! I have plenty of boots, but I don't want to wear boots and skinny jeans when it is 70 degrees out like it was this weekend!
After our shopping, we met up with my sister in law and her family to try out Tortuga's in Trussville. It was good, but it wasn't amazing. I have yet to find a pizza place in the south that even compares to pizza up north. The only thing that has come close is Felini's in Atlanta. Either way, it was great to spend time with them and it was such a pretty afternoon.
Sunday – I did our meal planning and grocery shopping. I looked around for shoes at Belk and TJ Maxx. I also checked out TJ Maxx's home section….which I got inspired by several different things they had. I have a few ideas in my head for what I want to do with some spaces in our house….and cant wait to look around some more! While I was at Target grocery shopping, I picked up a drawer tower to FINALLY organize my sweaters. I was so excited to clean up the disaster that was the short side of our closet that I forgot to take a before picture. Here is the after.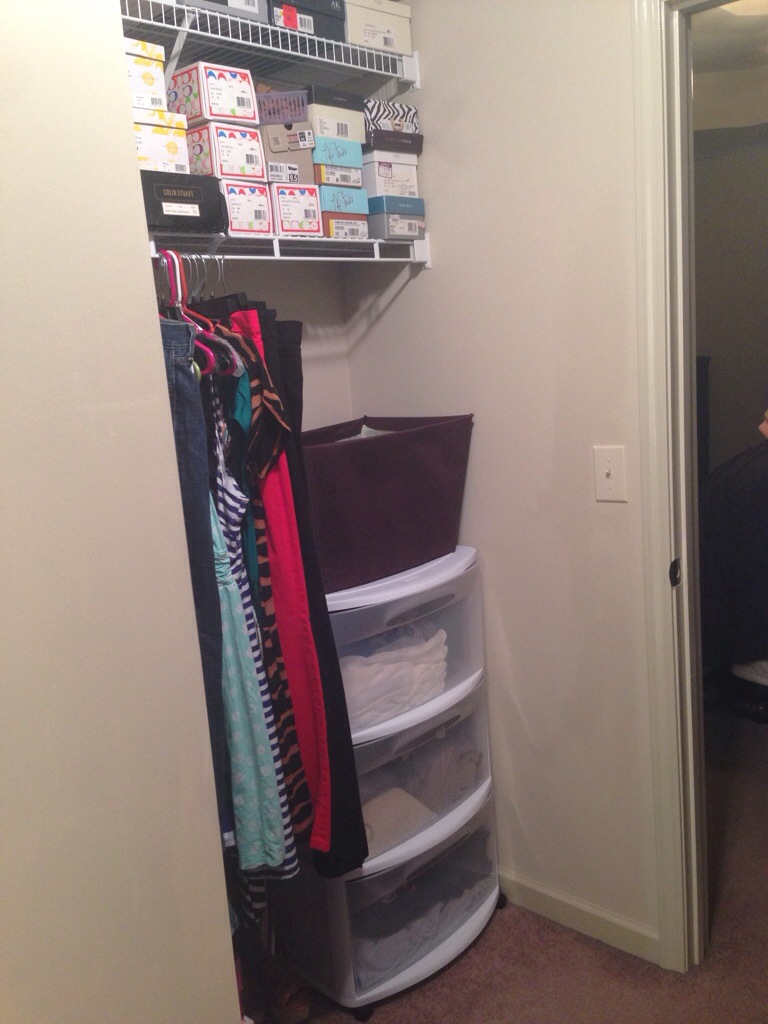 We had enough space on that side for me to squeeze it in there after moving the shorts and winter coats to different areas. The other side of our closet has two long shelves where Chris has all his shirts and shorts on the top and I have all my shirts and skirts on the bottom. I am just so happy to have it finally organized in a way that doesn't take me 10 minutes to find a sweater in the mornings! Another thing I can cross off my winter goals list!
Yesterday evening we just watched some re-runs of The Big Bang Theory and had dinner. It was nice and relaxing. So relaxing, that I fell asleep on the couch, woke up at 10:00pm and had no clue what day it was. Whoops!
I hope everyone has a great week! Let's do this!