Nothing makes me happier than soup and chili in the fall. Or any time of the year really. You will find me with tomato soup in the middle of August. True story. So last week in our meal planning, we decided to make chili. We had gone to Publix to pick up our items and were on our merry way. Unfortunately, when it came time to make my chili, I realized that our cashier had left out 2 cans of kidney beans that we purchased. Drat!!! I checked my receipt and we had in fact paid for them and they were in none of my bags! (Or on the floor of my Rogue, because I looked there too!)
I was a sad panda. Now what were we to eat? Well, I had some pinto beans just chillin in the pantry, and I had managed to make it out of Publi with one of the three cans of kidney beans. I had most of the other items to make some chili since we had just been to the store. The chili recipe I had was to be made in the crock pot, I have made it several times before. I have never made regular chili on the stove, so I figured I might just throw some stuff together, no recipe, and hope for the best. (Insert evil laugh here.) Scary, right? This actually turned out to be better than my original recipe. Chris even commented on how good it was, so I know the recipe is a keeper! Luckily I wrote down what I did as I went so that if we liked it I would remember!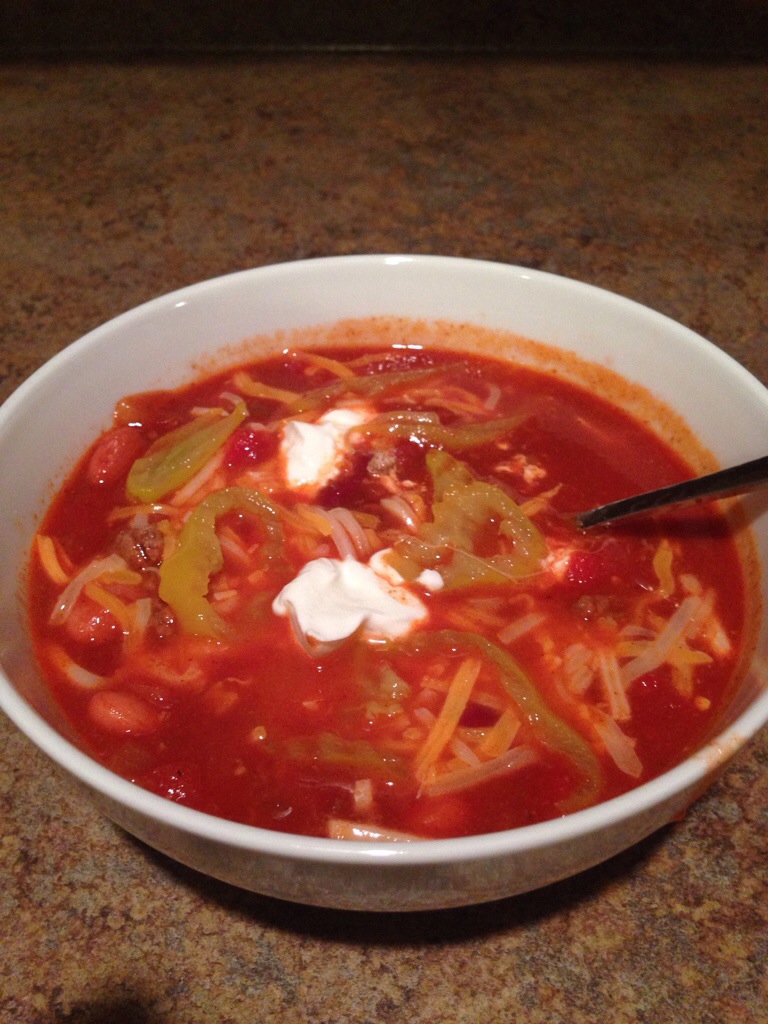 What you need:
1 lb of extra lean ground beef (I had a little over a lb)
1 can of reduced sodium kidney beans (drained)
1 can of reduced sodium pinto beans (drained)
1 small onion, chopped
3 cloves of minced garlic
2 cups of tomato sauce (you could probably just use a 16 ounce can if that is what you have, I had a carton)
1/2 cup of reduced sodium fat free chicken broth
1/2 cup water
2 cans tomatoes (I think I used petite diced)
2 tablespoons chili powder
1 tablespoon cumin
1/2 teaspoon of black pepper
1 tablespoon of sugar
Toppings: Sour cream, 4 state cheddar cheese, banana peppers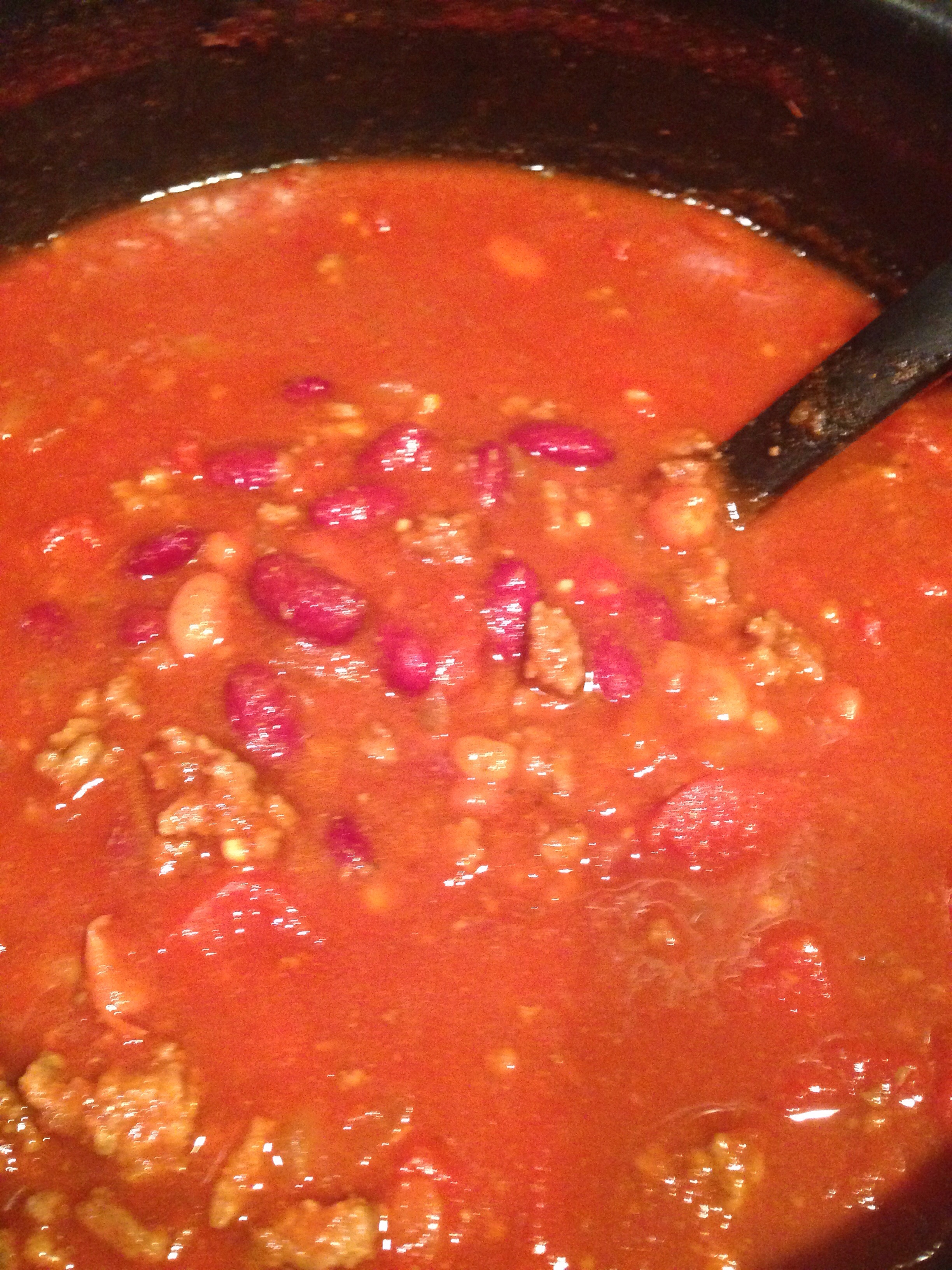 Here it is simmering on the stove! It smelled wonderful. I was all GET IN MY BELLY!
What you do:
Brown the ground beef in a large stock pot.
Add the onion and garlic and cook for about 5 minutes, or until the onion is translucent.
Add the rest of the ingredients, bring to a boil and simmer for about 20-30 minutes.
Enjoy!
Recipe note: I like my chili more soup like than stew like. If you want yours thicker, I would suggest not adding the water and maybe even leaving out the chicken broth. I had the perfect consistency for me, very soupy.
What is your favorite thing to consume in the cooler months?