Happy Friday, Friends! It has been such a week you guys. Work got a little crazy, seeing all the pictures coming in from Gulf Shores after hurricane Sally came through is heartbreaking, and you know…normal pandemic things. We actually didn't get as much rain as they were predicting for our area. Sally stayed south of us, and it only rained here Wednesday. Zoe was disappointed that her water puddle went away before she could play in it.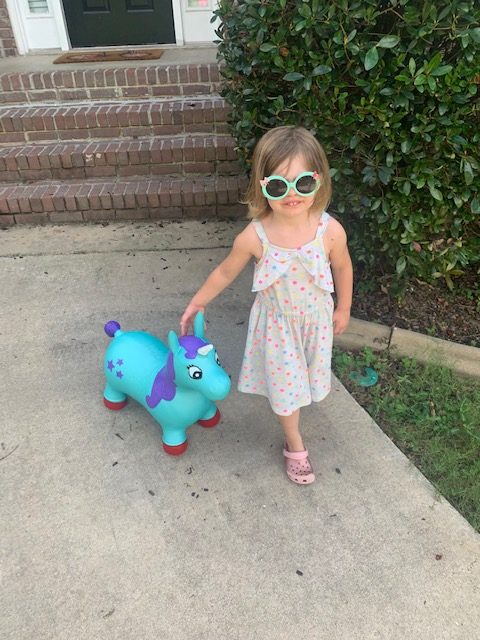 Favorite Surprise: My sister dropped by yesterday morning with brownies from Chick Fila and a unicorn bouncer for Zoe. Zoe literally carried this thing around everywhere yesterday, inside and out. She got it from Aldi. It is actually really cute, you are supposed to sit and bounce on it. It holds up to 220 pounds, so even I sat on it for a minute yesterday. Zoe is pretty serious about it, she even had to kiss it goodnight at bedtime last night, and was upset I told her that it couldn't sleep in the bed with her.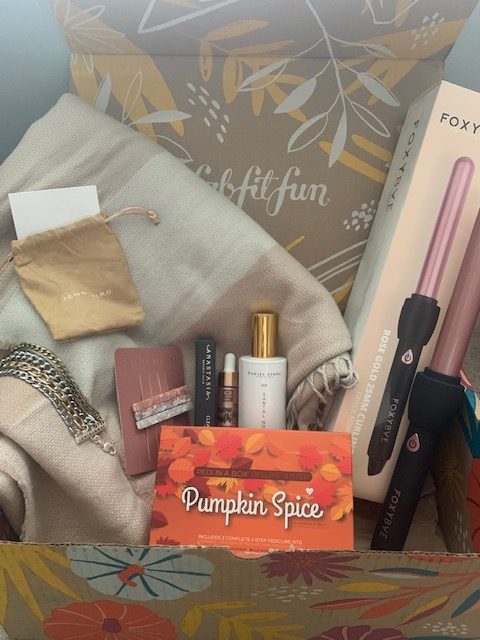 Favorite Happy Mail: My FabFitFun box arrived this week! It was a nice little happy on a particularly busy work day. Zoe sat down with me when I opened it and was just as excited as I was. She kept saying, "Mommy do you like the present I got you??" Hahaha. Nice try, kid. Sign up here and get $10 off! (Full disclosure, I get a credit to my account to. I pay for the seasonal boxes myself, this is not sponsored in any way.) My box was worth $448.50 this time. I am most excited to try out the Foxybae Curling Wand and wear my SOIA & KYO Scarfigan. And OMG!!! The Daniel Stone Santal Noir room spray smells incredible!!!! It is a little steep full price, but man. So good! (I found a candle with the same scent here.) Zoe keeps asking me to spray it in my office while I am working.
How fun is this scarfigan though?? It feels like a blanket, and is the perfect thing to grab on a chilly night. I plan to keep it in my office for those days I get a chill. I really love the colors, and it is such a versatile piece. My other items I received were the Jenny Bird Austin Cuff, Anastasia Brow Gel, 8 Other Reasons Runway Clips, The Beauty Crop Glow Milk in Blind Date (super pretty liquid highlight!!!) and Voesh Pedicure In a Box in Pumpkin Spice, (there are 2 full sets of a soak, scrub, mask and butter.) If you got the box, what did you get?
Favorite Activity: Zoe and I collected some leaves this week to make a craft with. We talked about how they change colors and fall off the trees in the fall. I am hoping we can take a drive through the mountain during peek leaf season and maybe she can see it for herself past our backyard. We took her crayola paints and painted the leaves and used them as stencils on paper. It was quick and easy, and she had a lot of fun.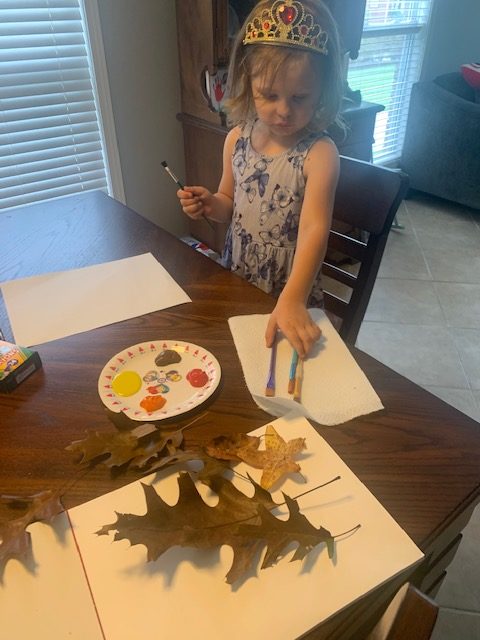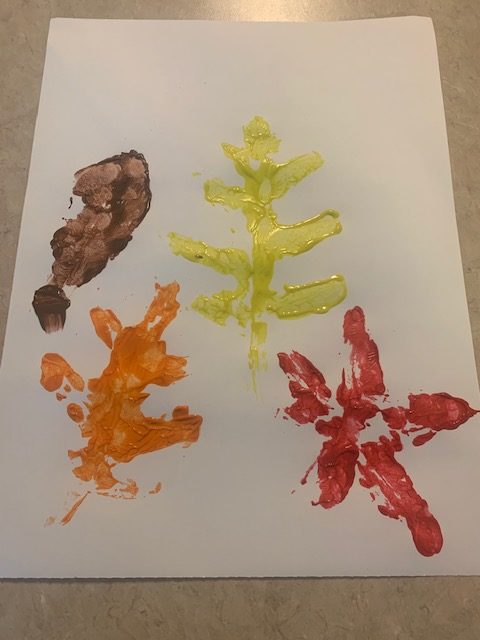 Favorite Purchase: A few weeks ago I was really fed up with my hair. Honestly, I still am. It is beyond need of cutting!!!!! I have super thin hair, and when it gets this long, it gets really stringy and dry on the ends. I have been a fan of WetBrush for years, but honestly….the little round ends of the bristles pull my hair and it hurts! And ends up breaking more than helping. When Tangle Teaser first came out, I got one! But it didn't have a handle, and it sort of made my hand cramp using it. Well, now they make them with handles!!! You guys, you have to get this! It is so much easier to clean than the Wet Brush and it doesn't pull or break my hair at all. Highly recommend for kids too!
Favorite Stretch : I don't know about melting away anxiety, but this first yoga pose really helps my back and hips.
Favorite Funnies: