*This post contains affiliate links. When you click a link, I make a small commission from it.*
Happy Friday! I hope you all had a wonderful week. It was a weird one for me. Chris and I had off Monday, but Zoe had school. We got a call during nap that Zoe woke up screaming about her throat and ears, so we headed over to go get her. I took her to the doctor Tuesday morning and was really happy that she tested negative for strep. He said that she just had an ear infection and her throat was a little swollen, but probably just from drainage. I worked from home with her the rest of the day so she could get some rest and went back to school Wednesday.
All the days sort of blend together lately because it has done nothing but rain down here. Honestly, I am on the look out for Noah and the Ark! This is the third week in a row there has been a delay at schools around here due to flooding. Can anyone confirm that the sun is still a thing??Supposedly we are supposed to see it today. I am not holding my breath.
Favorite Moment: I have been "talking" to a mom from the daycare for about a year now. Her daughter and Zoe are no longer in the same class, but they are only few months apart. Her daughter came to Zoe's birthday party, and we have also had a playdate to take them to see Frozen 2 back in December. Well, we decided to take our relationship to the next level, and have lunch! I met up with her on Wednesday, and I have to tell you, it was so fun! It was so nice to talk to another mom without having the kids around and have an actual adult conversation. Mom friends are hard to come by. I am not really sure why? Hopefully we can make our lunches a regular thing!
Favorite Spring Lusts: I am so not one to rush winter. I love cold weather. But we haven't really had a winter this year, and I am so over the rain and dreary days. I see all the pretty stuff coming out for spring, and I have an eye on a few things at Target! How cute are these sandals???
They have a lower, and more of a flat platform. I tried them on in stores to make sure they weren't too clunky or heavy and they felt so comfortable! I love the gold color, but they come in several other shades as well. I want to scoop them up along with these…
I love these black flat ones with the ankle strap. They were very comfortable as well. The ankle strap is stretchy, so it wont be rubbing up on your skin.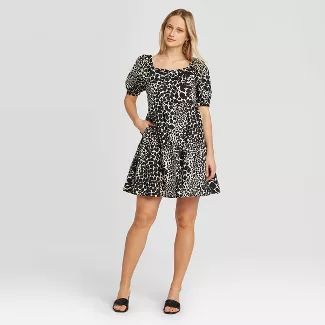 I also really like this leopard dress. It feels like it is more of a boutique dress than one from Target. It comes in several plain colors too. It has a baby doll fit, so it runs big and I am considering sizing down. I tried it on, and the length is longer than what the pictures show. It hits more at the knee. The lighter colors are lined, so they aren't see through. Really solid dress for work to carry you through spring and summer.
Favorite Recipe: When I was out to lunch awhile back, they were walking around with trays to try their new appetizer, whipped feta. OMG!!!! It was incredible! I am determined to recreate this at home. I think I will use this recipe as my starting point. The ingredients sound similar to what I tasted. Have you ever made this? They were serving it with a pita chip, but I dipped my cucumbers in it #keto.
Speaking of Keto, I shared my thoughts on it yesterday, along with several low carb recipes that have been on repeat around here.
Favorite Words:
Favorite Funnies: