**There are affiliate links in this post. If you click or purchase, I may receive a few pennies.**
It is some kind of law that you will run out of several beauty products all at once, isn't it? An expensive trip to replenish for sure!! Today I want to share some of my essentials with you all. These are the products I use daily and replace religiously. There are a few higher end things, but also a few drugstore finds. Balance, you know? I just like stuff that works!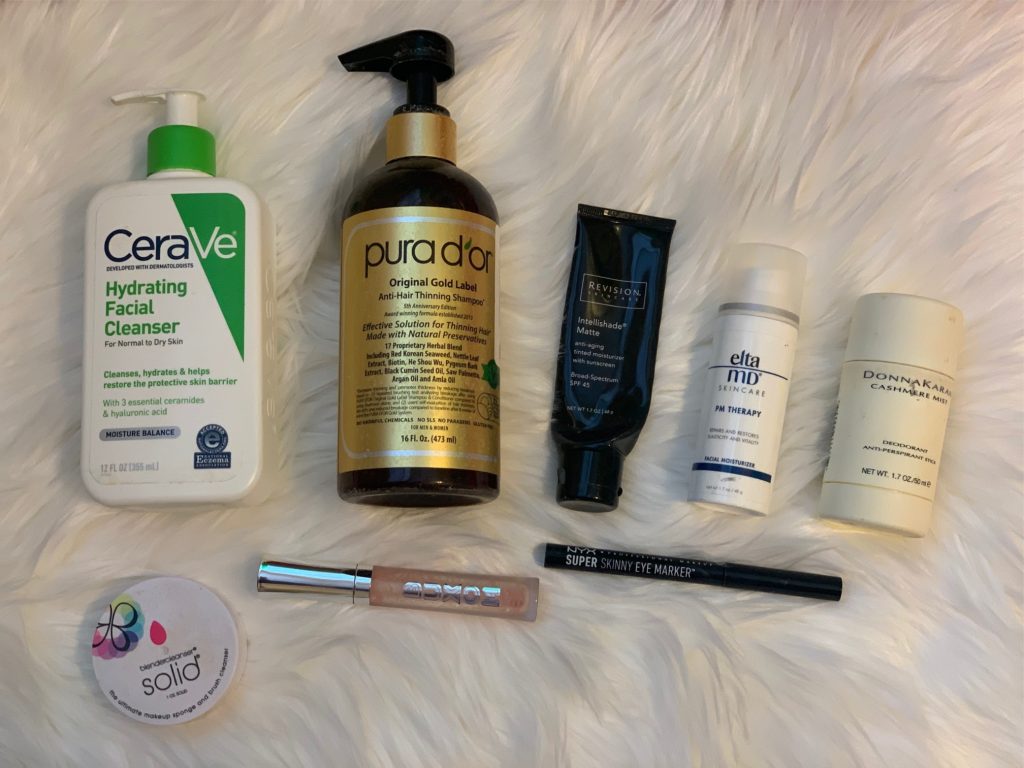 Cera Ve Hydrating Facial Cleanser – My dermatologist recommends this brand, and I have been using it for years. I always have two face washes, one for evening and one for night. This is my night one that sits at my sink that I also use in the morning if I am skipping a shower. (I have a strong no shower Sunday policy, unless I have major plans.) My skin is finicky AF and this stuff has never ever done me wrong. I like that I don't get that tight/dry feeling after use. My skin can't do that anymore.
pura d'or Original Gold Label – My hair is super thin/fine. I also have a lot of hair loss in the shower, or after brushing. Now, I don't believe in using the same shampoo every wash. I have blonde highlights that I need purple shampoo for from time to time to keep them from going brassy. But other than that, I pretty much used this stuff for 6-8 months until the bottle was gone. (It is huge!!!!) I wasn't sure if it was working or not, so I tried something new after I finished it up. You guys, that amount of hair in the shower again is insane!!! This stuff DEFINITELY works! I am back on it and never giving it up.
Revision Intellishade and Revision Intellishade Matte – This is another dermatologist recommendation that is amazing!!!! This is my daytime moisturizer. I use the Matte in the summer and the regular version in the winter. This gives you SPF, anti-aging ingredients and it is shaded so you can wear it alone if you are going for a no makeup day and get a little skin evening benefit. I cannot recommend this stuff enough! Plus, there is free shipping with dermstore all the time, so yay!
Elta MD PM Therapy – This is the moisturizer that my dermatologist has me use in the evenings. I absolutely love this stuff!! It makes my skin feel so good. Plus, it is a decent price for a PM moisturizer.
I have been doing this skincare routine (in conjunction with La Roche Posay Hydrating Cleanser in the shower and Kate Somerville Anti-Bac Attack in the mornings…and my skin has never been better. I rarely get breakouts anymore and it is more even and a better texture. I do also use retinol at night and this mask when I remember.
Donna Karan Cashmere Mist Deodorant – I struggle with deodorants bad. I have tried every natural one out there, and none of them work for me. Drugstore brands like Secret and Dove also stop working if I use them for too long. This is the only one I never have any issues with. I always alternate between a drugstore brand til it runs out and then purchase one of these. And in the summer, this is the only one I use.
Buxom Lip Gloss – I have been using this stuff for years and years. It is my absolute favorite for every day. My go-to color is White Russian.
NYX Super Skinny Eye Marker – A girl that works at my Target used to work at Sephora for years. She is a gem in the beauty department there and is always recommending me amazing drug store brand products. Like this liner! Perfection! No need to purchase anything more $$$ than this!
Beauty Blender Solid Cleanser – Love using this to clean my makeup sponges.
Have you tried any of these? What are some of your holy grail repurchases?