Last Sunday we were settling in to watch some TV. Chris mentioned that he could go for something sweet. I told him that we didn't really have anything sweet and he looked disappointed. I thought for a moment and said "Hang on!" I searched the pantry and found that I had all of the ingredients on hand to make homemade peanut butter cookies.
Our oven has been broken, so I could only make six cookies at a time in our toaster oven. If that isn't love and dedication, I don't really know what is. After the first batch came out, we enjoyed a few. Chris said, "So you made these from scratch?" I said, "Yup, there really isn't many ingredients needed to make these, we had everything here." He then said, "This is the best thing you have ever done since we have been married."
I wasn't really sure to take that as a compliment or an insult. Thoughts? Haha!
There is nothing special about this recipe. Just a consistent one that makes perfect cookies every time that has been handed down again and again over the years.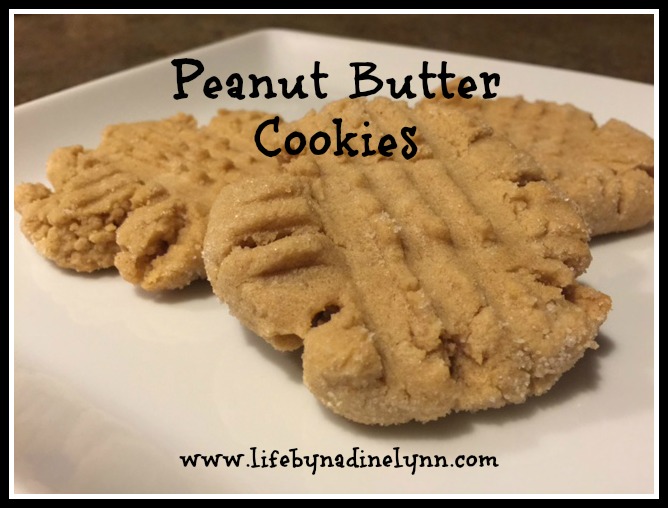 What You Need
1 cup sugar
1/4 of sugar in a separate small bowl (to roll cookies)
1 stick butter at room temperature
1 egg
1 cup peanut butter (creamy not chunky)
1 tsp vanilla
1 1/2 cups flour
1/2 tsp baking soda
1/2 tsp salt
What You Do
-Preheat oven to 375
-Grease baking sheet or spray it with some olive oil
-In a large bowl, cream together 1 cup of sugar and butter. Beat egg into mixture.
-Mix in peanut butter and vanilla until you have a creamy, smooth mixture.
-Stir in flour, baking soda and salt.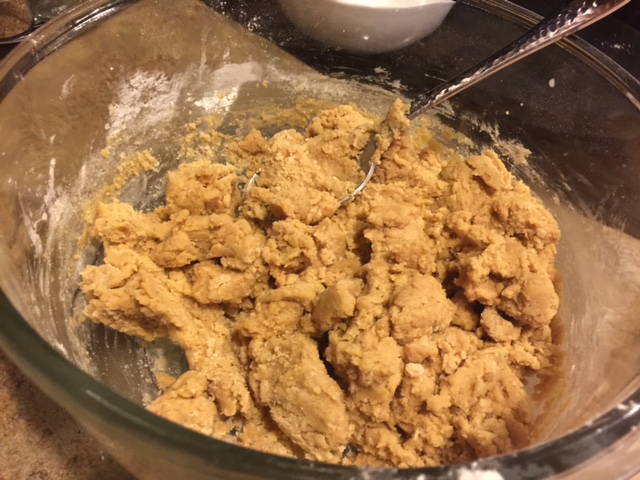 -Roll cookie dough into one inch balls, then roll around in the additional 1/4 cup of sugar. Place on baking sheet and press with a fork vertically and then horizontally to form the shape.
– Bake at 375 degrees for 12-15 minutes.
This makes two dozen cookies.
Enjoy!!!