Linking up with Kristen for What's New With You!
Reading: Sweet Secrets – This is a cozy mystery, the third in the series. They have all been cute, and they are super fast reads.
Listening: One of Zoe's new favorite songs is Meant to Be by Bebe Rexha. I am just thankful that we can throw a few non disney songs in every now and again. It is so cute hearing her sing the lyrics her way "meant to be meant to be baby meant to be." It came on the radio one day and she had the lyrics down by the second round and asked to add it to her playlist.
Watching: I finally got the chance to watch Wonder this past weekend. It was soooooo good. Also, I cried about a hundred times during it.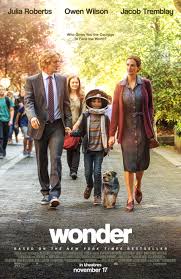 I also watched two cheesy Christmas movies that were totally adorable, Falling for Christmas and A Very Country Christmas. I think both were on Prime. Other than that, we have been trying to catch up with all of our usual shows. I want to start watching the new PLL spin off, and who else is totally stoked for The Hills!!!!!!!!!!!!!!!!!!!!!!!!!!!!!!!!!!!!!!!
I totally hosted watch parties in college. It was the best!!! Don't tell me you didn't squeal in delight when you heard the news too!
Working: Work has been so crazy, that I haven't really had the chance to do much else. It is totally a good thing, you know, job security and all. And I love what I do!!! It's just….damn! I need a minute to breath some days. I am still constantly being told thank you and good job. Nothing makes you feel more appreciated than that.
I did do a big purge with all of the clothes I was storing in our guest room closet. It felt so good to be free from all of that mess! The guest room itself now needs tackling, maybe next weekend. I wanted to start small with the closet first.
House: I had mentioned a little while ago that we finally got our house listed. A day later, it was promptly taken off the market. Several people have checked in with me to see how it was going, so I felt like I needed to mention it here. Our first showing went horribly wrong. The agent and his friend he was showing the house to basically went through all of Chris's stuff in our basement. Posing with pictures, videoing with their phones, just completely violating our privacy. Then to make it worse, when Chris got home that evening….he discovered they left our door unlocked. More than likely, they were going to send someone in later to rob us or something. I don't even want to think about it. I guess the morons realized we have cameras everywhere. It completely turned us off from the whole process, and our agent acted like she didn't care at all when Chris called with our concerns. Of course, she started to care after we told her to come get her sign out of our yard. We are just going to wait awhile now before we want to go through all of that again.
Shopping List: I want to get Zoe a water table for Easter. Since our yard absolutely sucks, we can't really do a baby pool or much else…but at least this water table can sit in our drive way and I can put it away after each use. I am looking at this unicorn one! It looks so fun! Anyone have one that was just a huge hit??
Zoe calls unicorns "corn corns" and I think she would really have fun with it! I scooped up some clothes at H&M and Children's Place for her too.
I ordered the Pura D'or shampoo off Amazon after doing some research and reading a ton of reviews. I have super fine/thin hair and I always feel like I lose a ton in the shower and in my brush too. I cant really afford to lose so much! I am hoping that this stuff works well, I will definitely report back. Anyone else use it?
After reading Lindsay's post and seeing Olaplex 3 on a lot of other sites….I have decided to try it out too. Anyone else have the same hair and find a product they absolutely love??? Send recommendations my way!
Things to Think About:
There were some other things I had in my mind to discuss for this post, but I have lost them! I have probably babbled on enough for now, anyways. I hope you all have a happy Thursday!!!!