It is Confession day!!! Time to sack up and spill all your secrets with Kathy and I!!!
–I hate dealing with adult things like calling insurance companies, setting up service to be done, asking for people to do their damn jobs basically. I usually am too nice and let people walk all over me. I got so angry this week over a situation that I let someone have it on the phone. It. Felt. Awesome. No more Ms Nice Nadine. #dontfuckwithmeandmymoney
–Football fans do weird shit. During the 4th quarter of the championship game I was running in place to get some steps in when we scored a touchdown therefore every time we got in the red zone or had a big play I would start running in place. It worked, we kicked ass 4th quarter and pulled out the W!!! #dontjinxit
–Speaking of game day traditions, I have to have "Roll Tide Roll" as my Facebook status during a game. I might not post anything for a month on Facebook besides that but the minute I see we are doing poorly I am like…oh shit, is my status up there??? #rituals #itsnotweirdifitworks
–There is an apartment complex being built near my office. Every day when they start banging on what sounds like metal on metal…I want to blow my brains out. It is the most horrid of distracting noises and we are going on a week of nonstop insanity with it. #pleasestop #imtryingtowork
–When I get upset, mad or angry I clean. #burnoffnerves
–Do you ever sit and wonder where on earth some people's money comes from? This goes for real life and blogging. How do fashion bloggers have on a different $200+ outfit every single day? Where are they getting their money to pay for all this expensive shit they are constantly sharing? #butreally
–I may or may not have already decided what I am doing with all the money when I win the lottery. #believeitachieveit
–I went to pick up my rental car last night while mine is being fixed and I literally laughed when they pulled it up. Its a bright red VW bug. The guy got out and was like you like? I was like no really, where's my rental?!?! Sure enough joke was on me. #punchbug #feelslikedrivingaclowncar
Confessions in ecard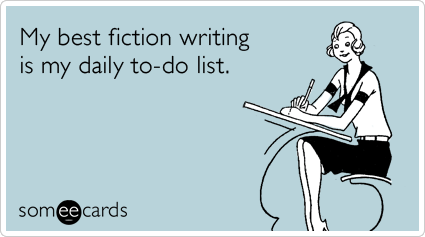 This is my life…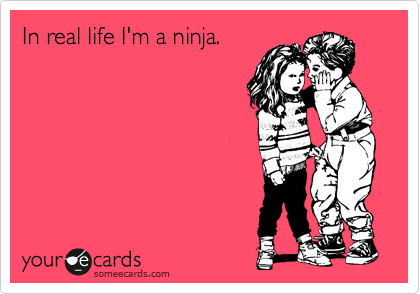 CONFESS BITCHES
Link up with Kathy and I and  get some confessions of your chest!
[inlinkz_linkup id=598498 mode=1]