–Last Thursday at lunch I went shopping at The Pink Tulip, a local boutique. I found a pair of jeggings and tried them on in my size. The same size I have been in pants since forever. (Probably 2005) They were too big. I went down a size. They fit like a glove. I proceeded to do a happy dance in the dressing room, to the cash register and all the way out to my car! #noshame
–Is it just me, or is anyone else tired of the new strain of Captcha? Why am I choosing pictures of street signs or pies? Get that shit off your blog and get a spam blocker if you are that concerned people!! #thanksfromallofus
–Have you ever tried a new eye liner that was a disaster? I think I am going to do a post on products that I have tried and hated after this fiasco. Seriously though, it was a Maybelline liner that smudged instantly and the application was just dreadful. #raccooneyes
–I haven't had my hair cut since the week before Christmas last year. How did I let this happen? Cutting the grass all spring and summer gave me natural highlights so I guess I didn't think about how long it had been? I have been looking on Pinterest for two weeks at different colors and I cant decide what I want. What do you guys think I should do? This is what I have been liking. Keep in mind I have light blue eyes and usually pale skin, though right now I am still rocking a slight tan. #hairwoes #indecisive
–I found a new addiction. Sour Punch Bites. I grabbed a bag of these to take to my mom's a few weeks ago when we were hanging out and playing games. We all were obsessed with them and the bag was gone in a matter of minutes between all the adults and my nieces and nephews. Since then, every time I drive past Walmart I think….I could just stop and grab a bag. It is a sickness people. A sickness. #sugarcoma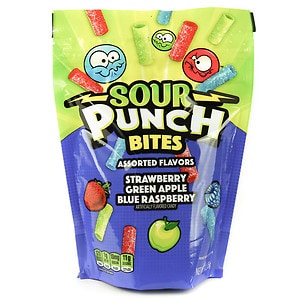 They remind me of sour twizlers. Do you remember those? They were my favorite thing ever. They were discontinued like all the other good stuff. Oreo O's, dunkaroos, you know what I am talking about!!!
Is there something that was discontinued that you want to bring back?
Confessions in ecard:
My reaction when Chris asked if I had gone somewhere called The Pink Tulip when checking our bank account Friday morning.
Linking up with Laura, Alanna and Plucky in Love.