It's book day with Steph and Jana! I read some good ones this month! I also had two DNFs this month. Sorry, not sorry. Life is too short to read a book you aren't into. I always appreciate books that I get from Netgalley, and I really try to only requests ones I think I will really like and read all the way through. Every now and then I pick a few that I just cant get into. That was this month. I did really like More Than Maybe though! (As you will see below.)
This book doesn't come out until May, but I couldn't wait to read it. I absolutely loved the cover and the premise. I loved both Luke and Vada. (I couldn't help but think of My Girl with that name. Am I dating myself, or what???) I absolutely loved that the book switched between the POV of Vada and Luke. All the music references and the way the author used songs was complete genius! I felt like I was just dancing right along with Vada! There were a few twists in the book, which had me not be able to put it down!
Bottom Line: Read this! It has been awhile since I really loved a YA, as it isn't my typical genre. This was such a cute read, I was smiling throughout the whole thing and really bonded with the characters.
** I received a copy of More Than Maybe from Netgalley in exchange for my honest review. All opinions are of my own.**
So the POV alternates between Ava, her husband Mitchell , their son Jack, and a few other characters that you meet early on. Sometimes I get annoyed with having to keep up with that many POVs, but it really worked in this book. Oh man, this book!!!! It had me at the edge of my seat at times, wanting to strangle a character or be like HELLLOOOOO do you see what I see??? And even though I am not a huge fan of comics, I loved how the author uses comic book heroes as coping mechanisms for Jack. He seemed a little mature for eight, but sometimes life makes you grow up faster than you should.
Bottom Line: Read it!!! I don't want to say much more about the book and spoil anything, but if you are looking for a fast paced, emotional ride….get on this!
So Mariana Zapata books have been on my TBR forever and ever. Kristen and Heather always speak so highly of them, I knew I had to them. I think that this book is not Zapata's best, so I went in with zero expectations. I will say, I felt like the love between Ruby and Aaron started out very immature. I know that Ruby is young (23-24), but it felt more like an early high school immature thing. And I didn't really know her feelings until we were almost half way through the book. I did like how this book starts out in letters, emails and instant messenger between Ruby and Aaron. It is the way my relationship with my husband started, so I thought that was cool. I really enjoyed the epilogue.
Bottom Line: I read through this one really fast and it kept my attention. I definitely want to read her more recent work. I am not sure that this is the best book of hers, but I feel it is a great place to start and only go up from here!
Charging along with the fourth book in the Charlie Davidson series, and I cant stop wont stop! This has mystery, witty sarcastic banter, romance/seduction. Everything you could want. Plus Reyes…
Bottom Line: Super fun cozy mystery series! Get on it!
I got this one free off Amazon. It reminds me a little of the Ellery Adam's Charmed Pie Shoppe series with the magic in a bakery. This was super cute, totally predictable, and just what I expected it to be. I fell in love with the town of Buttermilk Falls and will probably continue on with the series.
Bottom Line: If you need an easy love story, this is a cute book!
I absolutely love everything I have read by these two! This one is no exception! The love story in this book is awesome, paced just right, and enough love/hate to really keep it interesting. Not to imagine, I LOL'd so many times throughout this book!!!! But even more, is the way that Evie struggled in the work place with her sexist asshole boss and the difference in the way that he treated Carter. I think we have all seen the "good old boys club" in action at some point in our careers, and it is still a thing every day for women everywhere. It was nice to have some light shed on this.
Bottom Line: This is more complex than your typical romantic comedy, and I highly recommend it. I can see this book making my top 10 for the year.
I absolutely adore Carrie Underwood. I feel like she is one of those people who has stayed true to who she is. She is an amazing singer, entrepreneur, mother and is strong in her faith. I love her dedication to being strong and healthy, and heck….who doesn't want her legs???? I think that this book came at the perfect time that I needed to hear a few of the things that she said. After doing Keto for over two months, I had been looking for ways to come off and try to figure out what I wanted to do. I know the statistics of restrictive diets and that the extremes aren't really sustainable. Carrie shares some of her earlier diets and failures and the way that she eats and works out now. I think if Carrie Underwood can eat carbs, so can I. I love her approach that there are birthdays, holidays, social events that you want to attend and enjoy and you should…but that you should also be healthy most of the time and make the best decisions you can. That you need to be healthy 52 weeks of the year, but don't have to be perfect every day.
Bottom Line: This was a great read to reset your mind from all the fad diets and information that is out there. Carrie definitely takes a more common sense approach to her health, and really, it is the best approach. I love that there are recipes, playlists and workouts throughout the book.
DNF – Did Not Finish
Apparently this month, I was ruthless with my books. If I wasn't feeling it, I wasn't feeling it and there was no coming back to it. I have two DNF's.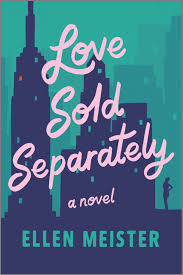 A shame, because how cute is the cover to this book??? I was barely even into the book and I was already annoyed. I could tell that I was not going to connect with the main character, and there was so much drug use in this book. I found it distracting and totally unnecessary. Life is too short to be annoyed so quickly, bye.
**I received a copy of Love Sold Separately book from Netgalley in exchange for my honest review. Obviously, all opinions are of my own and I will be honest when I am not feeling a book.**
Again, loved the cover, couldn't stick with the book. I was instantly annoyed by both of these characters, I think I am just too old to understand or relate to them. They were so obnoxious, shallow and self-absorbed. And besides the characters, the writing in this book was pretty terrible. Maybe if you are a young twenty something with not a care in the world, and trying to live your best fake life on social media, then you might like it. Hard pass for me.
**I received a copy of Social Creature from Netgalley in exchange for my honest review. All opinions are of my own.**
Currently Reading