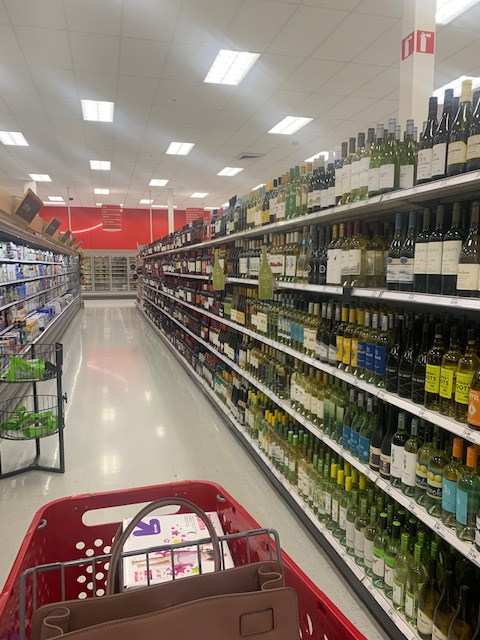 Favorite Moments: You guys, it has rained down here for weeks and weeks with hardly any breaks. We are all sick of it, but you know who deserves a medal the most???? Daycare teachers!!! These kids are stuck inside with no outlet to get out their energy and I watched my child, along with several others, act a total fool in class this week. Yesterday on lunch I had to hit up the wine aisle, because sometimes mommin' is hard. Ya know? I haven't had wine since we moved into this house back in November, and that glass I poured last night was like the best thing ever. EVER! I think it is official, I am done with keto and slowly transitioning to get more carbs each day. I feel like wine was a good way to spend a few extra. I am chill and ready to take on my Friday now!
Favorite Finds: (Affiliate links below) I was walking the mall with the old people on lunch the other day, when I accidentally fell into Old Navy. Accidentally. LOL. I decided to try on some of their dresses for spring, and then order them online and pick up in store, because online they are almost always cheaper. Why is that???? Anyways, I have my eye on these ones.
I love the way this one is cinched in to create some shape. I am queen of the swing and shift dresses and pretty much have worn them exclusively since I had Zoe. But I sort of would like to have some shape again.
The tiered dresses and skirts seem to be a key trend for the upcoming season, and I am here for it. Love this one! My store didn't have it, so this was the only one I didn't get to try on.
Scooped this navy blue striped swing dress up for $12!!! There are other prints, and they vary in price a little. Navy is my black of summer.
Also got this one in the navy print, because again, me and navy are besties in summer.
And because I always get tired of seeing size 2 people in clothes and have no clue what they would actually look like on an average person, here are some scary fitting room shots that I shared with Lindsay…who I basically make go shopping with me everywhere now. Sorry, love you!

Favorite Recipe: This keto cookie dough is amazing!!!! So easy to throw together and Chris and I have really been enjoying them the last week. I use Lily chocolate chips in them.
Favorite Funnies: