Now, I haven't always lived in Alabama. I was born in Pennsylvania and lived there until I was 11, we moved to Missouri until the middle of my sophomore year of high school and then found ourselves in Georgia. I finished up high school in Gwinnett County GA, went to college at the University of West GA then landed myself a job in downtown Atlanta. I lived in Atlanta until 2010. If you recall my love story, I fell in love with a boy that lived in Alabama and against everything I had once believed (that I would NEVER live in Alabama), found myself moving to Alabama for love.
Now, living in different parts of the country…there was always a stereotype view on Alabama. The thought was that the state was filled with a bunch of slow talking, redneck country folk. And well, there is some of that….but name a southern state that doesn't have their fair share? You get outside of the Atlanta metro area and Georgia is just as bad. And hello, have you been to West Virginia? Ok then.
To my surprise, there is actually quite a lot to do in Birmingham. Plus, we are just a short drive from the gulf shores, Atlanta, Nashville, Huntsville, Chattanooga….you cant really beat the location. Let me show you 5 things that we have going for us here in "The Magic City."
1. Breweries and Beer – In the last few years, the amount of breweries that have sprung up in Alabama is baffling. And it couldn't make me happier! Just in the Birmingham city limits we have Avondale Brewery, Cahaba Brewery, Good People, and Trim Tab. Then in Gadsden there is Back Forty (my favorite) and Old Black Bear. In Anniston there is Cheaha Brewing Company, all around metro Birmingham. We also have amazing places like World of Beer, were there are literally like a hundred different craft beers on tap….plus THOUSANDS of bottled beers to chose from. Hop City, which has a bar area where you can grab a glass of beer, and an area to shop and purchase craft beers from all over. We also have trendy places like J Clyde where there is great food and an amazing selection of beer.
Wild South Brewfest at Iron City
World of Beer – Check out all the bottles behind us!
2. Restaurants – For being a smaller big city, there is a shocking amount of restaurants that make "the best" lists in the country: Highland Bar and Grill, Ocean's, Hot and Hot to name a few. There are so many different types to chose from, that you never get bored with selection. We have some of the best BBQ around (Dreamland, Landmark BBQ, Full Moon BBQ, Moe's BBQ), a few great places to hit up for Sushi (Surin, Kanomi, Maki Fresh, Rock n Roll Sushi). An array of Mexican and Tex Mex (Fuego, La Paz, Cocina Superior), a few great Italian places (Belini's, GianMarcos) decent pizza (Slice, Fox's Pizza Den, Tortuga's, Dave's, Davenport's) and the best meat and three place in a questionable part of town that keeps you coming back for more, Niki's. Some other mentions are Twenty Six, Five, Dixie Fish Company, Village Tavern, Baumhower's, and Superior Grill.
We also have an array of fast casual with Ashley Mac's, Zoe's, Taziki's, Newks, Urban Cookhouse…the list goes on! Plus, don't forget to hit up Dreamcakes for the best cupcakes ever!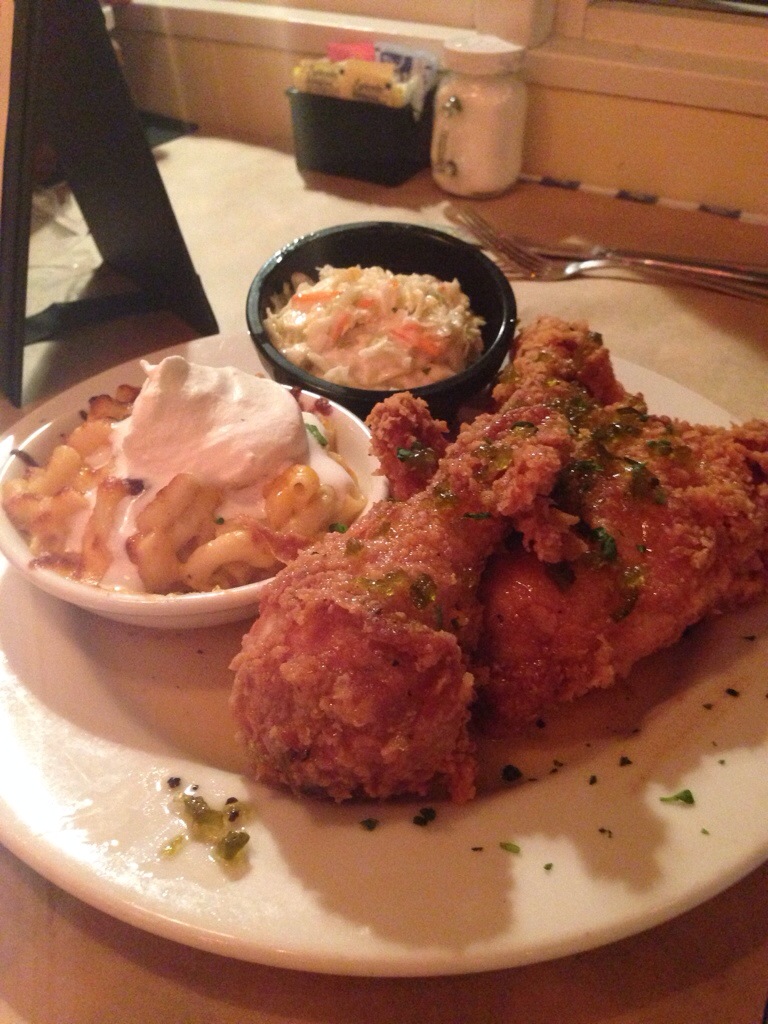 Dixie Fish Company : Sweat Tea Chicken
4. Mountains, Lakes and Gulf Shore Beaches – What other state can you find all three? Not many! Not to mention our parks! Just south of downtown Birmingham you can find Oak Mountain State Park. It is beautiful and a great place to go for a picnic, a hike, a boat ride, bike ride, or heck if you are feeling extra sassy…you can get married!
Railroad Park in downtown Birmingham:
When you sit on the patio at Chuy's at The Summit, you have a beautiful view of the mountains:
5. Shopping – The Summit, The Galleria, The Shops at Grand River…oh my! Don't worry friends, if you come to Birmingham there are plenty of places to go shopping! We have some great malls to choose from, not to mention a ton of super cute boutiques! Some of my favorite boutiques are Jade (Trussville) The Pink Tulip (Mountain Brook and now a new Hoover location) The Pants Store (Trussville), Lotus (The Summit and The Galleria.) If you are looking for designer stores, The Summit will offer you Michael Kors, Kate Spade, Sak and more!
Yup, Birmingham might not be a "destination" city for most people…but it sure does have a heck of a lot to offer. If you are coming through the area, hit me up! We can show you a good time!