I use to very much have a routine, wake up at 4:30am, workout, take a shower, do my make up, eat breakfast while I work on a blog post, get dressed, go to work, come home, make dinner, watch TV, go to bed. Every single week day. Now? Routine? LOLOLOLOL. Yeah no. Not with an infant. Especially not those first two months. We are sort of on more of a schedule now though. So this is what a typical day looks like in my world.
Somewhere between 5am-6:30am – Wake up. If Zoe wakes me up, I feed her a bottle and then we play in her room. If I wake up on my own, I grab some coffee and start working until Zoe wakes up. If it is the one day a week I go in to the office, I try and snag a shower and do my makeup before Zoe gets up.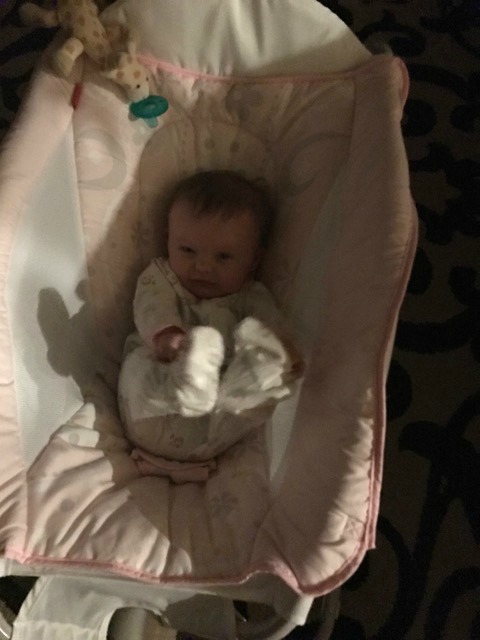 7am – Zoe is surely up by now, we are usually playing in her room. We play in her chair, or lay on her mat on the floor. We usually ready A Great Day for Up around this time too.
8am-9am – Zoe is usually ready for a second bottle around this time. Usually she falls asleep while taking it and goes down for her morning nap so I work until she wakes up.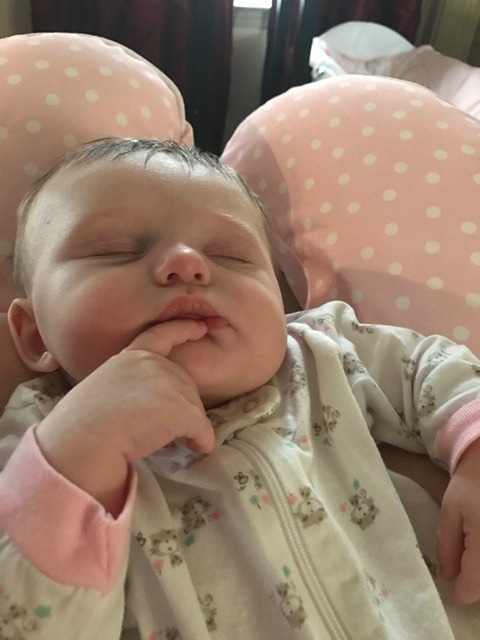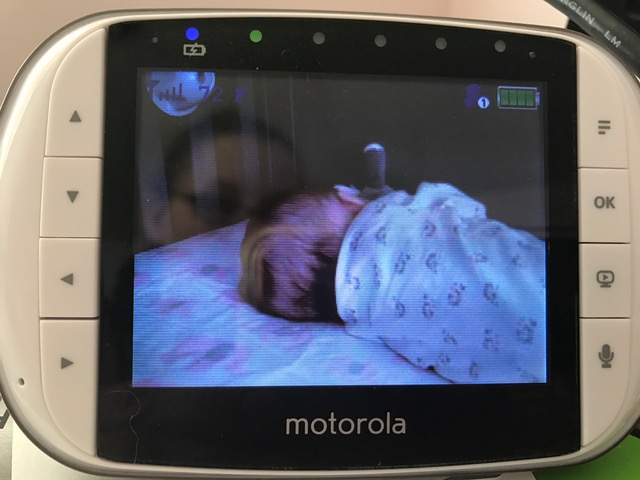 10am-11am – Around this time, Zoe is usually waking up from her nap and wants another bottle. If I am lucky, it is closer to 11am and I got two full hours of work in.
11am-1pm – While Zoe plays in her room, I sit on her floor with my laptop and get some work done while I entertain her with toys, let her sit in her bouncer or lay on her floor mat.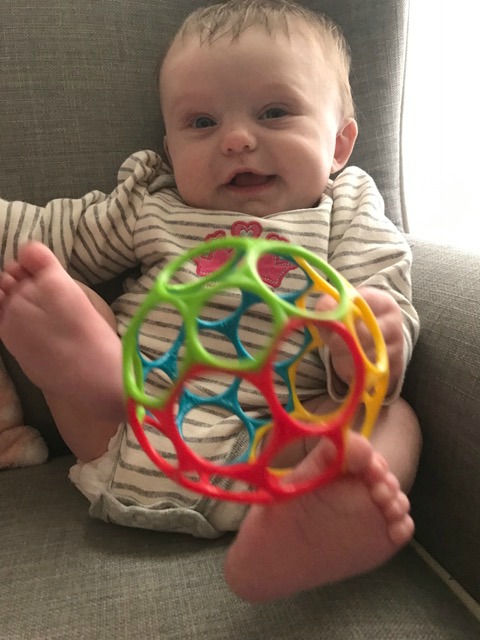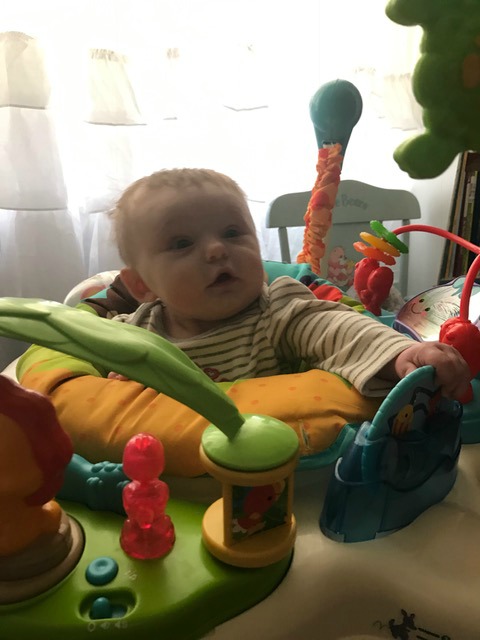 1pm – Zoe hangs out in her high chair in the kitchen with a toy while I prepare myself lunch and explain to her what I am doing. I have my laptop sitting on the kitchen table if anyone from work needs anything.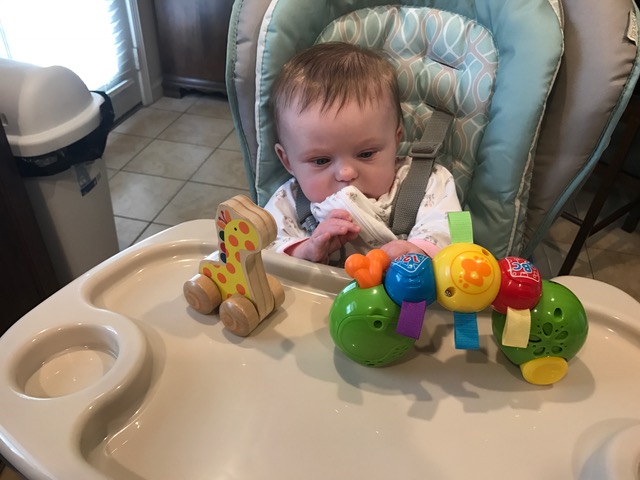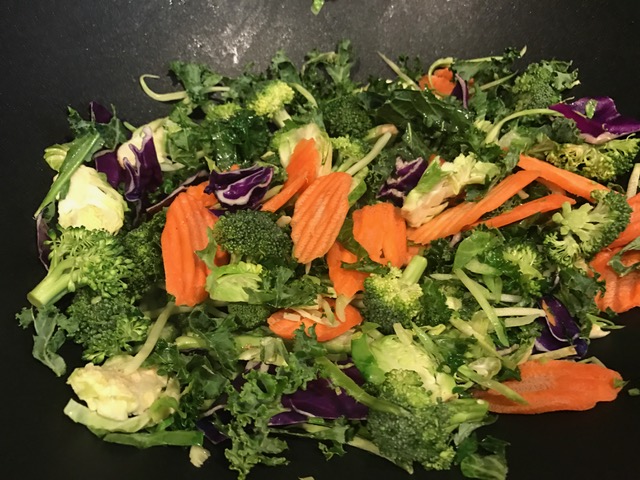 Zoe is usually ready for another bottle around this time. Sometimes she falls asleep while taking it and goes down for a long afternoon nap. Other times we go back in to her room and she plays while I work.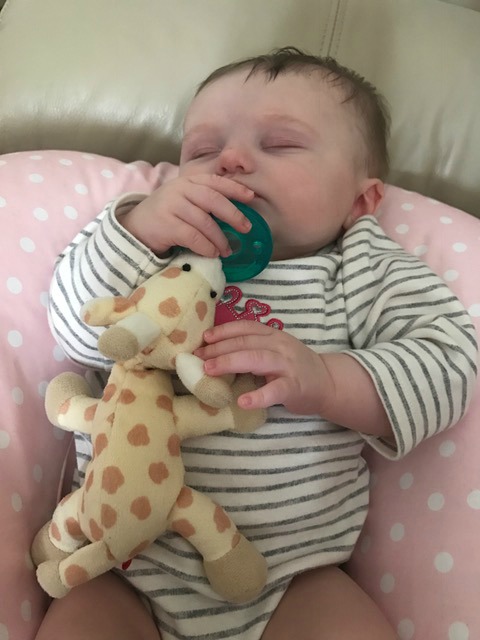 5:30-6:30pm – Chris usually comes home in this time frame and I try to have dinner ready for him shortly after he gets home. If Zoe wasn't taking a long nap, she hangs out in her high chair while I make dinner.
7pm – We usually watch a little TV while I play with Zoe in her Sit Me Up or floor mat in the living room.
8pm – Zoe usually takes one last bottle and then falls asleep while we hold her and is out for the night. Chris and I usually watch a little more TV until one or both of us falls asleep on the couch then we go to bed. Sometimes I will work on more work stuff if Zoe didn't take good naps during the day, or get some blogging done.
Don't even get me started on the days I have to go in to the office. I leave our house at 6:50am, take Zoe to my MIL and get to my office *hopefully* around 8:30pm. One day it took me two hours and 9 minutes to get there. I leave work around 5:30pm, go get Zoe and get back to my house around 7pm. So I only get to see Zoe for about an hour before she goes to bed for the night. I dont know what I am going to do when I have to be back at the office five days a week instead of just the one. I am going to be devastated and never get to spend any real time with Zoe during the week 🙁
What does your day look like?