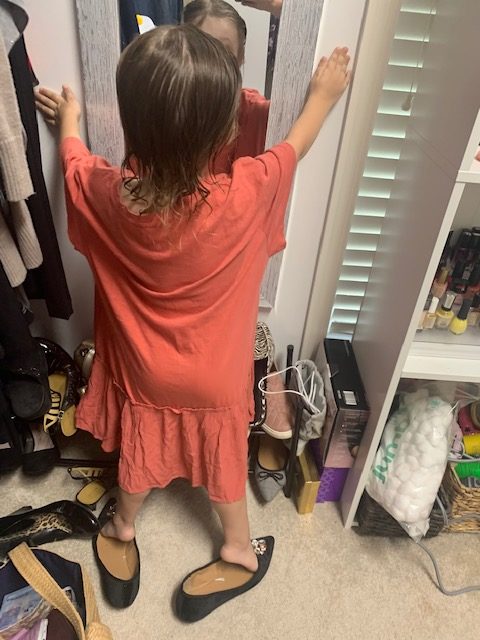 Time is weird. Parenting is weird. When kids are little, we are so focused on milestones that happen at different stages. When they can hold their head up, sit up, crawl, walk, etc. But I never really think about when these things become a distant memory, or when we stop doing certain things.
My sister dropped some baby items off to me last weekend that she had borrowed for my great nephew. I was putting them in the attic, and thinking about when Zoe used them. When did she stop needing the swing? That thing was an essential part of my sanity there for a few months.
Since March, Zoe basically dropped naps. The first day home, she didn't want to take one and I was still trying to figure out how our days were going to look, so I let her skip it. We had been skipping naps most weekend days anyways, knowing she was still getting a good nap at school all week. But after that first day, she never took one again. And now we are 6 months of no naps, and I cant remember the last time she did nap for me? When did these stop? It's like you don't even know its happening when it does.
I try to remember that feeling, as she randomly asks me to pick her up throughout the day. She is around 37-38 pounds now, which starts to get pretty heavy when you are holding her for an extended period of time. But one day, she is going to stop reaching for me and asking me to pick her up.
Right now, I sit on her bedroom floor at night until she falls asleep. I have been doing this since we came home from Gatlinburg in January. Ever since we moved, she had a hard time going to bed at night. I guess being in a new room on a different floor seemed big and scary. I just found it easier to sit up there with her, than to fight with her about going to bed and listening to her cry. I take that time to scroll social media or read a few chapters of my book while I wait for her to sleep. I made a joke one day about how it's not like I am going to have to go off to college with her to do this. It is just a phase. But that is the thing, it is just a phase. One night, she isn't going to need me up there anymore. One day, she is going to stop grabbing my hand as we walk up the stairs to go to bed. That breaks my heart.
I know a lot of people have looked at 2020 as the year of complete chaos, but honestly, it has allowed me to slow down some and really enjoy spending time with the two people who matter most to me. I am not going to lie, working full time at home while trying to keep Zoe entertained, schooled, and coming up with new things to do is hard some days. And it came be so lonely and isolating as well. But we have created so many memories over the last several months.
I am sharing all of this to say, that if you are a parent in a certain season, it is just that. A season. Maybe a particularly hard one, where you are going through a sleep regression, trying to break the paci, potty training, witching hour, whatever it is. Just remember that one day, this will all be a distant memory to you. One day, they are going to sleep through the night again. One day, they will be going to the potty without any assistance from you. One day, they are going to move out on their own and break our hearts.
You're gonna miss this
You're gonna want this back
You're gonna wish these days hadn't gone by so fast
These are some good times
So take a good look around
You may not know it now
But you're gonna miss this