Heading straight into the last week of October! It is overcast this morning, and definitely looking like fall out there! We had a good weekend, did some fall things and I didn't think about work once.
Friday evening we drove through a local neighborhood that goes all out for Halloween. One of Zoe's besties lives there, so we dropped off a Halloween goodie bucket for her while we were over that way. Chris did what he does best and ordered a ton of pizza for dinner from Ironstone. We ate on it all weekend and still have some left!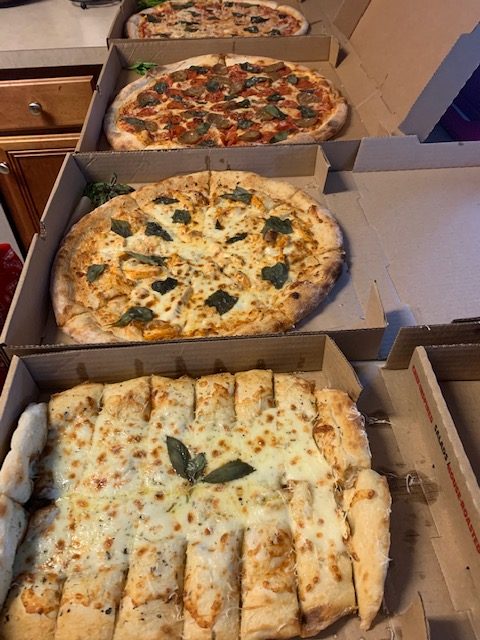 Saturday morning we got breakfast going. It pretty much rained all day Saturday, so we hung out in our jammies and did some Halloween crafts.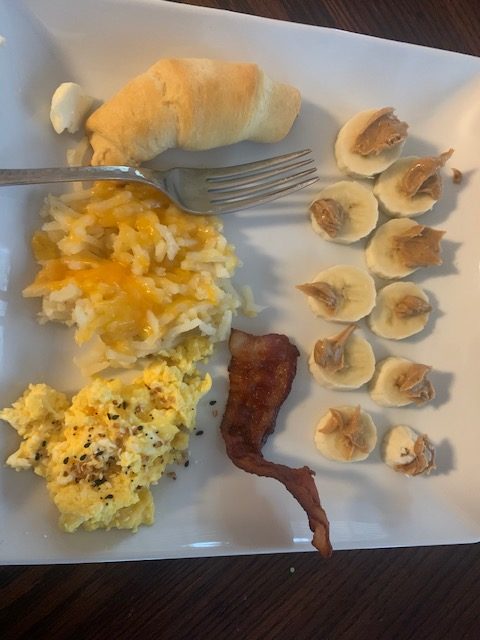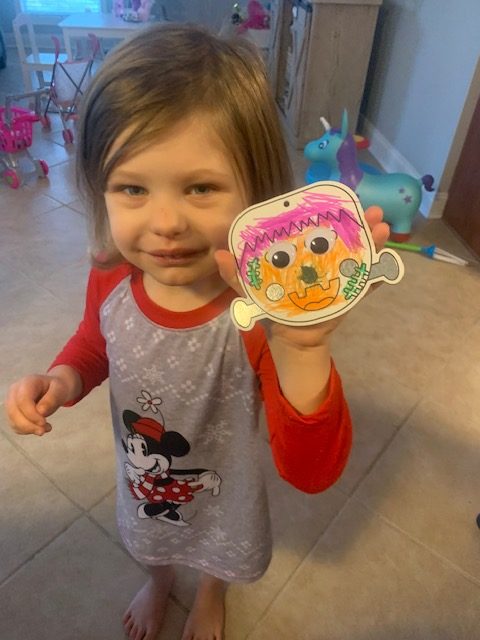 I think I am going to buy one of those black acrylic trees for Halloween next year, and hang all her crafts that she has done this year on them! She had so much fun doing them!!!
My sister stopped by to drop off a Halloween treat bag for Zoe. Then we headed over to Sherman Williams to pick up some paint for our dining room!!! I hope to tackle that this week, or next weekend at the latest!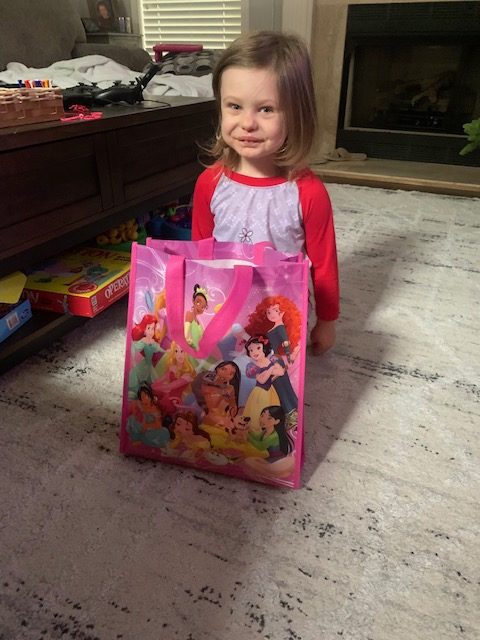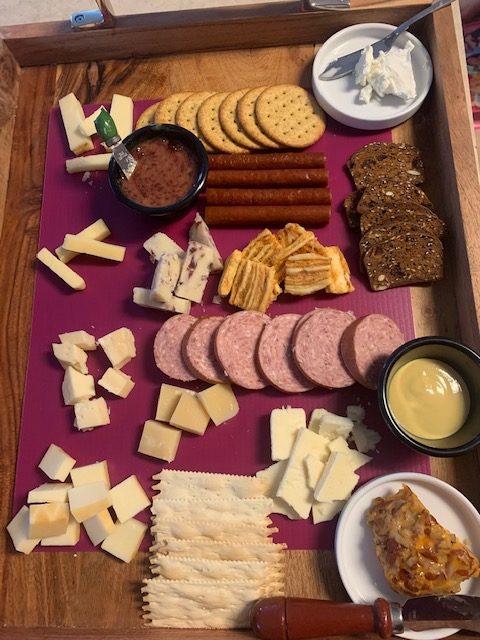 We came back and made the best charcuterie board and enjoyed football the rest of the evening. I also made Zoe some Nice Cream out of some old bananas I wanted to use up. It was so easy!!! You literally cut up 2 frozen bananas and freeze them for a few hours, then run them in the food processor. It was the creamiest most delicious guilt free treat! I let her throw some sprinkles on it. Next time we might try a vanilla or chocolate flavor.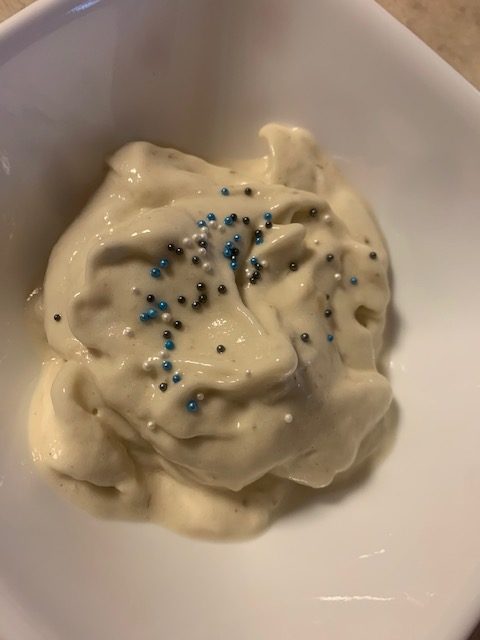 Sunday morning, we made pumpkin pancakes and got ready for another car ride. Zoe and I took a Halloween bucket to another friend who had one waiting outside for Zoe as well! So sweet! She stuck so many crafts in there, we have one to do every day this week!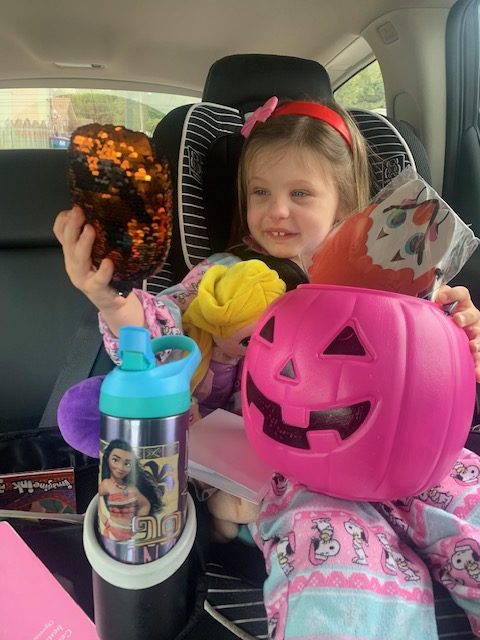 We drove by Chris's parents house, and his mom was outside…so we stopped by and talked to them for a little bit. They play golf with Zoe in the front yard, and she had so much fun running around. When we got home, we made homemade enchiladas with homemade sauce for a late lunch.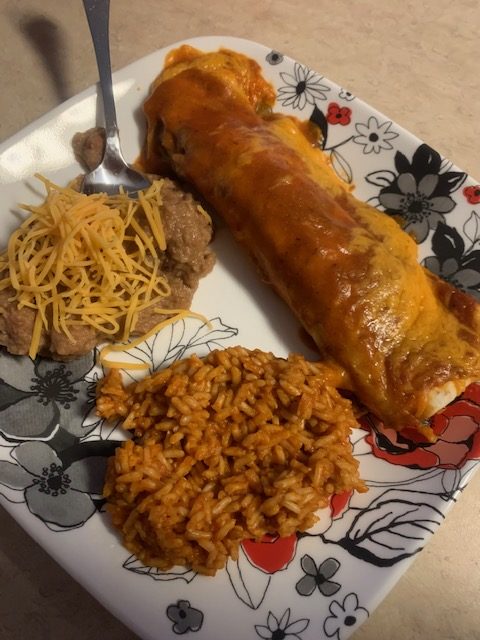 We then settled in for some Halloween movies and smores in the living room! We introduced Zoe to Double Double Toil and Trouble and watched Hocus Pocus again.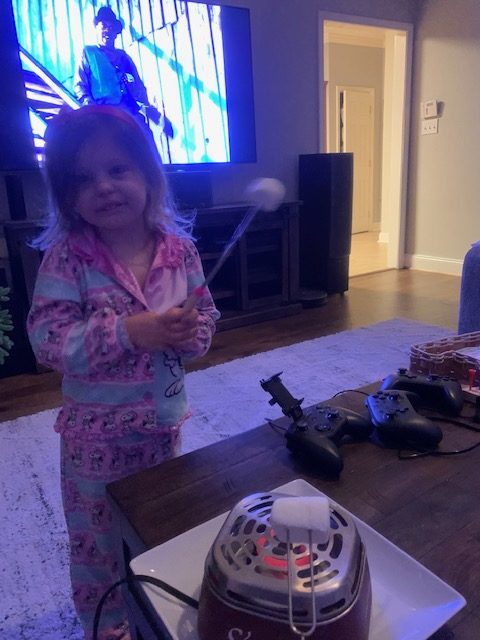 And just like that, we wrapped up another weekend of 2020. While this year has brought on a lot of anxiety, worry, and unknown…..I definitely have come to enjoy the slow down of life and making the most of it.