Over the weekend, Ann Davis aka "Alice" passed away.
It got me all reminiscent about watching The Brady Bunch with my mom when I was little. I loved it, still do! I realized that The Brady Bunch taught us many things. I wanted to share a few of those with you today.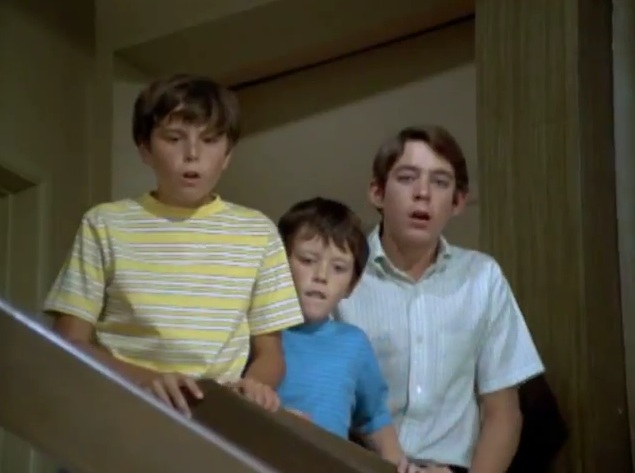 1. Don't play ball in the house. – Just ask the Brady boys, you might break a vase and take an entire episode trying to fix it, only to be caught anyways.
2. While on vacation, only buy souvenirs  from legit shops. – Ask Peter Brady about his misfortunes when he woke up with that nasty spider. No thanks tiki man, you are going back!
3. The oldest daughter is the best daughter. – I mean come on Jan, with Marcia's hair…who wouldn't pay her more attention? Stop being a little bitch!
4. Some people don't need to have power. – Remember when Bobby was the hall safety monitor?!?! What a douche!!! Like, I am pretty sure that Hitler gave more slack.
5. Don't hide your journal in the garage. – Marcia left her journal sitting out in the garage and when Cindy was packing up stuff to donate, her diary was mixed in. I mean, Cindy probably did that crap on purpose to air out all her dirty little secrets.
6. If you don't have a boyfriend, make one up. – Hello, George Glass. Jan, if you didn't spend so much time hating that Marcia gets all the attention, you probably could have scored one of the boys that your parents tried to set her up with for the dance.
7. Sometimes words will trip you up. Like sea shells by the sea shore. I mean, saying it a few times fast will trip anyone up.
8. Be yourself. – Also see, not everyone can pull of a black wig. But really Jan, you should be loved for who you are, not who you want to pretend to be!
9. Don't visit ghost towns. – The whole family ended up locked up! If you can't help yourself and must visit, maybe make arrangements to check in with someone by a certain time and if you are not reached, the search party must be called.
10. Sometimes things just work out. – Like how Marcia got to meet Davy Jones. He was so dreamy.
What did The Brady Bunch teach you? Or am I the only one who was lame enough to watch it over and over and over again….