I don't know why I always wait until my empties bin is overflowing with products to do these posts! I have so many products to share with you all! I am going to keep this one to just skincare today. Most of my absolute favorites are included here.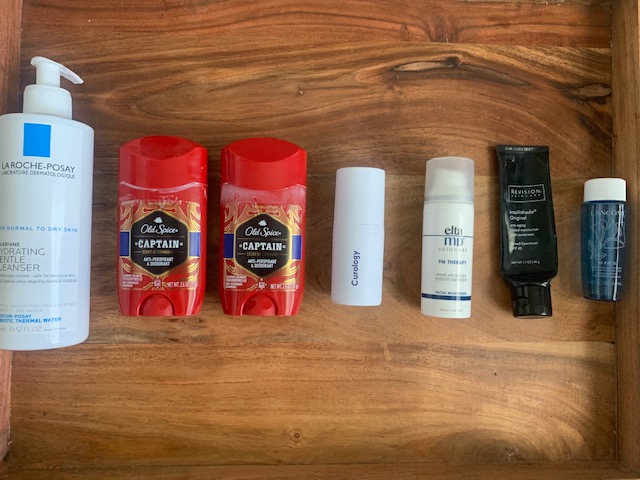 LaRoche-Posay Hydrating Gentle Cleanser – This and my CeraVe Hydrating Gentle Cleansers are the two that I use all the time, and have for over a year exclusively. I keep this LoRoche one in my shower and use it in the mornings. The CeraVe stays on my counter and is used at night. Both were recommended by my dermatologist. They do the job without drying or irritating my skin, or breaking the bank. I would rather spend my money on serums and moisturizers that stay on my skin. You know?
Repurchased: Yes. Many times.
Old Spice in Captain – My tenth quest for natural deodorant has come to an end. None of them work consistently. I have basically tried them all. When I switched back to the dark side, I went with mens. For whatever reason, Secret and Degree would make me itchy. And to be honest, if I didn't rotate them, even those weren't working all that well. This Old Spice smells amazing and it has never irritated my skin. I am on my third container of it now and it is safe to say I don't plan to switch anytime soon. It holds up through an Alabama summer and my workouts.
Repurchased: Yes. Many times.
Curology – I started using Curology at the beginning of quarantine. I was intrigued by the fact that each person's bottle is tailored specifically for them by a dermatologist. You basically go to the website, answer some questions, take some close up pictures of your skin and you are on your way to your very own formulation! I do the every other month subscription, and I think I pay $39? The bottle lasts the entire two months, and I have definitely noticed a different in the texture of my skin since using it! I received my fourth bottle a week or two ago. When I first started using it, I had some dry patchy areas, but I think my skin has gotten used to the prescription strength grade of the product. I love it and definitely recommend giving it a try. (My link for this one is not an affiliate link, just sharing the product.)
Repurchased: On every other month subscription.
Elta MD PM Therapy – This was the nighttime moisturizer that my dermatologist recommended to me over a year ago. I purchased my first bottle from her, and have been getting it on my own since. I love this stuff. It feels so good at night when I finish my skincare routine with this. After following her suggestions, I haven't really had any major breakouts, irritation, or issues with my face. I have also noticed improvements of quality and texture.
Repurchased: Yes. Many times.
Revision Intellishade – This is the daytime moisturizer that my dermatologist recommended. I love that this is not only a tinted moisturizer (perfect for no makeup days) but it also has SPF. Again, the combination of these products has my skin looking better than ever.
Repurchased: Yes. Many times.
Lancome Bi-Facial Eye Makeup Remover – I get these a lot when I get free gift with purchase from Lancome. It is by far my favorite eye makeup remover ever. I have used it for years and it simply works the best.
Repurchased: I haven't been wearing makeup enough to need this. Will definitely repurchase or get as a gift with a different purchase when needed.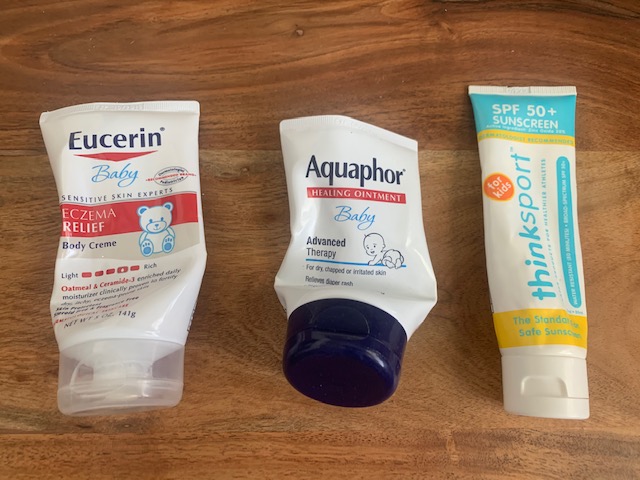 I am going to do a bonus kid skincare empties in this post! I will make this quick. Zoe has super sensitive skin. When she was a baby, we basically went through a ton of products trying to figure out what would work for her. Now that she is a little older, her skin isn't as sensitive as it was but we still keep the basics that we used when she was an infant in our daily routines. All three of these are holy grail Zoe items that we have repurchased over and over again.
Eucerin Eczema Relief – This is definitely a cream versus the Aquaphor below. We used this in the mornings before school because it was faster to dry trying to get out the door. We also kept a bottle of this at school for her when her eczema flared up.
Aquaphor Healing Ointment – This is a miracle product in a bottle. Zoe's pediatrician recommended it to us, and this has cleared up all eczema, dry patches, irritations, you name it, this solved the problem. We use this on her every night before bed. It is almost like a Vaseline consistency, so I recommend giving yourself a little time to dry if you are trying to get out the door. This stuff is so amazing, we buy the big tubs of it and I keep one in my skincare drawer too for when I have dry patches that need cleared up. These smaller bottles are great for travel and diaper bags.
Thinkbaby – This is the only sunscreen I have ever used on Zoe. We started it around 6 months on our beach trip, and when she was at daycare we applied it daily for the playground. It has always done the job and never broke her out. I even use it on myself when I am out of my sunscreen. Love it.
Have you tried any of these products? What is your holy grail.