It's finally here! The much anticipated Friday! Yay! 
I have been eating some yummy healthy snacks lately. Let's take a look. 
1. Air-popped popcorn – Much healthier than the microwave kind. I have been flavoring mine with a fresh squeezed half of a lime! It gives it the texture of butter, but much healthier. I love it! 
2. Grapes –  I love some fruit! Lately, grapes have been looking wonderful at the store. I like to pluck and wash them all on Sunday night, and place in a plastic bowl with  a lid. It is a quick and easy snack all week!
3. Peaches – I love some peaches. I did live in the "Peach State" for 13 years….
They seem to be in season right now and taste delish!
4. Cottage Cheese – I have NEVER liked cottage cheese by itself before. I was making my "skinny baked ziti" on Monday, and I use cottage cheese in place of ricotta. I licked the spoon after I was done, and thought I would instantly regret it. Nope….I liked it. I have been taking the remaining cottage cheese for part of my lunch this week. It is only 90 calories and has 10 grams of protein!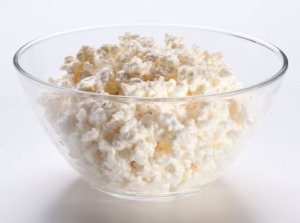 5. Archer Farms Fruit Strips – I like to have one of these in the afternoons at work instead of reaching for some candy. Sweet fix for less than 100 calories? Yes, please.
What snacks are you grabbing?