Well good morning and hello November!!! There is so much about November that I love, so let's look at the top 5 things for me!
1. Our anniversary. Chris and I got married November 10, 2012. This year we will celebrate our first wedding anniversary, and (hopefully) a start for many many more to come! I cant believe it has been a year already, and at the same time it has only been a year. Crazy!
2. Thanksgiving (duh) It is a holiday about food, and I love food! Plus I love spending time with our family and being lazy all day. It is pretty awesome. Give me all the pie. And casseroles. And turkey. YUM!
3. Black Friday – My mom and I count down to Black Friday for as long as I can remember. There is something about the day that gets me all warm and fuzzy. The last two years my mom and I started out Thursday night and shopped well into the afternoon on Friday. Yes, we are those people. You wont find me running someone down with my car, or starting a fight in line. We enjoy watching the crazies and getting good deals on stuff. Plus, it is something we do together every single year. I love spending that time with my mom and I wouldn't trade it for the world. I don't care if I didn't buy one thing, it is about going and doing!
My mom's car last year when we were done!
4. Christmas catalogs start coming. We received our first two this week on the same day and I was so excited. Yes I know there is the internet, but there is something special about holding the catalog. The glossy pages. Call me nostalgic. We used to circle the things that we liked when we were little. We used to get so excited to see the big toy catalog from Toys R Us. Any PA people out there remember Hills? Hills is where the toys are.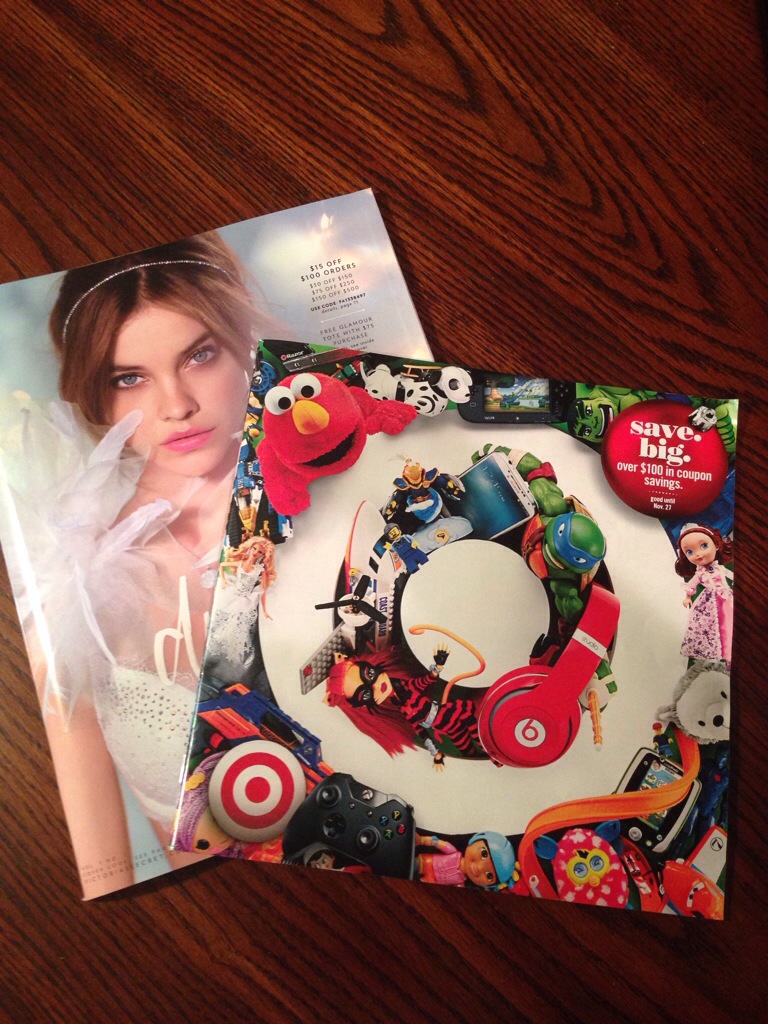 5. November swag. Swag? I don't know what to call it. You know what I am talking about…the essence that is November. The crisp fall air, the changing and falling leaves, the intense sunsets, the spirit that most people are in as we draw closer to the Thanksgiving and Christmas. I just love every thing about November!!!
Look at the leaves!
What is your favorite thing about November?
I hope everyone has a fabulous weekend! We are supposed to have gorgeous weather here in Alabama after the rain clears out, and I couldn't be more excited!
Go link up with Joy for the Friday Five!