I have been meaning to get my empties posts done, I have had these pictures sitting since August. So you know that empties bag is full again! I grouped them up for a few different posts, and today I wanted to focus on foundations!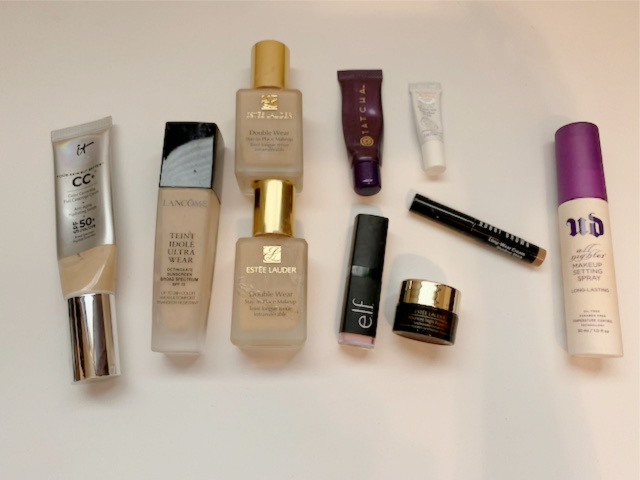 IT CC Cream – This one I have a love/hate relationship with. I really want to love it, it does give full coverage for a CC cream. It is more like a foundation to me. But, it never settles into my skin, it rubs off on everything. And I hate the lemon-y smell that it has. I used it all up, but I wont be repurchasing. I like the Lancome Skin Feels Good so much more.
Lancome Tient Idole Ultra Wear – I really love this foundation, have been a fan for a long time. This is great for those who are looking for full coverage and want something that is a little bit of a lighter feeling on the skin. I usually rotate between this and Estee Lauder Double Wear.
Estee Lauder Double Wear – This is my ultimate holy grail foundation. I absolutely love it! This is true full coverage, and it looks best when applied with a beauty blender. (I always use the Real Techniques one.) It holds up to the Alabama heat and humidity all summer long. This is my favorite, with the Lancome one closely behind. When my skin is really dry in the winter, sometimes the Lancome one is a little more forgiving.
Tatcha Eye Serum– I had a deluxe sample of this, and it was alright. Nothing really to write home about. I don't think it is worth the price and will not purchase.
Elf Lip Scrub – This is $4, and it works like it is $4. I didn't really care for it, and will not purchase again.
Avene Eye Cream– This stuff was alright, but again, nothing to write home about. This is less than $30, so it isn't a terrible price for eye cream. I just don't really think it is worth it, I wont be purchasing it.
Bobby Brown Long Wear Cream Eye Shadow – I really liked this eye cream. I had it in the color stone and repurchased it. I will say, I like the Charlotte Tilbury Cream Shadow in Marie Antoinette more. It has more depth and gives you a whole "look" over a solid color of the Bobby Brown stick.
Estee Lauder Advanced Night Repair – I have used this on and off over the years. I really like it, but it is a bit pricey. I tend to really only use it now when I get a sample in a free gift pack when I buy the foundation.
Urban Decay All Nighter Makeup Setting Spray – This is the best setting spray I have used, and have gone through multiple bottles. Love it!
Have you used any of these? What is your holy grail foundation and eye cream??