I have really been enjoying my FabFitFun summer box, so I wanted to share what I got! Definitely a few solid winners in this one. If you don't know what FabFitFun is, it is a seasonal box that is sent out four times a year. You can be a seasonal member, meaning that you pay $49.99 per box each season. Or you can be an annual member, and pay $179.99 for four boxes up front, once a year. If you are an annual member, you get the perk of being able to choose your box first and make the first batch of shipping. You also get to customize more options in the box, and get first dibs on the add-on sales and other events that they offer. I was a seasonal member all last year, and decided to become an annual member this year.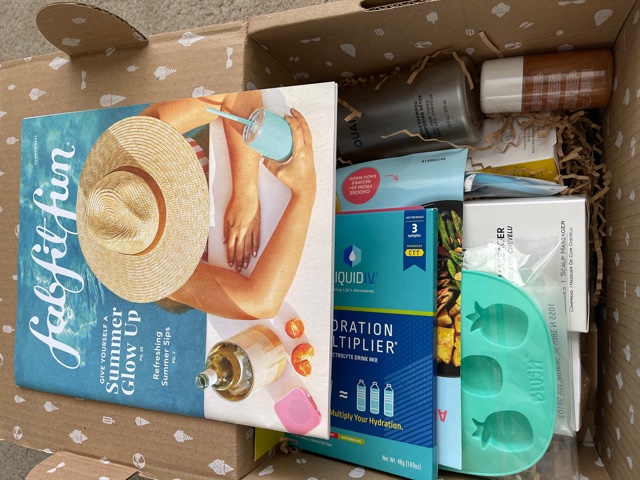 This summer box is the first time annual members got to select all 6 items!
If you are interested in signing up, you can use my link and save on your first box. I would also get a credit to my account.
They used to put the retail prices in the magazine that comes with the box. Mine did not have that this time, so I looked up online what I could find and made notes. This is what I picked for my box!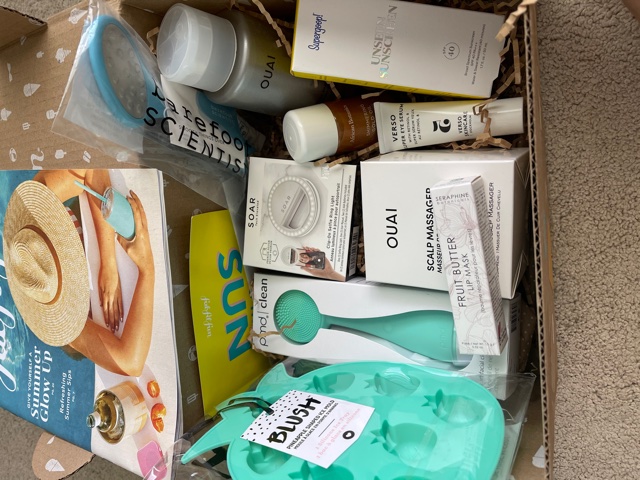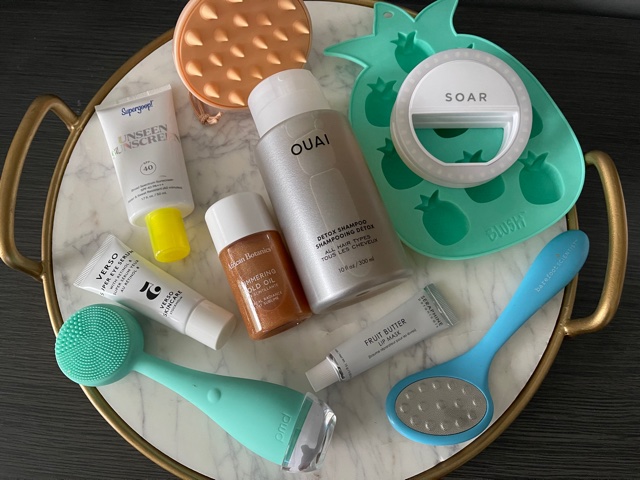 PMD Microderm – I am shocked at how much I am liking and using this!!! I always had interest in a facial cleanser like the Clarisonic. But I didn't want to have something that needed replacements often. I had the Foreo Luna mini for awhile, but I was never consistent with it. I didn't like how it was held in the hand, I wanted something with a long wand. I know I have only had this PMD 2 weeks, but wow!!! I am really enjoying it. It comes with a clear little stand to sit on the counter. There are four different settings you can use, and I just feel like my face is so much cleaner when I used this. It feels so nice, and my skin is so so soft after. This alone is worth double the price of the entire box.
retail price $99
OUAI Detox Shampoo and Scalp Brush – I actually already owned this detox shampoo, and it is my favorite. I also love their scalp scrub and leave in conditioner. When I saw this was an option, it was a no brainer for me. This bottle is huge and will likely last me a year, since I only use it once a week or once every other week. I love the scent and how clean my hair feels after using it. This is amazing at removing any product build up.
retail price $30 for shampoo, I can't find the scalp massager, but other prestige brands are $16. You can find some for as low as $8 so I will even it out at $10 – $40 total
Supergoop! Unseen Sunscreen Broad Spectrum SPF 40 – This is another product that I have used before and loved. I am super happy to have it back in my daily use.
retail price $34
African Botanics Shimmering Gold Oil – I used to love shimmer powder or shimmer oils in the summer when I was in my twenties. Who doesn't want shimmery skin?? I thought this was just a fun add on. The actual retail price for this stuff is $$$$. It is extracted by farmers and has Marula Oil, which is known for its anti-aging benefits and packed with four times more Vitamin C than an orange. It protects against free radicals, stimulates circulation and boosts collagen. So I guess that is why it costs so much? It is really pretty and it has a nice smell. I don't know that I would pay full price for it though.
retail price $65
SOAR Selfie Ring Light – I have a large ring light on a stand that I use for Zoom meetings on my laptop. I really notice a difference in the lighting and how I look on camera when I use it. I thought it would be cool to have this portable one for my phone if I ever wanted to take it and use it anywhere out.
retail price $29.99 – This was made exclusively for FabFitFun, and I feel like when that happens, they inflate the "worth" price. I found similar on Amazon for $11.99.
This last customization had several different options, pairing a few items together or allowing you to select just one thing that was worth more. I chose the set that included a lip butter, foot file and pineapple tray.
Seraphine Botanicals Fruit Butter Lip Mask ($25)- This stuff is seriously amazing. The scent reminds me of an air freshener I used in my car in college…but the texture and application of this is wonderful. I keep it on my desk and use it throughout the day. It makes my lips so soft!!! It lasts quite awhile on too. This will be a repurchase.
Barefoot Scientist Pedicure File ($15)- I chose this set for the lip mask, so this was just a nice added bonus. It is useful, thought I already had a foot file. I do like the handle on this one.
Blush Pineapple Tray ($14.99)- Just another added bonus. You can purchase this on Amazon for $14.99, but I saw it on Walmart's website for $29?! What?? That is crazy to me. It is really cute, but not something I would pay a ton for.
retail prince $54.99
One of the other customizations for this was the Verso Botanicals Super Eye Serum that gets really good reviews. I decided to add it on for $10. The size I got retails for $60 and I have seen the large one for $80. I have to say that so far I am really enjoying this. It as retinol in it, which can make my skin really dry and flakey, and it has not done that under my eyes. I will report back after longer use, but this might be a new favorite for me. And that says a lot, as I find most eye creams do nothing for me.
They also added in a bonus 3-pack of Liquid IV. I found a 6-pack for $13 so I am calling this a $6.50 value. Chris and I have actually consumed all of these already. I really liked it and will definitely be purchasing more in the future. This was a nice add in that really added value to the box for me.
The total value of my box was $329.48 of the regular items I received. For the $10 extra add on of the eye serum, it brings my box worth to $389.48. I am very happy with all the items I received. Again, the PMD cleaner alone is worth twice the value of what I paid for the actual box. I will use everything in it. The two things I could have done without were the foot file since I already have one, and the pineapple tray which is just frivolous and something I wont use much. It would be a cute item to gift to someone with their favorite cocktail items or a hostess gift or whatever. Zoe was actually really excited to see it, and she wants pineapple ice cubes in her drink…so I will be keeping it.
If you got the FabFitFun box this time around, what did you think? I cant wait to see what they offer for the fall box. I love getting these treats four times a year. If you have any questions about boxes and how they work, let me know. I will give you my honest opinion, and can share what I have had in previous boxes. I am not paid or sponsored by FabFitFun, I pay for the annual membership on my own.