–My 14 year old niece has me hooked to a song she refers to as "the sponge bob song." No, it isn't the theme song….but it might be just as embarrassing. Yet so damn catchy. Don't judge me but go listen! OK fine, judge me.
–I looked at my keyword search stats the other day because they always make me laugh. I felt like such a badass when one of them was "what girls feel when they lift weights." YES!!!!!!
–I feel like a teenager with the way my face has broken out over the last week. Please tell me on what universe is it fair that I have to worry about acne and wrinkles at the same time?!?!
–I was in the bathroom washing my face the other night and I walked to the trash can to dispose of my make up wipe when I discovered a large ass fucking spider the size of my hand just chilling in our garden tub. I looked like this
Then I was like
Then I did what any adult would do, I went and got Chris so I had some back up in case the spider tried to do anything wack when I attempted to kill that mothafuckaaaaaa!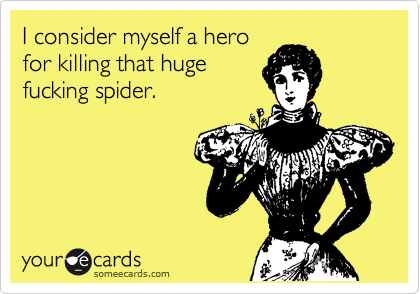 Confessions in ecards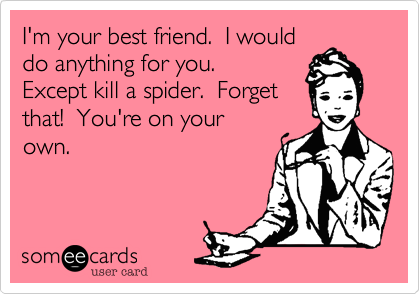 Has this ever happened to you before?