I normally have a new book post started the minute after I publish the last one, and keep up with it through the month with each book I read. There was none of that prepping this month and I am relying strictly on memory. Scary!!! Linking up with Steph and Jana, let's do this!
November 9 by Colleen Hoover
This is my first read from Colleen Hoover, and I have to say, I am a fan. I really liked the whole premise of the book, with Ben and Fallon meeting on the same day every year. There were a few times I wanted to scream out NOOOOO and there were a few cringe-worthy lines that Ben said to Fallon when they were intimate that made me roll my eyes. But overall, I really enjoyed this book and can't wait to dig in to another of hers!
Bottom Line: Read it! The premise was great, there is a plot twist that I didn't quite see coming.
Make Me Bad by RS Grey
You guys know, I am a huge RS Grey fan. This is your typical good girl wants to bad guy book, and completely predictable. But I laughed out loud multiple times and just really love RS Grey's writing. I will say, I liked some of her earlier books more than this one….but I still couldn't put this one down. I really liked Madison and Ben, and even some of the side characters in this one. Usually her books are focused more on the main two, but we get to know Andy (Ben's best friend) and a few others a little more. So for me, that is a good read. If you are in to romantic comedy, check her out!
**Thanks RS Grey for an ARC copy!!!**
Bottom Line: Fun romcom, cute read!
How to Hack a Heartbreak by Kristin Rockaway
This book!!!! I absolutely adored this book. I read it in like two sittings, which says a lot for me these days! Mel is a girl who works in the tech world, and it is definitely "the boys club" at her company. I mean…how many of us have been there??? I don't think I have ever worked somewhere that it wasn't "boys club." And she is also fed up with her co-workers and the online dating world, so she develops an app to expose the gross pervs and cheaters that are flooding the swipe right world. Her co-workers have no clue how talented she is, because she is stuck at the help desk. I loved Mel's character and the whole story line. I definitely laughed several times throughout this book, and found the characters totally relateable.
Bottom Line: Totally cute romcom with a bad-ass female lead, read it!
** I received a copy of How to Hack a Heartbreak from Netgalley in exchange for an honest review.**
My Own Miraculous by Joshilyn Jackson
This is a prequel to Someone Else's Love story. I don't think that I have ever read a prequel before. I really loved Someone Else's Love Story and Shandi and Walcott, so I loved getting to see more of them. This book was focused around Shandi's son Natty, who Shandi realizes isn't a "normal kid." Shandi sort of discovers her place a mother in this book, and it was really fun to see. If you are a Joshilyn Jackson fan, definitely check this one out. It is a short read, maybe about two hours, but it had a lot of depth!
Bottom Line: If you have read Someone Else's Love Story, or are a fan of Joshilyn Jackson, read it!
The Wedding Date by Jasmine Guillory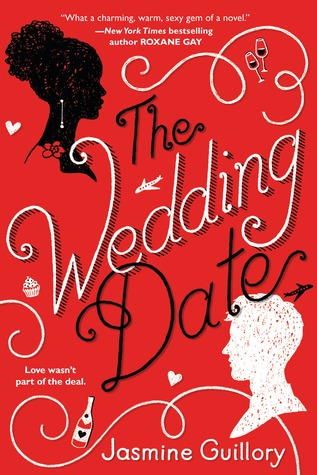 I liked this one! I thought that the relationship between Alexa and Drew was totally realistic as they went from fake date through to a real relationship. The issues that they had with long distance, commitment, race, circumstances, etc were all relateable. I really liked the side stories between Alexa and her sister, and the conversations between Drew and his friend Carlos. Also, we get a lot of depth in Alexa and Drew characters through their commitments to their careers. I really enjoyed reading about Alexa's community involvement. I would certainly pick up another book from this author!
Bottom Line: I really liked this one, it has a little more depth to it than your usual romcom, I couldn't decide if it was a romcom or chick-lit.
Roomies by Christina Lauren
This is my first book by this author, and I know I have several more on my TBR. This was a super fun read that had me laughing out loud many times. I am rating this book high, but I had a few issues with how quickly things get fleshed out with immigration and how other issues are glossed over. Like, if I were pushed off a platform at the subway, I sure as shit wouldn't be hopping right back on it again! I like how we aren't sure if Calvin is playing Holland or not, it made for a more interesting read. I loved Holland's uncles, and that we get some depth to their characters also. One of the things I really appreciated, was the side plot between Holland and her BFF. It was totally relateable to me, because in my twenties….my BFF did a complete 180 and we had a falling out. It was completely realistic and relatable to me.
Bottom Line: Fun read!!
Currently Reading:
Royally Screwed by Emma Chase