Linking up with Dani and Michael for Three on Thursday, because I love a good link up!
Three Creature Comforts
Coffee. Allllllll the coffee.
Hand cream. My hands are always dry and cracking any time of the year. But coming out of winter, and then add in the additional hand washing, because I was already hand wash freak before….and my hands are quite the mess! I feel like all my usual miracle fixes aren't even enough anymore. I apply multiple times a day.
Shipt and Instacart – I love going grocery shopping. I like to pick out my own stuff and get inspired by the foods I see. However, since in quarantine, we have been using grocery delivery services each week, and it has really helped! I cant imagine trying to take Zoe in to a store and worrying about her touching anything, so this has been a life line. We have had great shoppers and good experiences with both services.
Three Comfort Foods
Peanut butter balls – I have been using Steph's recipe for years now. Zoe and Chris are both obsessed and we make them at least once a week.
Homemade cheez-its – Cut ultra-thin sliced cheese into fours and sprinkle with sea salt. Bake at 250 degrees for 35 minutes. A healthier version of your favorite!!!!
Nuts – I take a bag of raw pecans, walnuts, etc and toss them in a tablespoon of butter and a tsp of salt and bake them in the oven at 350 degrees for 8-9 minutes. PERFECTION
Three New Recipes to Attempt – I am sharing two I have made during quarantine that I think you need to make, and one I want to try.
Peanut Butter Pie – This is the keto friendly version, but you can use real sugar in place and a graham cracker crust if you don't want to make your own nut crust. But I highly suggest trying this crust, it is easy and delicious!
Everything But the Bagel Chicken – Delicious!
Cheesy Bacon Ranch Chicken – We are going to make this later this week!
Three Things Entertaining Me Right Now
Books! I have been reading a lot lately. And actual books/e-books over my usual audio since I haven't been in the car. I just finished Tools of Engagement, so good!!! Currently reading The Dilemma from BA Paris.
Social Media. Probably spend way too much time scrolling through Instagram and watching YouTube videos.
Outside. Sounds silly, but having a nice piece of land and a back deck with comfortable furniture is something I am truly grateful for. We spend so much time on our back deck just hanging out, or I walk circles in our driveway while Zoe rides her bike. We have been playing soccer a lot lately in our side yard, and going for walks around our neighborhood. I love it so much!
Three Shows or Movies Recently Watched
Greys Anatomy – Finally caught up to this show last week. Love.
Law and Order SVU – Caught up on this just the other night.
Frozen 2, Sofia the First and Fancy Nancy. All day. Every day. Lord help me.
Top Three Songs Played
Savage – I am terrified Zoe is going to go to school and call someone ratchet. The kid loves this song.
Faith by Galantis and Dolly Parton -If you haven't seen this video, you really must watch, EPIC!!!!
Take What You Want from Post Malone and Ozzy Osbourne – What???? Did you know this was a thing??? So awesome.
Three Recent Purchases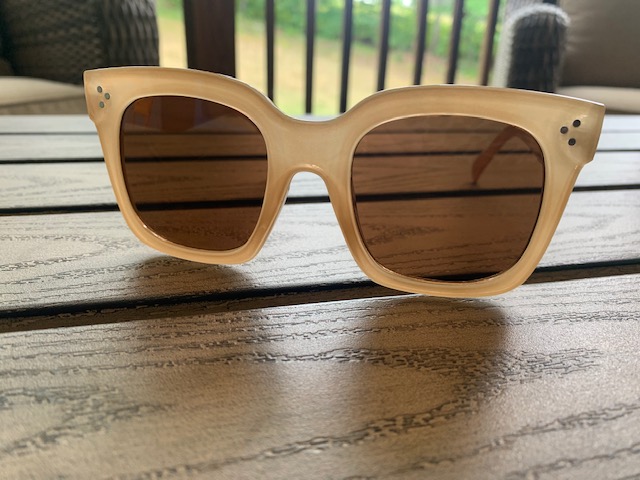 Sunglasses – You know me and the black hole of Amazon sunglasses. I love these Celine dupes and I bought them in a color I wouldn't normally go for. I LOVE these!!!!
Phone Stabilizer – Chris bought this phone stabilizer things to do video with. I have to admit, it is pretty cool. The video quality you can get while moving is awesome!
Kitsch Pillow Case – I have been wanting a silk/satin pillowcase for my hair and face. This is a great price point, cute styles and I really like it. I have noticed I dont have "pillow" face in the morning.
Three Things Keeping Me Sane
Coffee and Diet Dr Pepper Creme Soda
Working out. It has been such a crucial party of my mornings to hit at least 30 minutes of movement.
Cleaning, purging, organizing. I have gotten a good amount of stuff down around our house being at home, and we still have more to do!
Three Things I Miss the Most
Going out to eat
Lunching with my friends.
Strolling through HomeGoods and TJ Maxx
Three Things I Am Looking Forward To
Seeing anyone
Walking around a store alone
That first bowl of chips and salsa at our favorite Mexican