I haven't had a chance to do a Friday favorites post in awhile. I really loved spending a few minutes thinking about all the happy things in my every day life when I shared favorite moments…and I want to get back to those.
Like the fact that Zoe has started potty training!!! I am so not ready for this, but apparently she is. When we came back to school from Christmas break, they had a note on her sheet to bring in pull ups, that they had already started potty training with her. I was like ummmm what?!?!?! I have to be honest, I haven't been the best with it at home on the weekends. But we had a rough morning last Sunday. I had taken her to the store by myself and she had a huge meltdown over something ridiculous in the store. And I was that mom with the screaming kid that everyone was looking at. When we got home, I was just worn down and ready for her nap time, but I had to get her lunch ready first. All of a sudden, she comes running up to me and says, "Mommy I have to potty!!!" And she takes off to the bathroom. Now, I had put her in there a few times before and nothing happened. I was a little irritated because I thought this was just delaying lunch and nap time even more. But she told me to "go away" as she always does, so I was out in the hallway and she comes out and says "All done!!!" I go in there, and she had gone!!!!! She went again this past weekend too, and has been coming home with 2-3 times circled on her sheet at daycare this week.
I suppose it is time for potty boot camp weekend? I dont know. Why do they grow up so fast??? I am so ready to not have to buy diapers all the time, but also, so sad that my little baby is so not a baby anymore.
When I was at Target picking up a few weekend essentials, I came across some macarons in their bakery department, and this gnocchi in the frozen aisle!!! These are two things that we have to travel 45 minutes to Trader Joe's for that I can now get on a regular basis locally. So excited!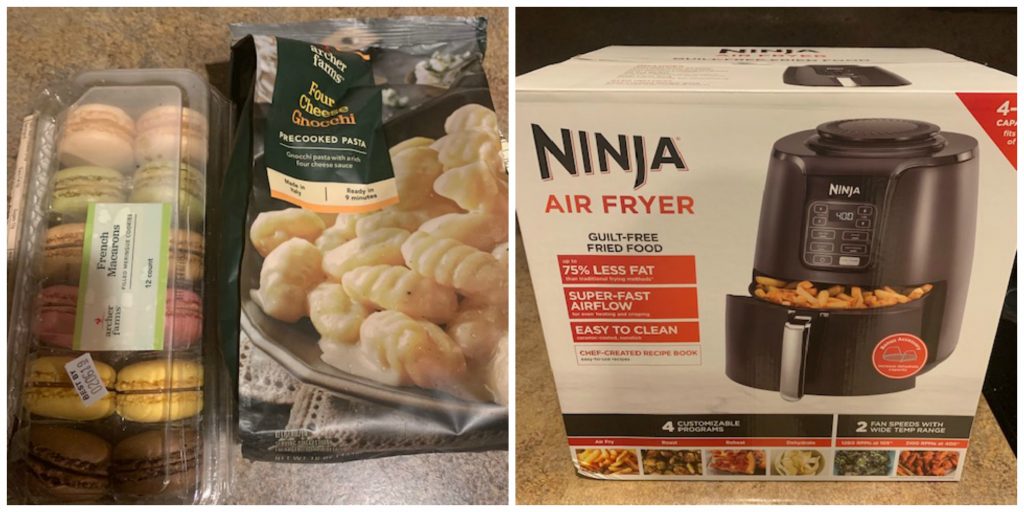 I spent about an hour pinning air fryer recipes this weekend, since we finally pulled the trigger on this one!!!! If you have any great recipes, send them my way!
I have been trying to do more fun, healthy snacks at home. I do fine for lunch and dinner, but weekends are out of control…and so is snacking. And it is so hard to find an easy breakfast that isn't a million WW points. I hate eggs, and that is really the only zero point easy thing. I found some smoothie bowls that I want to try. And how amazing do these look?
I met up with a friend last Friday for lunch at Pizitz. I wanted a poke bowl, but she was excited about Busy Corner Cheese & Provisions, and I decided I didn't want food envy and followed her. I had the Vermonter which was Cabot clothbound cheese with granny smith apples on toasted sourdough and a cup of tomato soup. SOOOOO GOOOD!!!!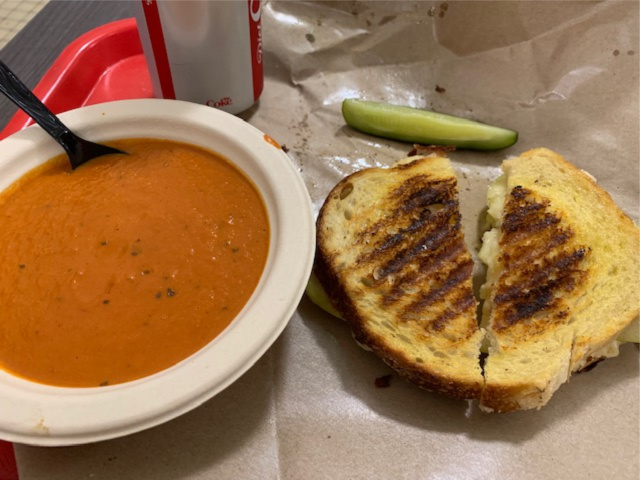 Plus, it is always good for the soul to lunch with a great friend! It had been a month since our last lunch, and we really have to get better about being more regular!
What have you been up to?