Happy November! I hope everyone had a wonderful weekend. We made the most of our 2020 Halloweening and crammed so much in to one weekend, I am still recovering. It is funny how busy I am on a daily basis for someone who rarely leaves the house. Anyone else feel that way?
Friday we ordered Half Shell Oyster House for lunch. It was a big deal for us, because I actually walked in there to get our food. I prepaid on the phone to minimize my exposure. We went at an off time of day, so the place wasn't packed out like it has been every time we have drive by since they opened. We ordered lots of food to have for lunch, dinner and snacking. Everything was delicious.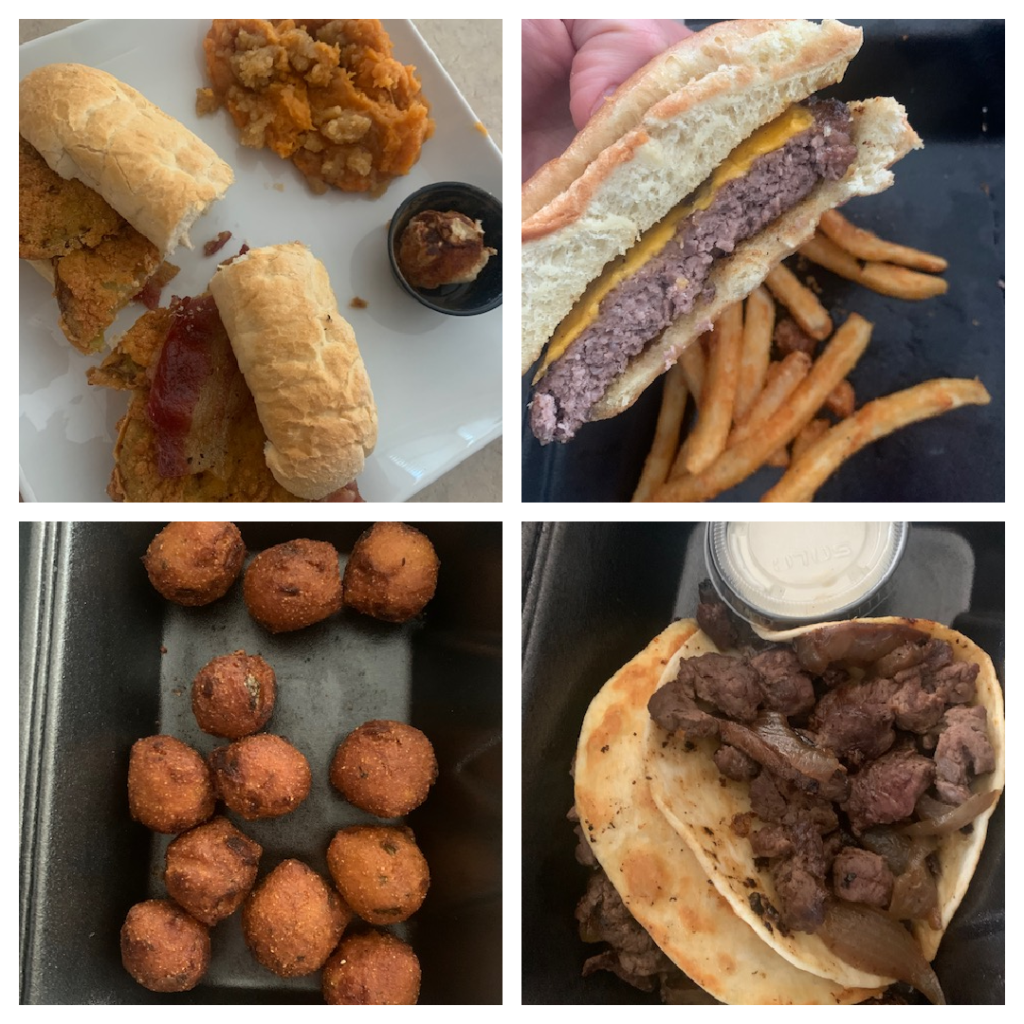 Friday night we made Halloween sugar cookies. This is the same recipe my mom used when I was little, and it has always been my favorite. I think I will try to make a post sharing it soon. The icing is THE BEST tasting.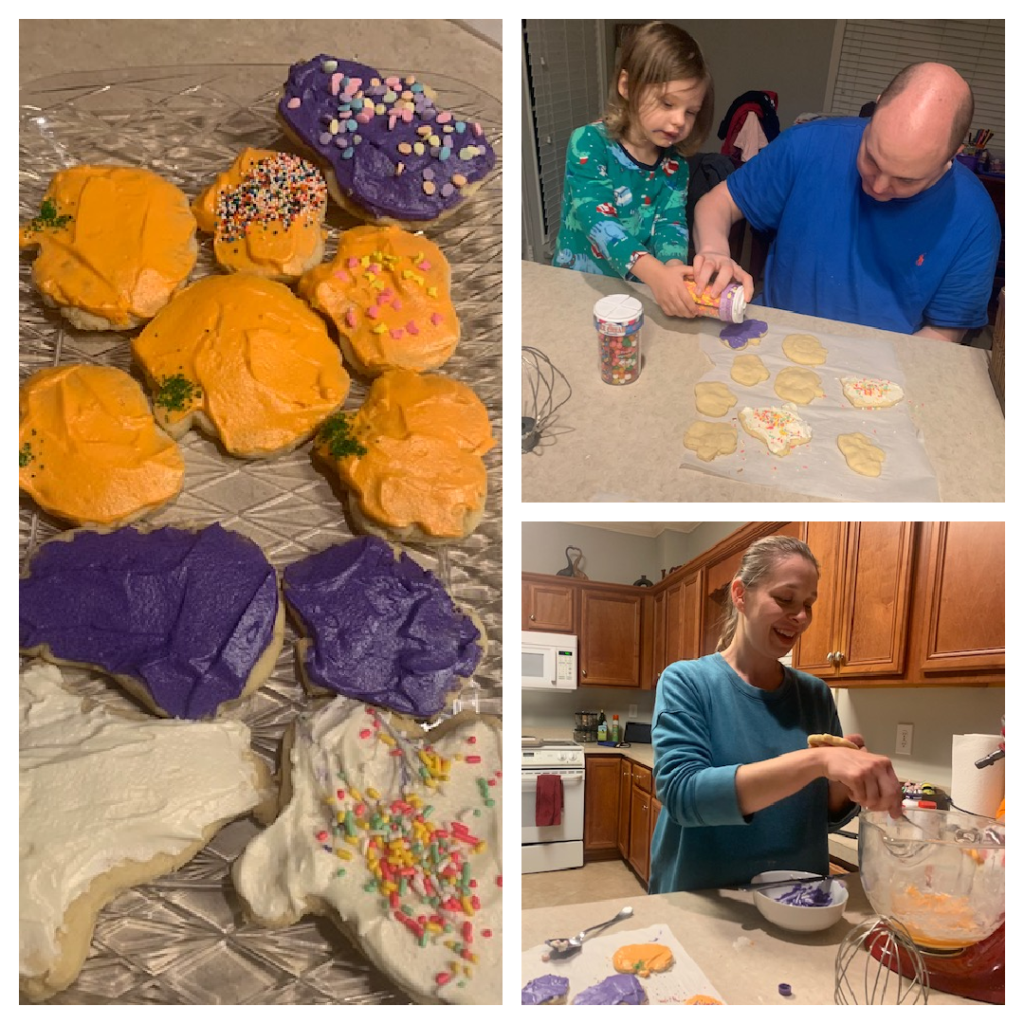 We also did lots of Halloween crafting and pumpkin painting.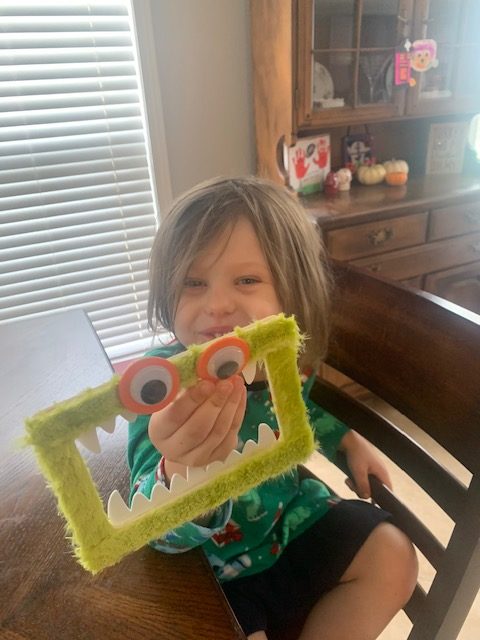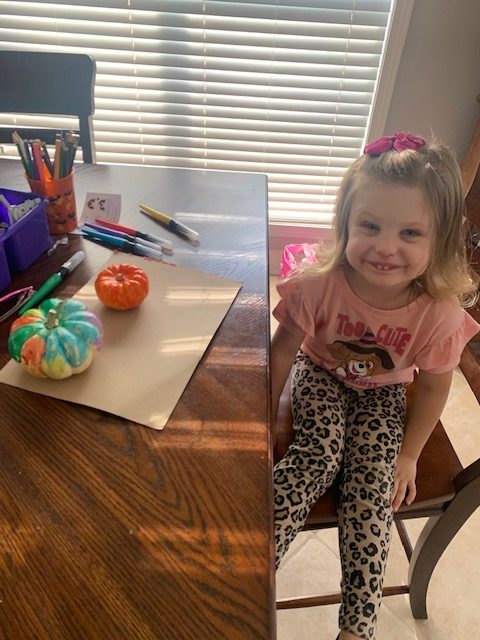 On Saturday morning I was going to work some, but the wireless was down so I started a new book instead! I read it in a few sittings because I couldn't put it down!!! RS Grey's Date Me Like You Mean It will come out Thursday, so mark your calendar! I think this is my new favorite of hers.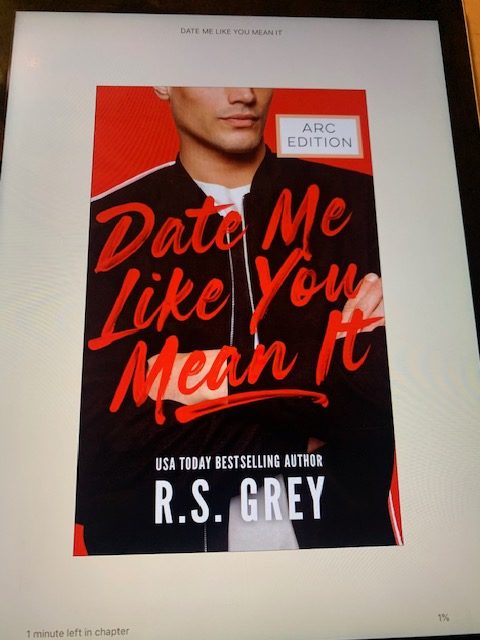 A sweet friend dropped off a goodie bag for Zoe after we had breakfast. Zoe was really excited.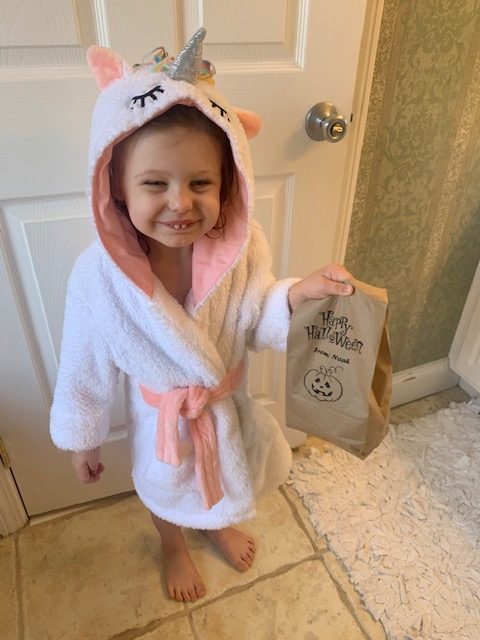 Then we had our egg hunt!!! It was a lot of fun and might have been better than walking around trying to make awkward chit chat with strangers in a normal trick or treating situation. Plus, I controlled what went in the eggs, so only the good candy and some other stuff so it wasn't a total sugar rush. Zoe decided on Snow White for Halloween. I feel bad not getting her a new costume, but she has so many princesses costumes and didn't seem to mind wearing one of them.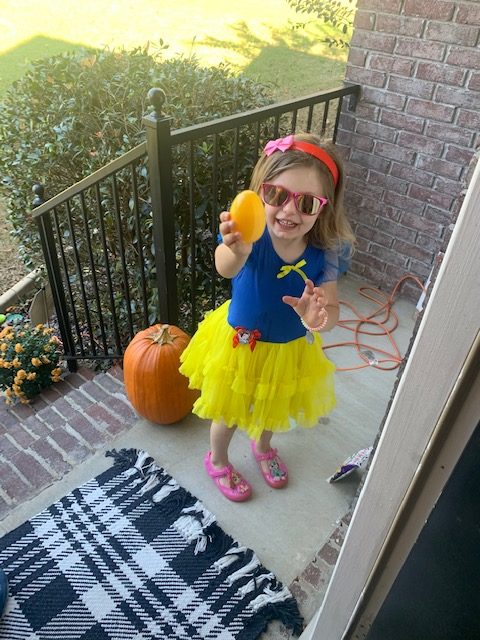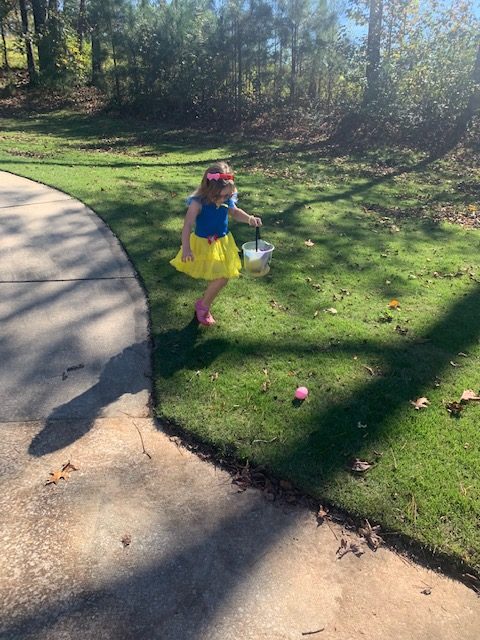 Zoe wanted to take some pictures in her Halloween shirts since they most likely wont fit last year. She has been all about pictures lately.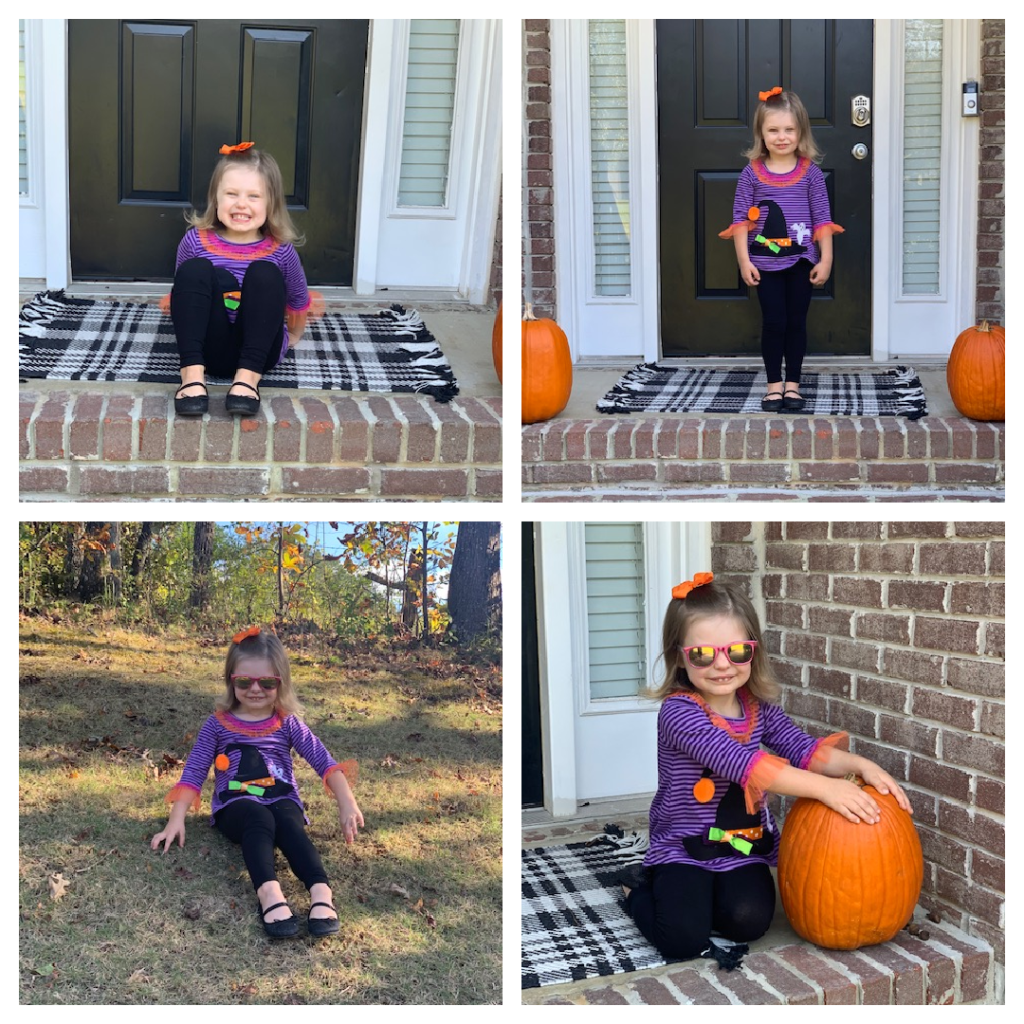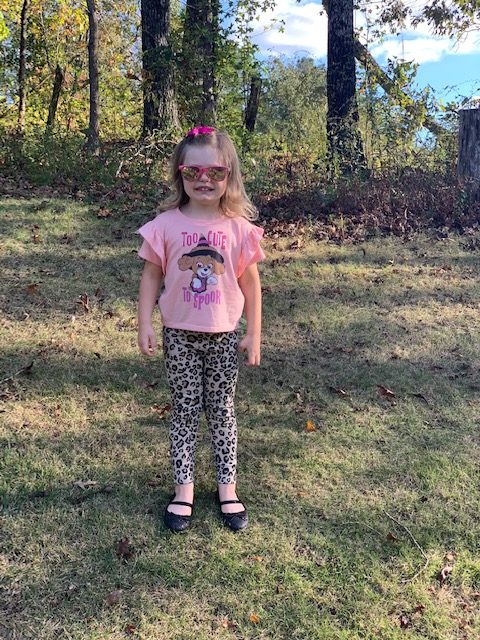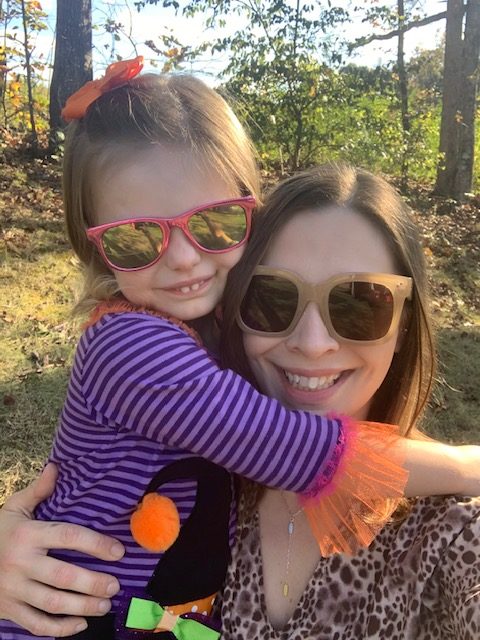 Did you get to see the moon Halloween night??? It was insane! Zoe and I went and sat in the driveway for awhile just appreciating the view in the sky.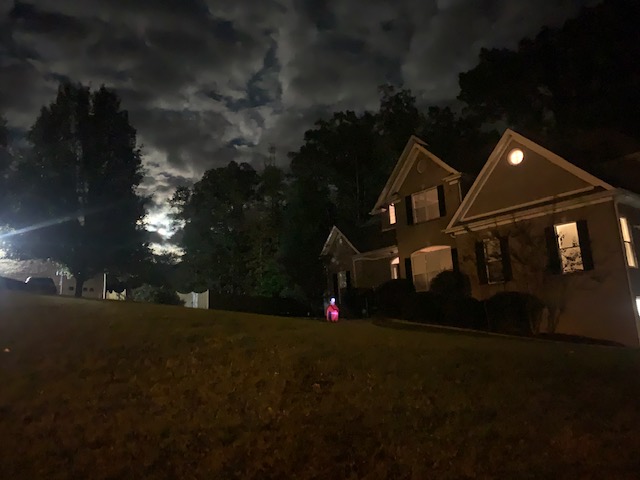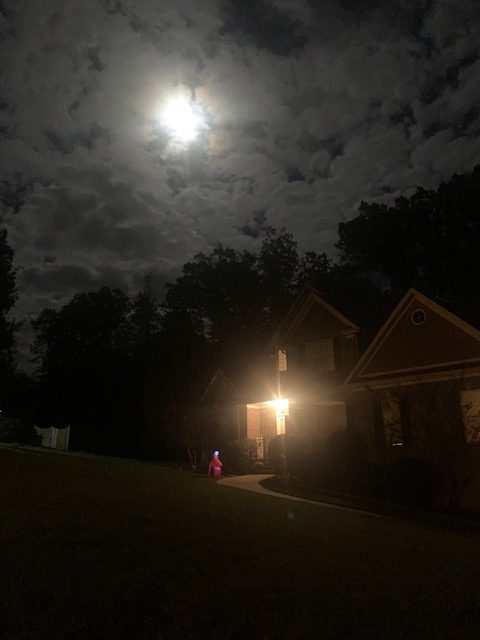 The Auburn and Alabama games were both a little boring, Bama shut out Miss State!!! Roll Tide!!! So I ended up taping off the dining room to get it ready for paint!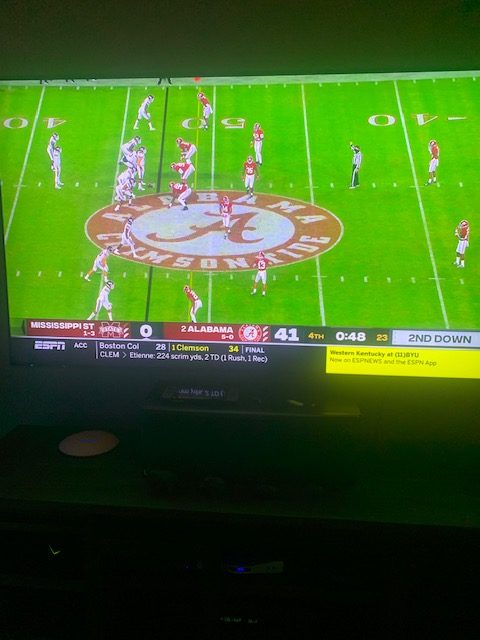 Sunday morning, Zoe and I had Gobbles (our inflatable turkey) out in the front yard, Halloween put up and Christmas pulled out into the hall by 8:00 am. We were ready!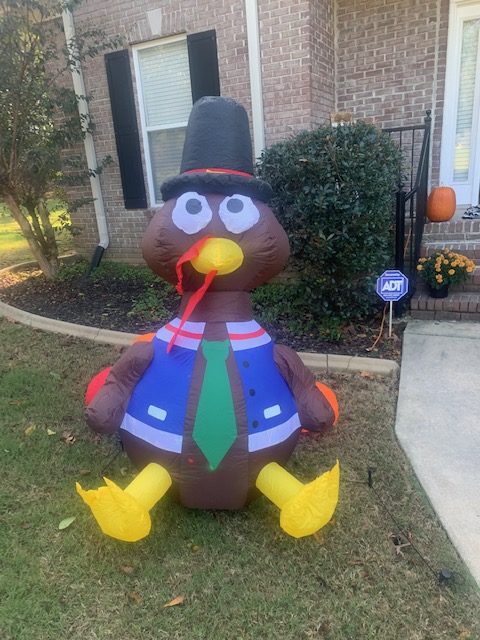 I thought the dining room was going to be an easy job, but it took way longer than expected. The crown molding is gorgeous, but damn was it a pain in the ass! I like the red color it used to be on football jerseys, not on walls in my house. Red gives me anxiety. Here is a before and after.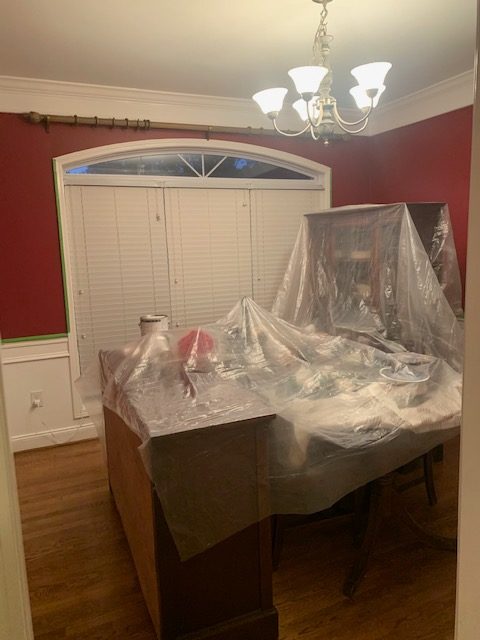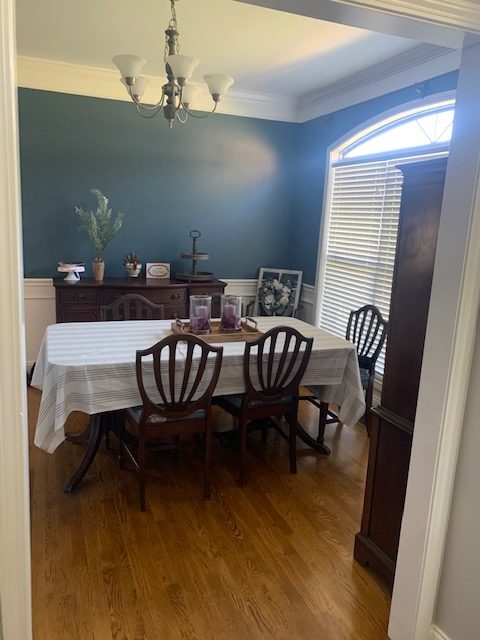 I am obsessed with the color. It is Smokey Blue from Sherman Williams. I just got the furniture put back this morning, I still need to decorate and get the Christmas stuff out. (one lonely tree made it down there already, as you can tell.) I ordered some window pains and wreaths to hang, and need to figure out what, if anything, will go between them. The furniture in the room was Chris's grandmothers and it was important to me to keep it the way it was given to us. I actually love the chair cushions. They are a dusty blue similar to the wall color with blush pink flowers on them.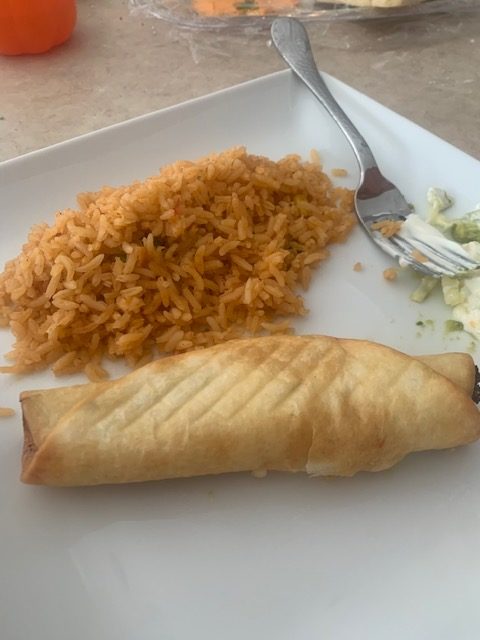 We ordered from our favorite Mexican place for lunch. In the evening we ended up watching The Santa Clause and part of The Grinch! I made homemade hot chocolate. We have a lot of Christmas movies to get through, and I am making sure we get to them all this year! Last year got away from us so quickly. It is my absolute favorite time of year, and I am not letting covid, the election, or anything else ruin the Christmas spirit around here!