Well hello there blog land! I think it is safe to say that most of us took off for a little while to enjoy the holiday weekend with our family and friends. I know I sure did. It was nice to be unplugged from everything for the most part. My only regret this weekend was looking on social media after the Iron Bowl. Absolutely ridiculous!
I find this morning a cruel joke. How in the world is it Monday already!?!? Like seriously?!
Thursday – Thanksgiving was a day of traveling from house to house to eat and visit with our families. Chris and I watched a little TV Thursday morning and relaxed, then headed over to his parents house for our first Thanksgiving dinner. I love that my mom and his mom cook completely different things for holidays! It makes it easier to eat two big meals that day when everything is different. There was so much to choose from there, I had reasonable portion sizes of all my favorites: turkey, pineapple casserole, sweet potato casserole, mac and cheese, corn souffle and green beans. There was a lot of other foods but I stuck with portions of my favorites to not totally blow my diet! She was cooking for 18 people so it was overwhelming in choices! Yum!
We hung around there for awhile, then headed to my mom's around 4:30 pm. It is about 50 minutes from Trussville to my mom's house so we just listened to some music in the car and I enjoyed looking at how many different state license plates we passed on I-20 while in my turkey coma. My mom made homemade lasagna, pepperoni rolls, turkey, sweet potatoes, mashed potatoes, turkey gravy, northern style stuffing, corn, beans, Spanish rice, and cranberry sauce. It was all delicious and she was ever so kind to give Chris and I some left over lasagna, Spanish rice and pepperoni rolls to take home with us. She also made cherry and pumpkin pie, and gave me a few slices of cherry to bring home because it is my favorite! She also snuck some cinnamon sugar crust in my bag. Yum! She makes it with the left over crust dough that she has. Amazing as always! At my mom's house it was just Chris and I, my mom and Thomas and my 3 step sisters. It was great seeing all the girls there. They always change so much every year!
After dinner, I stayed to help clean up some then Chris and I headed home. I had to go get changed and get caffeinated to head out with my mom! After I left she went and took a shower and got dressed, then drove out to my house to pick me up. We started shopping around 10:00pm Thursday night. We hit up Walmart in Leeds first. I only purchased a few little things for Christopher and Cooper (nephews.) My mom scored a few of their door busters, nothing major. We weren't really looking for anything there.
After Walmart, we headed to the outlet mall in Leeds. They opened at 9:00 pm and we heard Loft was having 50% off the entire store. Woohoooo! We hit up Loft hard. My mom was Christmas shopping for me there. I think she bought me 4 different tops that I am totally excited about! I picked up some camis, they were buy 1 get 2 free. Yes, please! I also found the most adorable gold bow necklaces. They were $4.99 with 20% off! I grabbed one for me and one for Haven (niece.) We then walked to Nine West. They were having a HUGE sale on boots! My mom got me a pair of brown leather boots for Christmas. I am in love!
We hit up the rest of the outlet stores that we wanted to go to, stopped at Auntie Annie's to get a pretzel and some caffeine, then headed to our next destination! Target! We hit up the Target in Trussville. It was around 2:00 am at this point. My mission for Target was to get Monster University for $10 for Cooper and a $7 CD for Berkley. I was able to score both! By this point, the store had cleared out for the most part, and they had carts out putting back things that people had left out. I looked in one of the carts and found the only copy of Monster University left in the whole store! YES! I was also able to get that CD for Berkley too! My mom scored some deals there too and even found herself a pair of boots for super cheap.
I stopped by the Starbucks for a skinny peppermint mocha and my mom got some Mt Dew, it was time to get caffeinated again! Here is a picture of our loot so far! And our caffeine of course!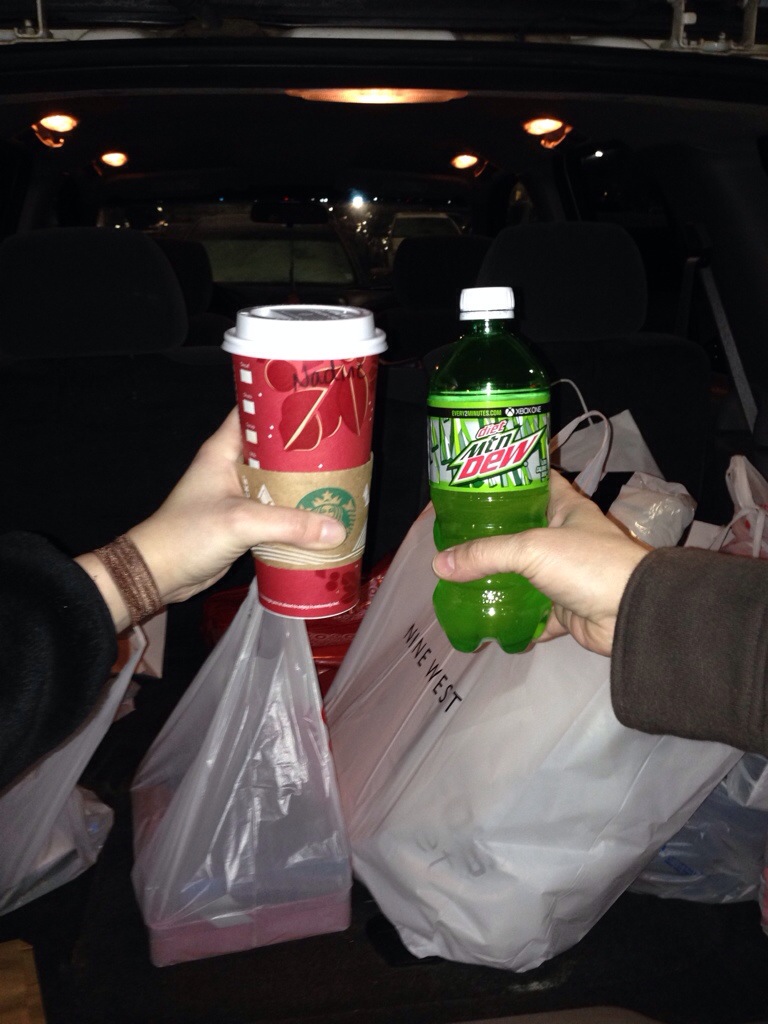 After Target, we headed to Old Navy, didn't find anything. Then we went to Belk and a few other stores that were at the Pinnacle in Trussville. Belk was totally picked over. The lady was telling us about a women who had started getting all feisty with some others over some boots there. No thanks. Crazy people.
We then headed to Kohl's! My mom found a few cute things for herself, she got me one more sweater for Christmas, I found a super cute sweater that I wanted to purchase to wear before Christmas and I scored some super cute leggings for Berkley for Christmas! They were having some amazing sales. Everything I got was 50-60% off plus I had a 15% off coupon and a free $5 coupon!
After Kohl's we headed to the Galleria mall in Hoover. By the time we got down there, it was starting to get light outside. My mom and I were loosing a little steam, it was time to fuel up with some food! I love that they keep the food court open because I wanted lunch food, not breakfast food! We ate at Farmer's Basket and got out third wind!
Here is a picture of our findings after leaving the Galleria! I was able to get a super cute top for Haven from Belk for 60% off! I also found a pair of $20 black boots for myself there and I didn't have to fight anyone for them. Score!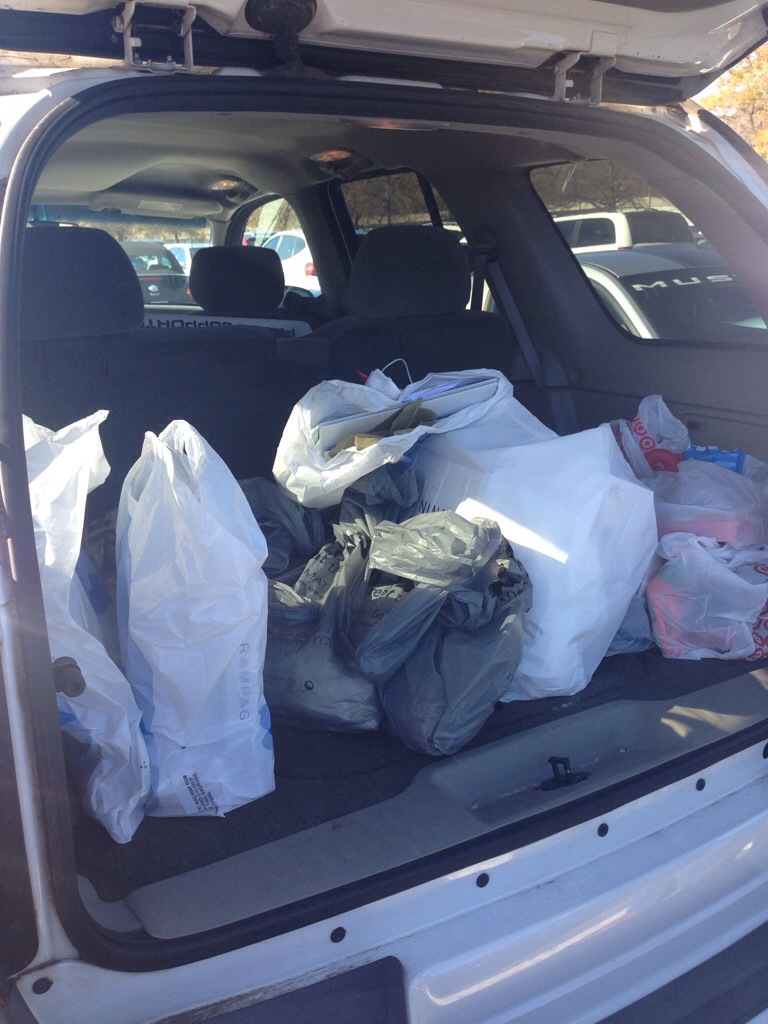 After the Galleria, we hit up another Target and another Kohl's. Places were starting to get crowded again. My mom found a few more things at the other Target, but we walked out of the other Kohl's. The line was FOREVER long and we just weren't having it anymore. We stopped for lunch at Jimmy John's and then headed to Bass Pro Shop in Leeds to try and find something for my brother in law. That place was a ZOO!
That brings us to about 3:00 pm in the afternoon. We were done. My mom dropped me off back at my house and she headed home. So we were out from 10:00 pm Thursday night to 3:00 pm Friday afternoon! I had so much fun! I love that my mom and I do that every year together.
Friday evening I spent on the couch in out of quick naps while we watched TV. Apparently I cant quite hang with no sleep like I used to haha.
Saturday was game day. Chris and I didn't even leave the house. We hung around and watched TV in the morning, Chris played PS4 a little bit and then it was time for the Iron Bowl. The game was crazy, and we were on the edge of our seats pretty much the whole time. By the end of the game, I was standing and pacing the living room. I hate the way it ended, but life goes on. It isn't the end of the world that we lost. We didn't play our best, so that's what happens. I am completely dumbfounded that people are threatening our kicker for not making some field goals and the way that some people are acting. I am also not surprised that some Auburn fans are acting like idiots either. That is how everyone acts regardless of who wins. I find it disgusting. It is just college football. If people got that passionate about more important things that go on in this world, could you imagine how much we could accomplish!?
Sunday I meal planned in the morning and headed to do our grocery shopping. We pretty much just hung around the rest of the day and kept it low key. Perfect if you ask me. I had let the dogs outside for awhile, and I peeked out to check on them because I hadn't heard them barking for awhile. This is what I found: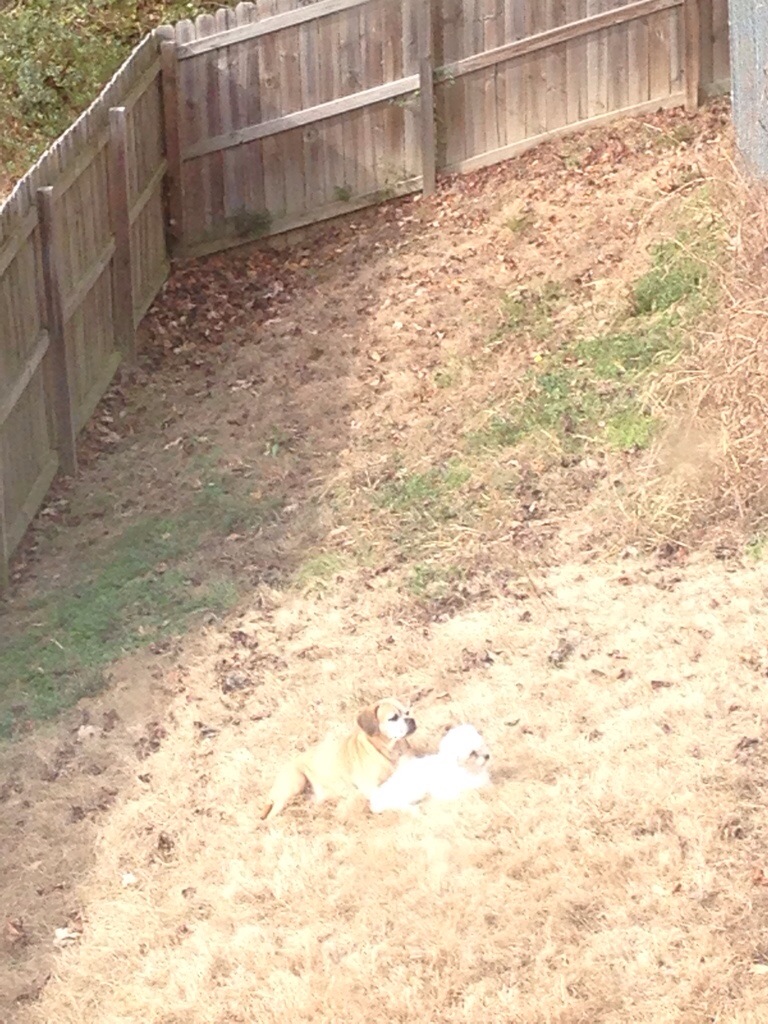 I mean can they get any cuter??? I love how they are cuddled up together in the yard. It warms my heart. They have a whole acre to themselves and they are always together out there. It is so sweet!
Back to reality today people! It's going to be rough, I ain't going to lie!