I looked at the weather this morning when I woke up, as I heard thunder rumbling in the distance. Apparently, it is going to thunderstorm every day as far out as they can predict. Lovely. Let's get in to the weekend recap, shall we?
Friday – Chris and his brother took turns DJ'ing live over internet radio on Friday evening. What was I doing? Jamming upstairs to their sweet tunes while getting ahead on my weekend cleaning, and also unlocking more characters and kart options in Mario Kart! Like you would expect anything less.
Saturday – I woke up early and got ready to head out to do some shopping with my mom. I haven't really been to The Summit to shop in months. We started out at the bottom at Ann Taylor Loft and Private Gallery, then grabbed some lunch at Primeaux. This was our first time eating there, and I have to say…it was delicious!!!! Primeaux is a french bistro wine and cheese concept.
We started out with a "small plate" of Rogue Blue Cheese Chips – Kettle chips topped with Rogue Blue Cheese, mornay, applewood smoked bacon and sweet apple chutney. You guys…they were AMAZING!!! The tangy blue cheese and sweet apple chutney mixed together was a part in my mouth.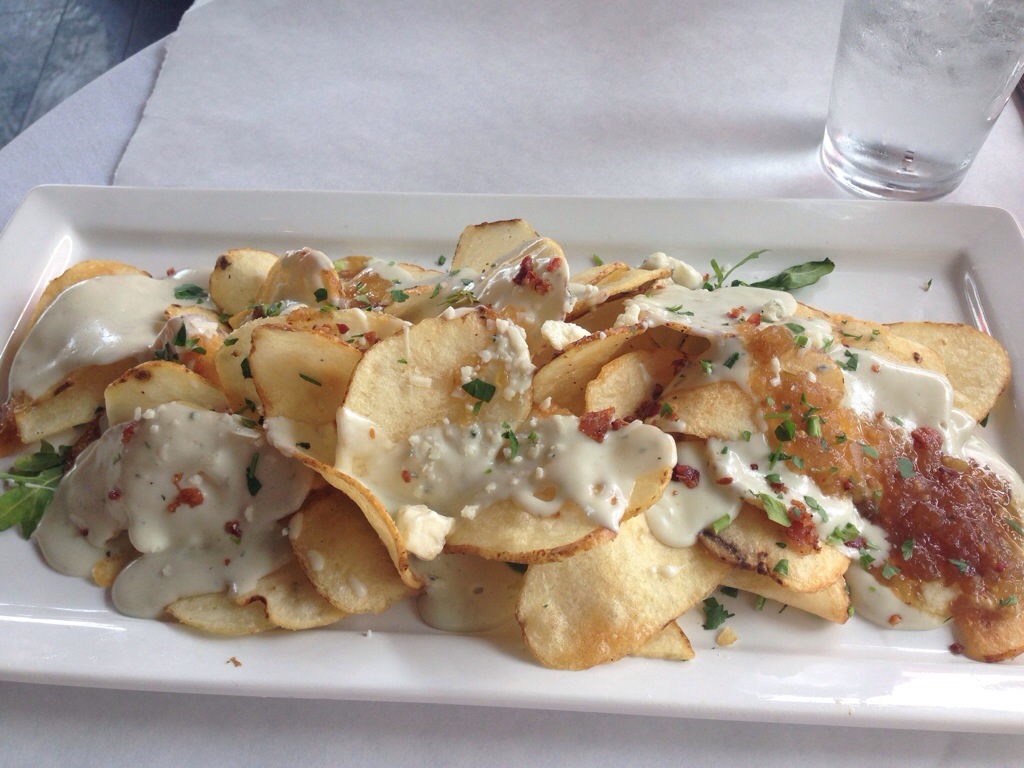 For the entree, I had the Chicken Salad Sandwich on croissant. It had a small salad on the side which was delicious as well. The sandwich was SO BIG that I couldn't eat it all.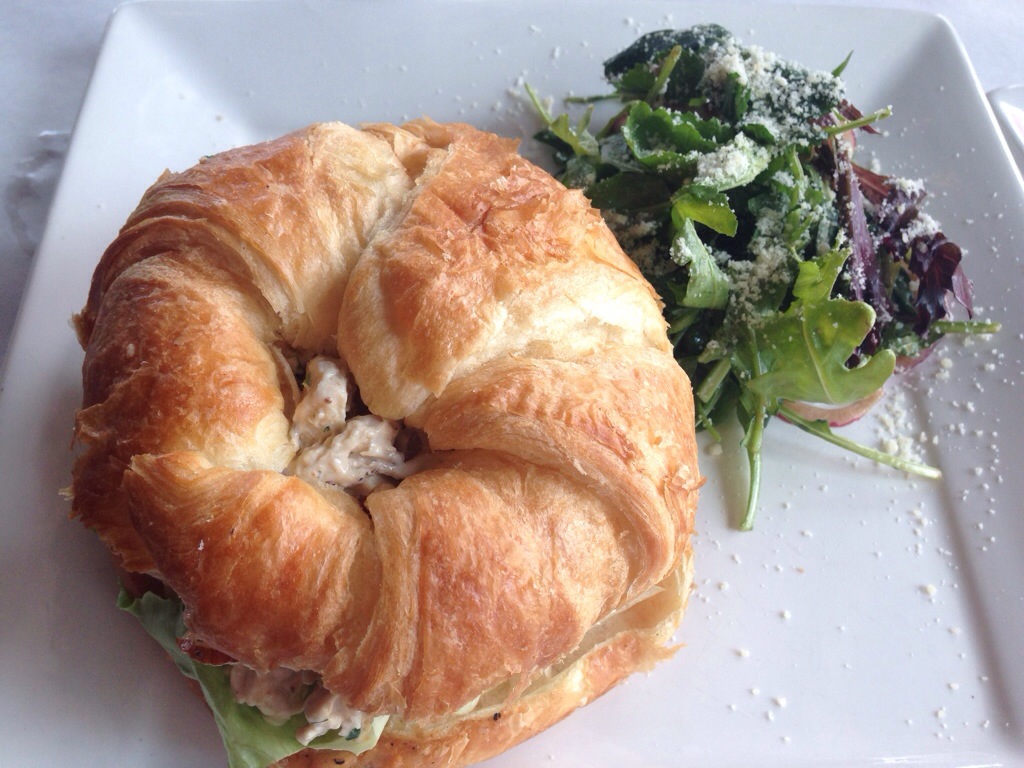 My mom ordered the Croque Monsieur (not pictured)- a cured french ham and Brie Creme on griddled bread with melted Swiss cheese. One of the cheeses was melted on the outside of the sandwich, which really gave it an interesting twist and different flavor! It was delicious as well!
My mom was so sweet, she bought me this dress at Ann Taylor Loft!
We shopped at a few more stores, and then I had to part ways to head to Trussville to meet up with my husband and our friends. The shrimp boil event we were going to check out was a bust, so we ended up heading downtown to none other than World of Beer of course!!
Trim Tab (a local brewery) has their season summer Raspberry Berliner – Weisse on tap right now. It is a Berliner Weiss that is slightly tart with a light raspberry flavor. It was delicious!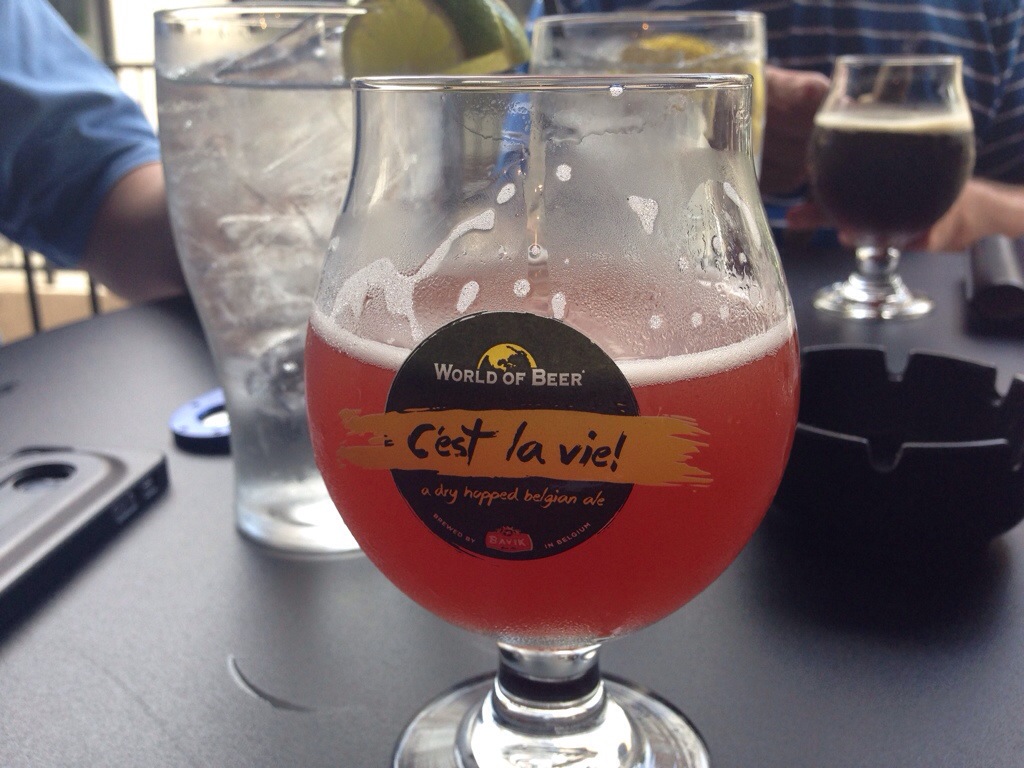 I also had a Koppaberg Strawberry Lime, which is an apple cider that has fresh strawberries and limes added. It is my favorite of all the ciders, made in Sweeden.
My friend and I split a Leinenkugel Summer Shandy as well because I had never tried it believe it or not. I liked that it was light and refreshing.
After WOB, we walked down to Jim n Nicks for some dinner. I ordered the turkey potato. It was the size of my freaking head, and I am not even sure I hate half of it because it was SO much food! It was absolutely delicious though!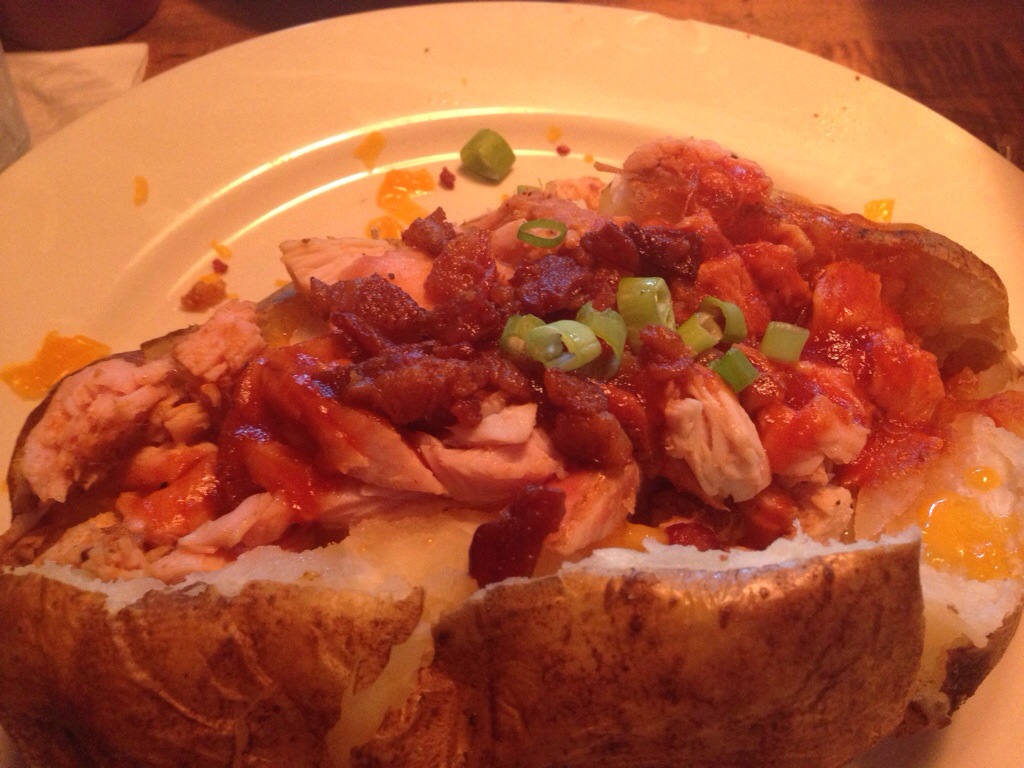 After dinner, we parted ways with our friends and headed to Petsmart to get some dog food and then back home. I proceeded to play a few more rounds of Mario Kart and read some of my book.
Sunday – I meal planned and grocery shopped, then came home and did some laundry, cleaned some more, took care of the litter box and other such fun stuff, then we parked it on the couch and watched a Law and Order SVU Marathon.
I learned that we have another sun bather this weekend, Olivia parked in by the back deck door in the rectangle of sun and just stared outside for awhile.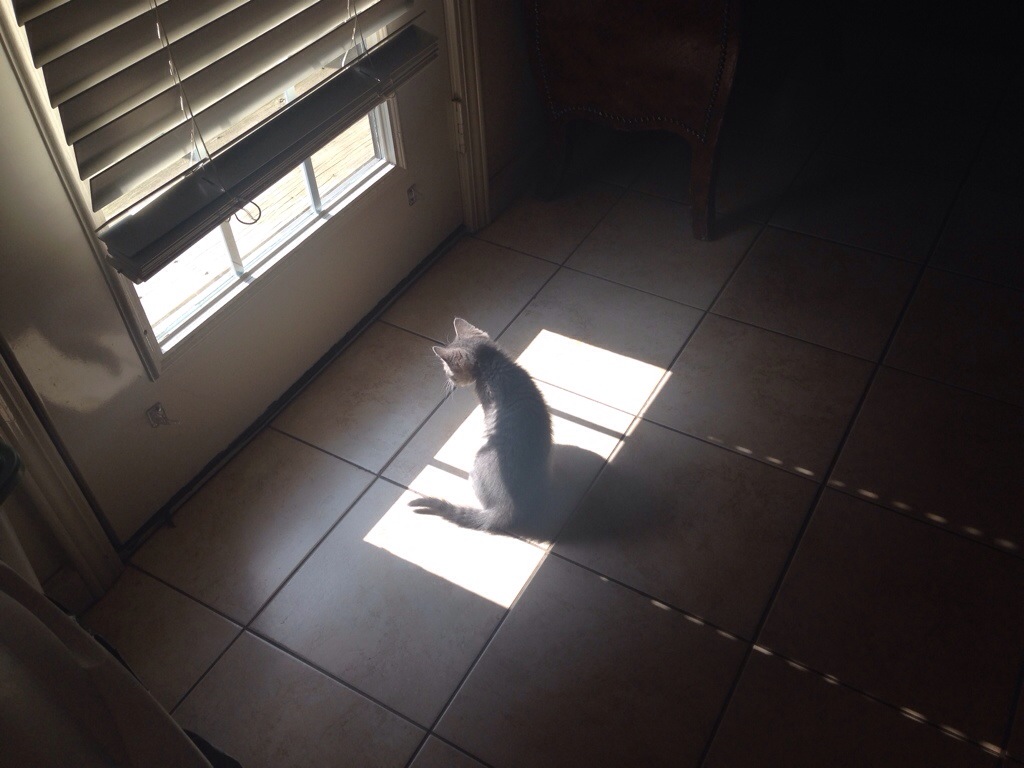 She is also obsessed with the refrigerator. It doesn't matter how long you have it opened for, she will hop on in and pop a squat. Ridiculous!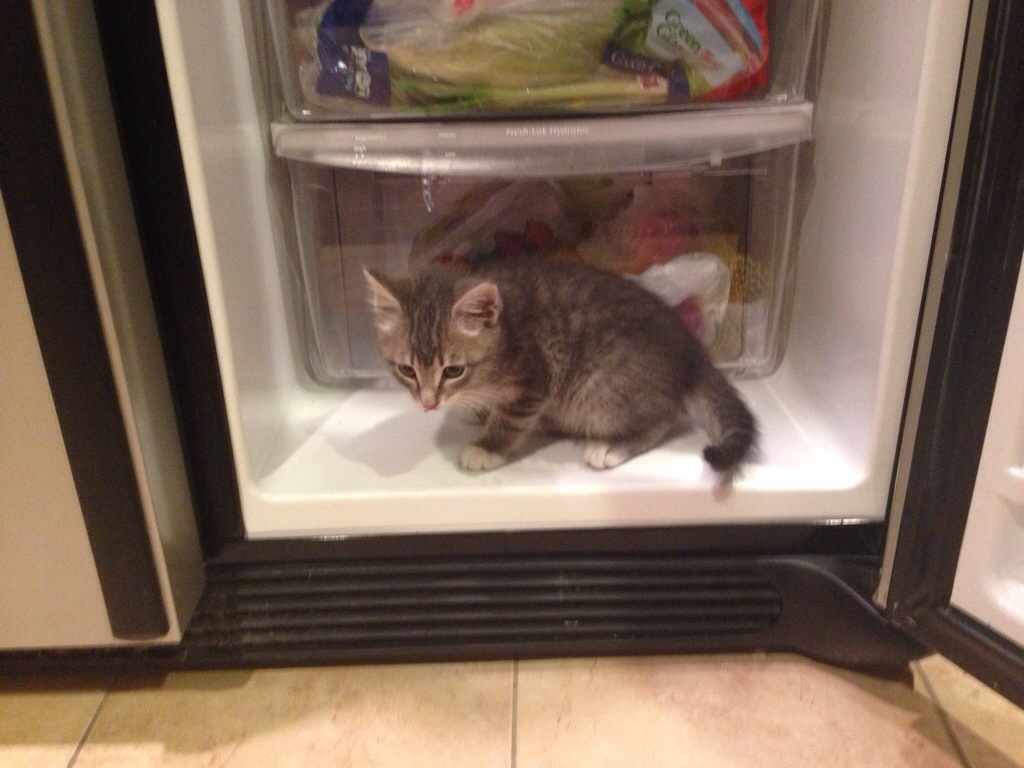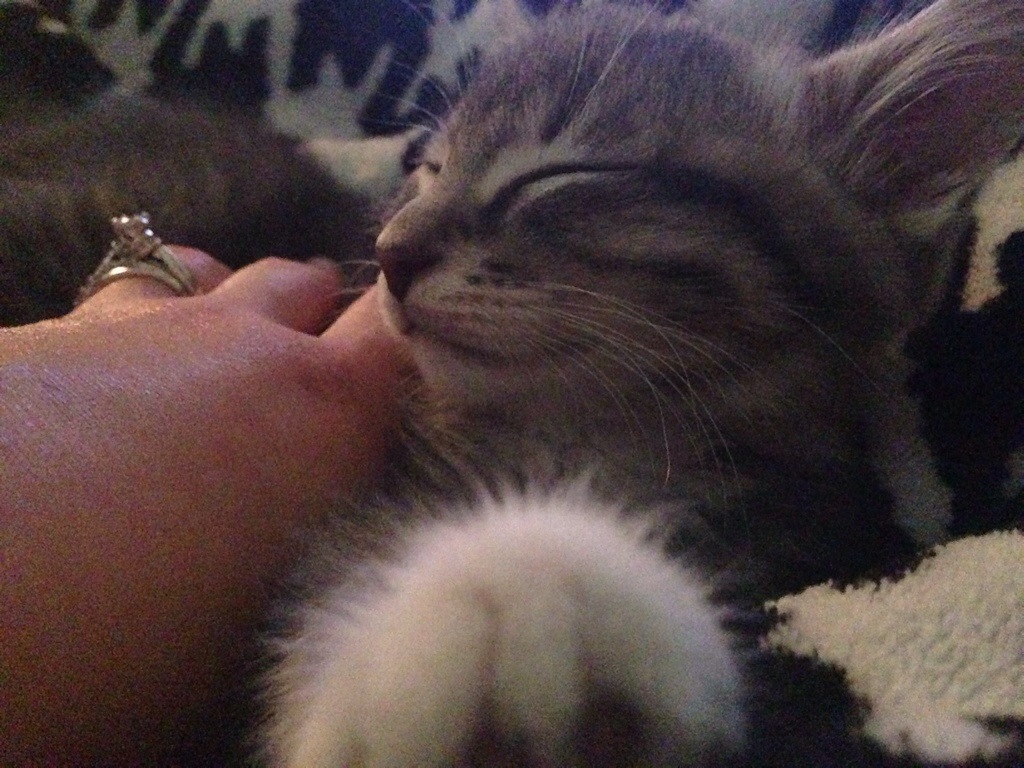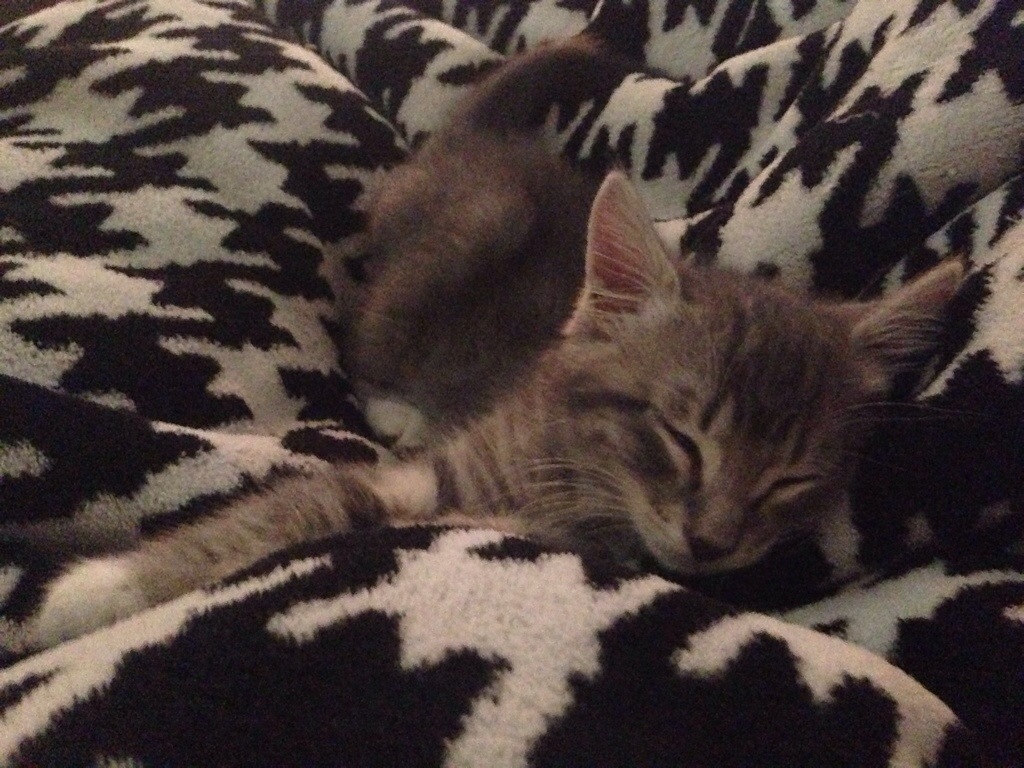 Here is a picture of Olivia and Chris holding hands while they napped. So cute!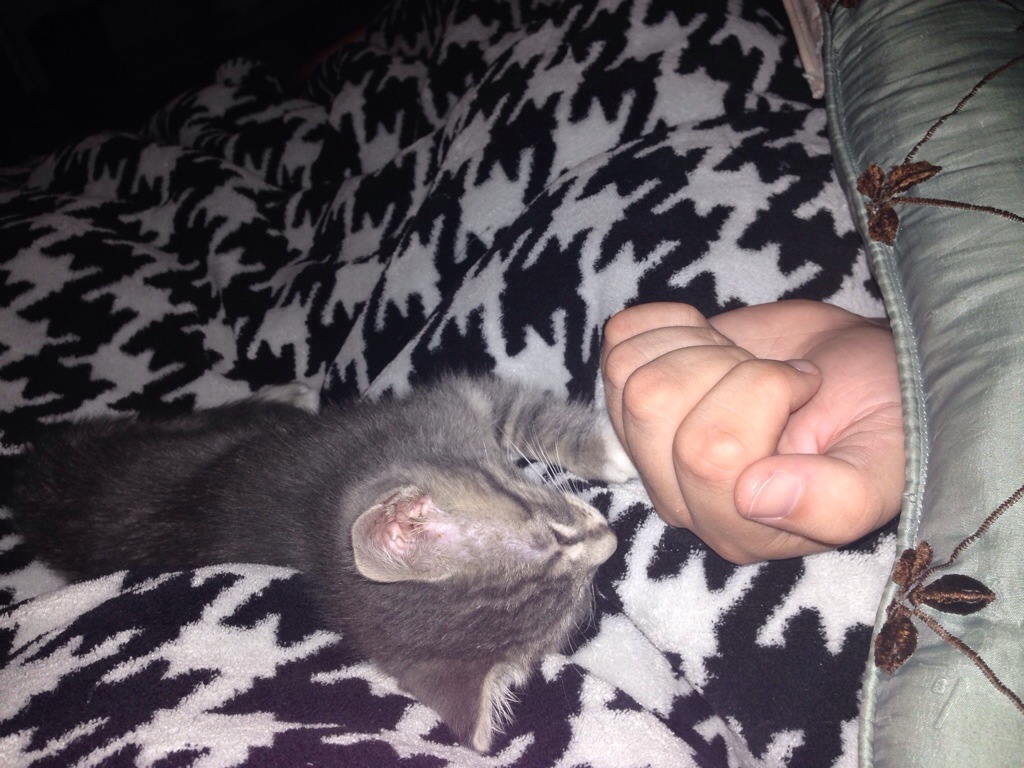 I hope everyone had a fabulous weekend! I am going to try, with the help of Chris of course, to fix my blog layout this week…so if things look wonky for a few days, pardon the construction! I am pretty sure it already looks wonky half the time anyways, as my side bar tends to disappear to the bottom of the blog 9 out of 10 times. Oops. I never pretended to be a professional.