Someone please tell me how it is already November 9th? I am going to need the next two months to slow it's roll just a little. They are my favorite and I feel them slipping away!!!
There wasn't too much excitement this weekend. It was nasty and rainy all weekend and that makes for a lazy Nadine. Friday evening, I grabbed some Moe's BBQ on my way home and we stayed in and caught up on some of our shows.
Saturday I cleaned the house in the morning and we watched football the rest of the day. Did you guys catch that Arkansas vs Ole Miss game??? What a play there at the end in overtime, right??? We wanted Arkansas to win that game because it meant that we were that much closer in the running for the SEC Championship game if we could beat LSU that evening…and you know…win out the rest of our season. I was nervous for the LSU game, but Bama pulled out a big W over them and I am proud of how the team played. Roll Tide!!!
Sunday morning we were up and out early. We hit up Waffle House for some breakfast and got our grocery shopping done and were back home around 9:30am.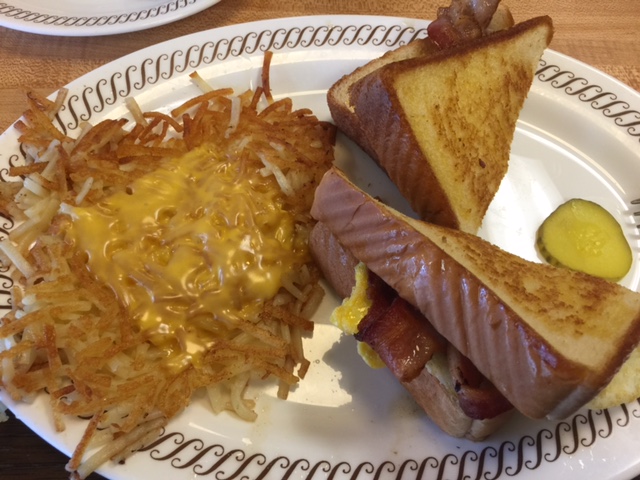 Sunday afternoon I met up with my mom and sister at Walmart to grab some garland and lights to make our own Christmas trees for outside. We used tomato cages that were in my sister's garden this past summer as the base. I think they turned out pretty well!
To make my three, I used: three tomato cages cut to different sizes, 8 strands of wired 9 foot garland, 3 strands of lights and some pine cones.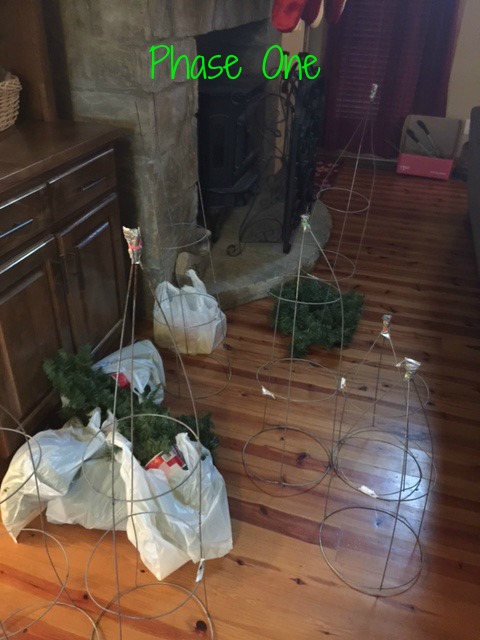 You take the legs of the tomato cage and bring them to a triangle. We used duck tape and a zip tie to secure them. Then you take the hooked part of the wire garland and hook it to the base of your cage and start wrapping it around. Then you add your lights and fill in any holes with pine cones. Boom – done!!
(I sneaked a picture when they weren't paying attention. Shhhh)
While it was an easy process, it took a little longer than we thought. We all had to redo at least one tree with garland after getting to the top because it was too spaced out or too full or whatever. You just sort of have to eye it. We had so much fun making these together though. Even my nephews helped place the pine cones.
I just need to grab some big bows for the top.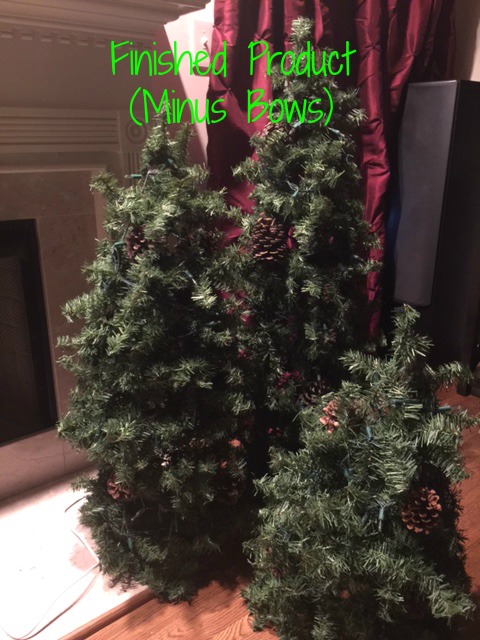 I wanted to get my Christmas tree up this weekend, but it rained and I wasn't able to pull it out to the drive way to do a thorough spider check. Perhaps next weekend will be dryer!
I hope you all had a fabulous weekend! Let's get a good start to this week! I started my Monday morning off with a 3 mile run. Linking up with Biana.