It was a rainy weekend here in Birmingham. We needed the rain though, and sometimes it is nice to have a lazy day because of it…you know?
You know those days where the universe kicks you when you are already down, and you are just like….really??? Well that day was Friday for me. It started out alright, but when I got to work…my lunch plans got cancelled. We were going somewhere new that is only open on Fridays, but at least we have that to look forward to this Friday. But then a work email came in that enraged me. And then I had an accounting disaster with this software that I finally wrote over in black sharpie because there was no fixing the damn thing no matter how many times I deleted or switched out it was entered. On my walk to lunch, there was a huge ass puddle that I stepped in that splashed poop colored water ALLLLL over my pant leg. And the day just went on like that.
But I had a poke bowl and diet coke for lunch, and it was delicious!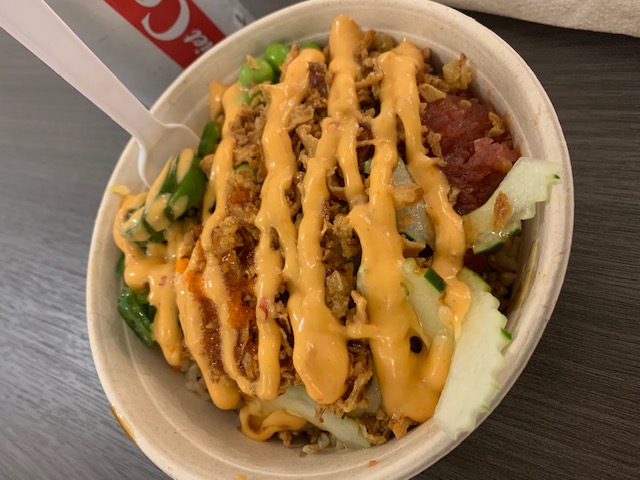 And then the best thing ever was said to me in the car, right after I picked Zoe up at daycare. We were sitting at the red light, right outside of the school parking lot and she said "Mommy, you're my best friend." I sat silent for a second making sure I heard correctly. And I said, "I'm your best friend??" and she said "yes, mommy, you are my best friend!" I hope I am always her best friend. <3
When we got home, it was kind of wet outside and she decided she wanted to stay in. She is really into coloring right now, and I absolutely love it!! I have always loved to color. I find it really relaxing.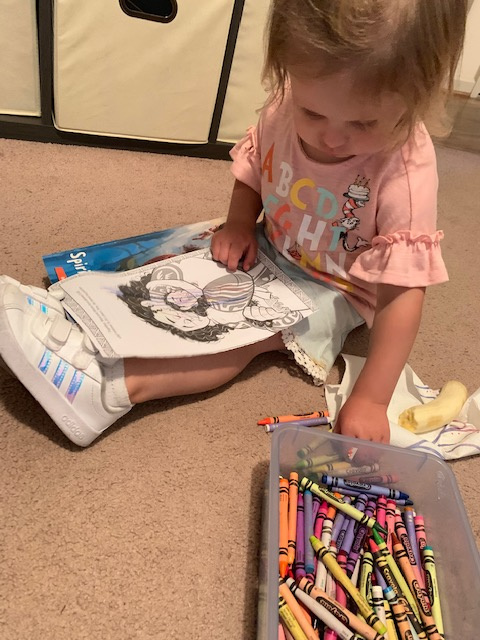 Saturday morning, we met my sister and nephew at Chick Fil A for a super late breakfast/early lunch. Then hit up Target to do our grocery shopping. Did anyone else take advantage of the extra 5% off for redcard holders this week??? What a deal!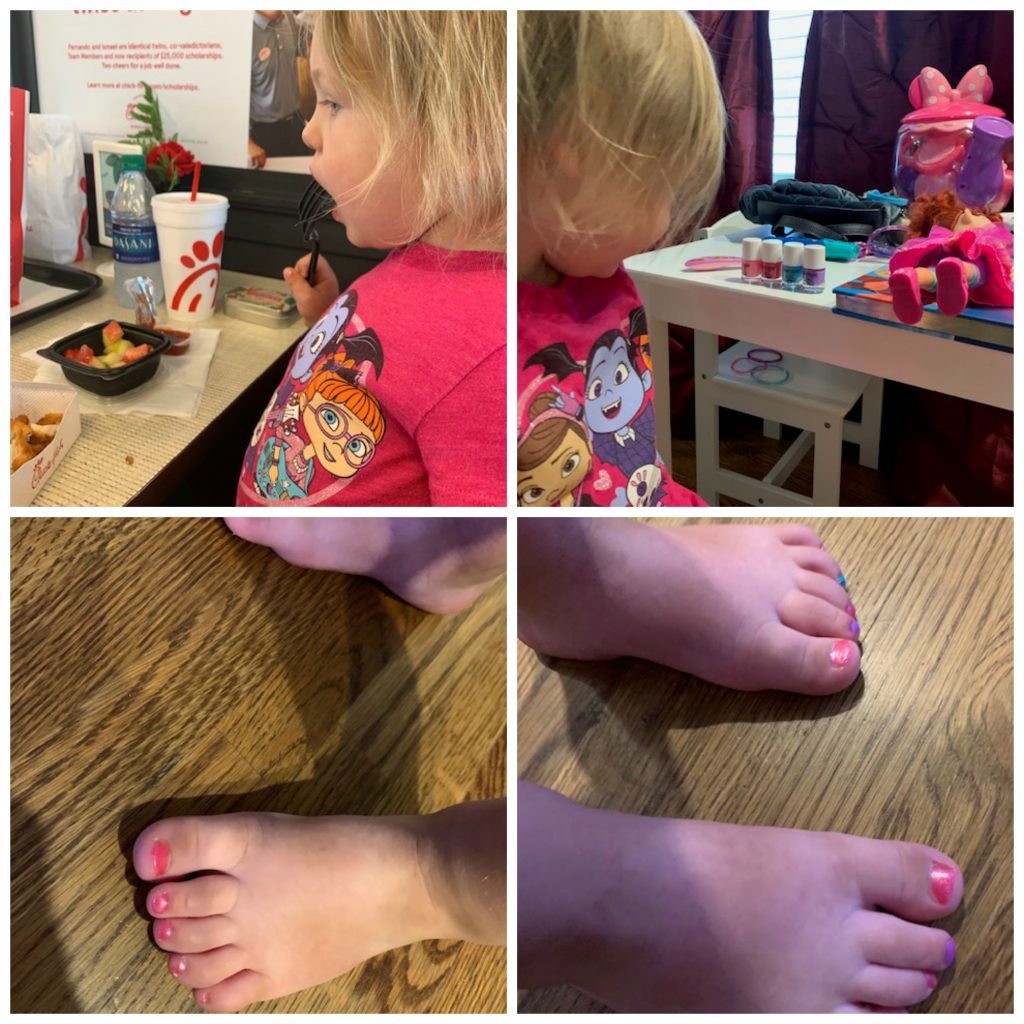 I bought Zoe some non-toxic kid nail polish while we were there too. She has been asking for weeks to have pink toes. She was so cute trying to decide what color she wanted to paint her toes. She settled on the darker pink color, which I did them all in. And then decided she wanted purple and blue toes too….soooo basically each toe is a different color now. They are so cute! We grabbed the piggy paints if you are looking for a good kid polish!
Saturday afternoon, we ran some errands and then headed over to Chris's parents house because it was his dad's birthday. We skipped nap time, so Zoe was exhausted when we got home and promptly went to bed!
Sunday it rained on and off all day. We ended up riding bikes and playing in the garage for a little bit with the door open. Zoe has a new obsession with Fancy Nancy, so we watched lots of that and she was attached to her Nancy doll and Frenchie dog, and we even had an ice cream party Sunday afternoon on the living room floor since there was a thunderstorm outside.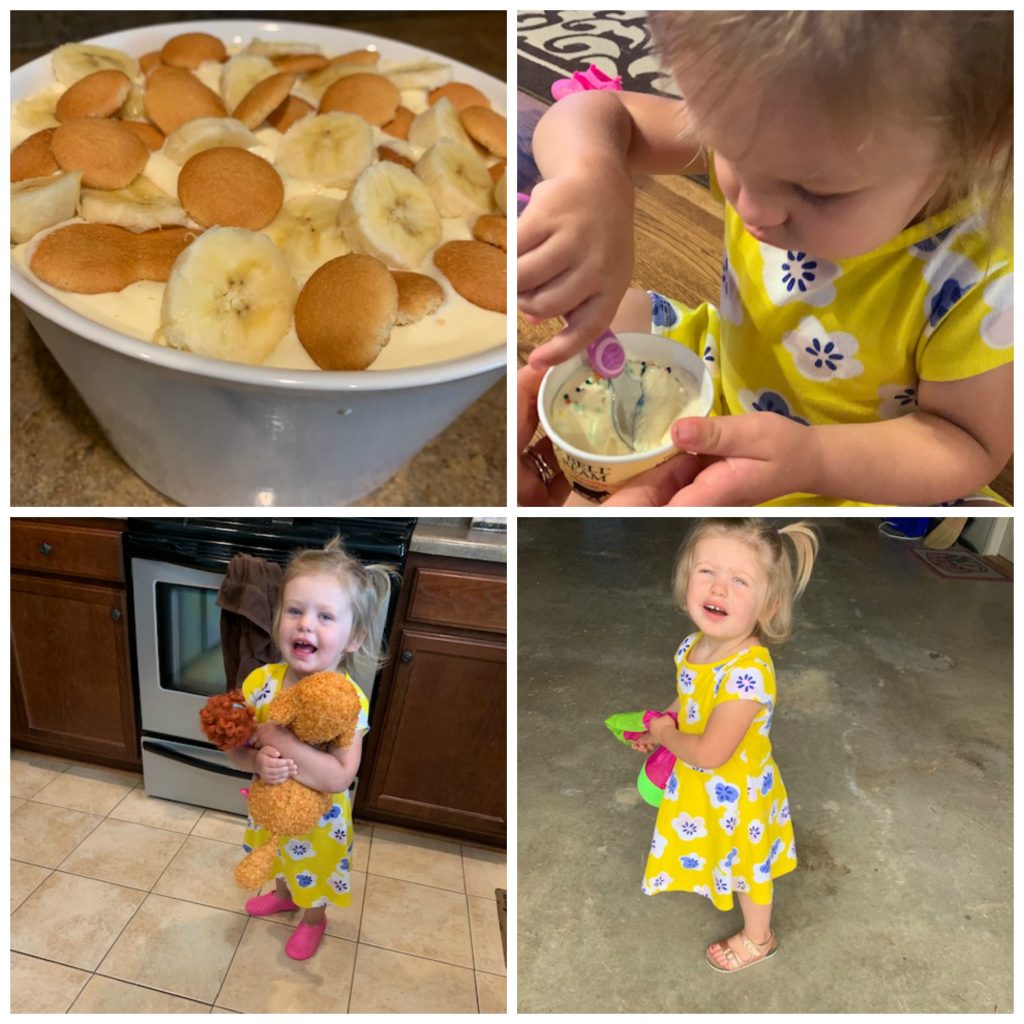 I even made homemade banana pudding since we had so many extra bananas sitting around! It was delicious!
Just like that, its Monday morning! I started and finished RS Greys new book this weekend, and plan to talk about it tomorrow for book day!!! Cant believe it is time to link up already! Hope you all have a wonderful week!