This weekend went by so fast! I suppose they always do. I completely forgot for pretty much the entire day yesterday that it was St Patrick's Day. Oops! Zoe did wear green on Friday, for Green Day at school.
Saturday morning, Zoe and I met Laura and S early to do some shopping and eating! We started out at Target, ventured to Nordstrom Rack and then had lunch at Cowfish. I scored two new tops for under $20 each that I can wear for work or play. This Halogen top in the gray/green color (it looks more green to me but says gray) and this DR2 ladder stitch top in black. I want to go back and get the DR2 one in mulberry too. I love them so much! Zoe got three pairs of shoes!! Two pairs of Zaxy closed toe sandals (a clear and a blue pair, they glow in the dark!!!) that are awesome for daycare!!! And a pink pair of the Thea shoes from Rachel Shoes. She had these last year in a smaller size and got a lot of wear out of them. They held up pretty well, considering how rough she is on her shoes.
Our lunch was so delicious. We shared the parmesan fries and crab ragoon dip, and I got sushi for my main dish and Zoe ordered the kids burger bento box. So much food!! So good! Plus, Zoe really loves crab dip.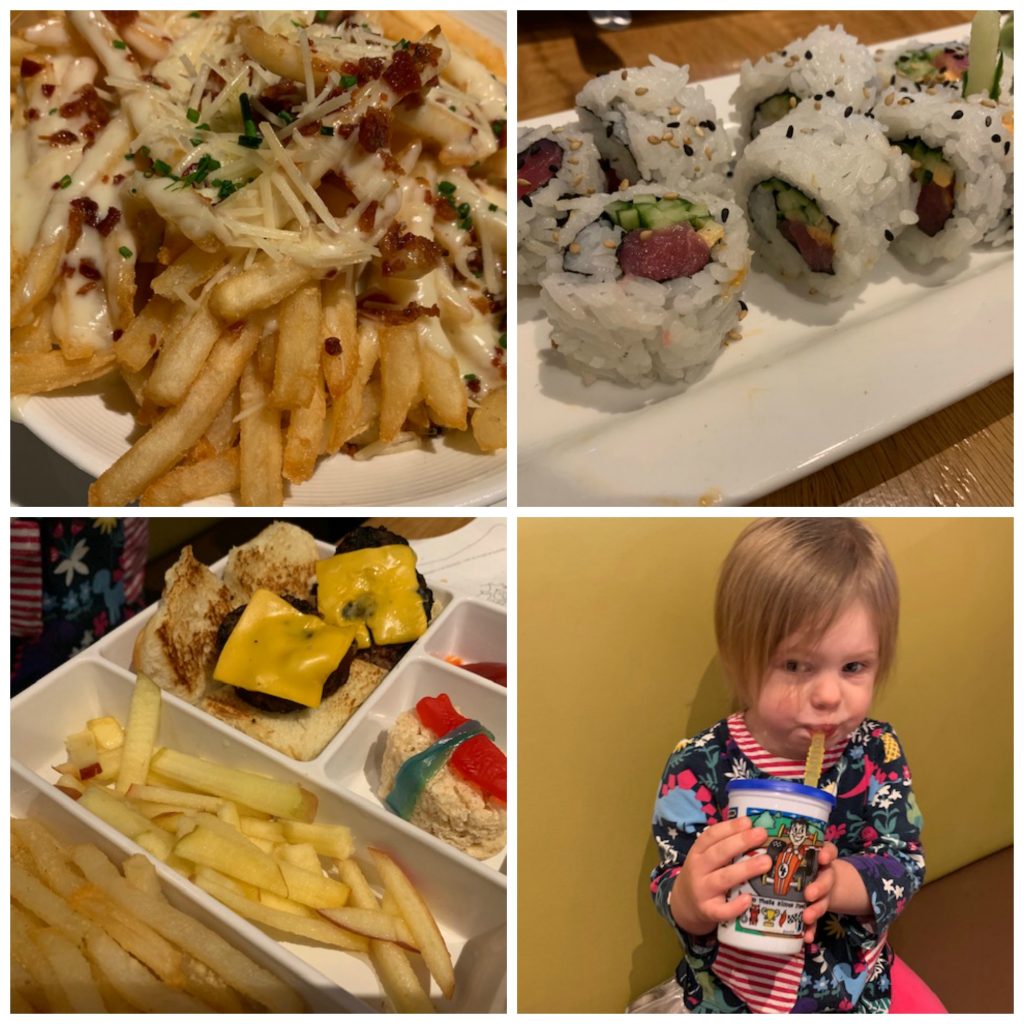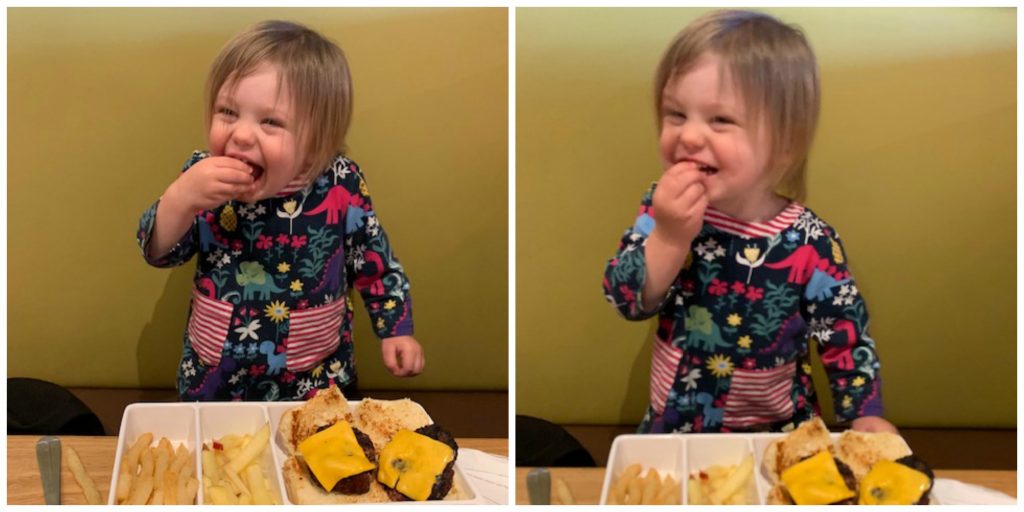 After lunch, Zoe and I headed to the outlets to do some more shopping. I love looking for clothes at H&M for her. They have the cutest stuff at reasonable prices. And it is stuff I dont see every other kid in, like Carter's brand. Which, dont get me wrong, I like their stuff too.
After all that shopping, we made a well deserved ice cream stop! Well, frozen yogurt. Same thing. Zoe had so much fun picking her toppings! Another date to the ice cream shop needs to happen soon!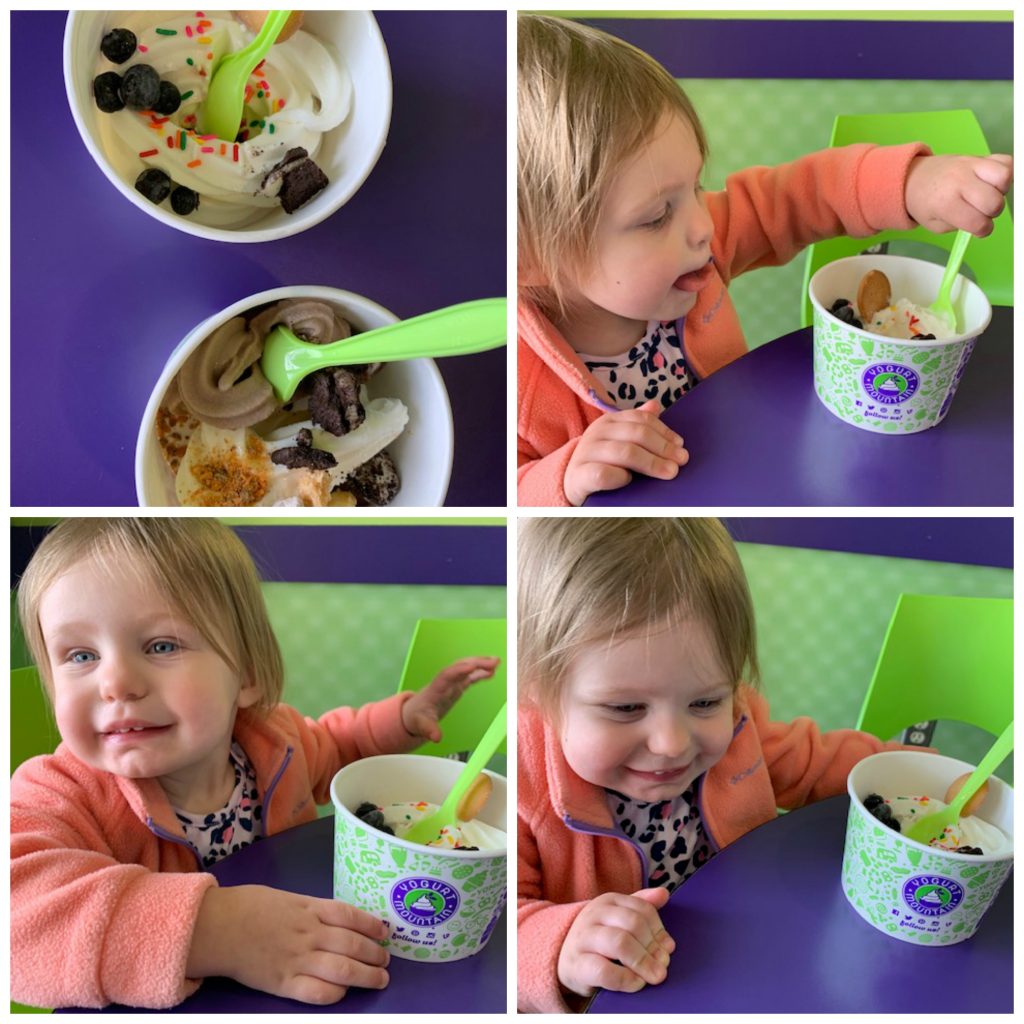 That evening, we stopped by my SIL's house for a few minutes and got Papa John's to go. When we were at Target earlier in the day, I bought Zoe the Baby Shark Fishing Game. She loves it so much!!! We have played every night since we got it. It plays a portion of the baby shark song and is pretty much like the regular fishing game.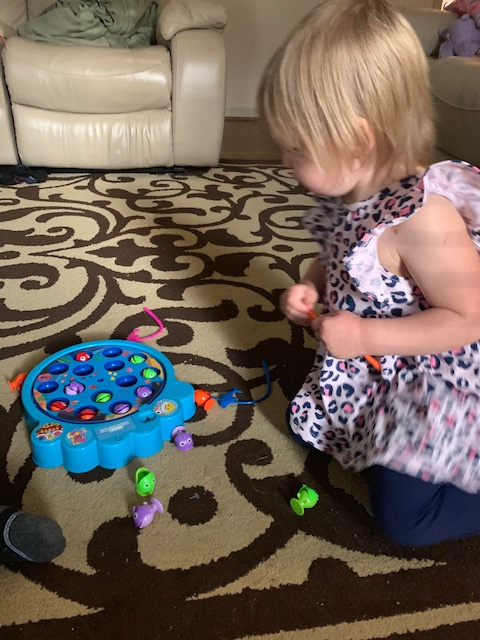 Sunday we did our grocery shopping and then came home and cleaned and straightened the house up. Zoe took a decent nap that allowed me to go outside and cut our front yard. Can you believe it???? Grass cutting in March. Something so wrong about that. All our trees have been blooming down here too (started in February, really). Allergy and tornado season are starting early this year!
We listed our house Sunday night, and now we are trying to decide if this is the right time. There is literally nothing on the market that we want to buy in the area we are looking. Everything that does come along that is decent, is under contract within a day or two. It is a tough, stressful time! We had a showing booked 45 minutes after our house listed, and we had one yesterday morning. We have cameras all throughout our house, and we watched the people mess around with Chris's stuff in the basement. The agent was totally unprofessional. It has really thrown an extra layer of anxiety on top of the situation. WTF is wrong with people???
Meanwhile, I am enjoying how clean and orderly our house is looking! I hate clutter so much, and we got rid of a lot of stuff. There is a whole guest room of shit that we probably could just let go still. I am highly contemplating that!
I meant to have this post published yesterday, but I forgot to schedule it. Happy Weekend Shenanigan Wednesday!