Hey there friends! I am not even sure what is going on with my life right now. I feel like I am barely floating above water. Work takes up far too much of my days, and when I am home I am trying to spend as much time with Zoe as possible….and get shit done whenever I can spare an extra minute. I felt off all last week. Zoe woke up Monday with a fever, so off to the doctor we went. I guess she just had some sort of virus that hung around for a few days. Monday was supposed to be her first day of school for this year, and I hate that she missed it. I stayed home with her Tuesday as well….and we were back to reality on Wednesday. She was so cute for her "first day" picture.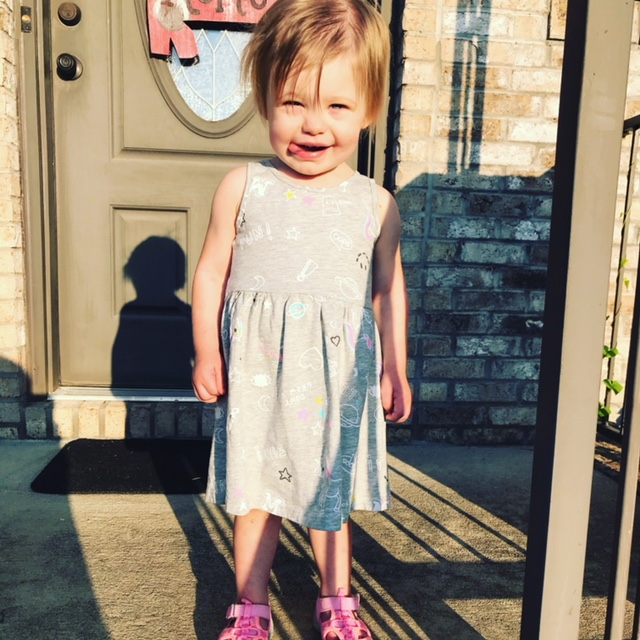 I kicked off my weekend with a trip to Trader Joe's to grab a few things, and stumbled upon this Smoked Salmon Poke Bowl. OMG!!! It was only $5.99 and it was so fresh and delicious! I cant wait to go back and get another one ASAP. I checked on Weight Watchers, and it is only 7 points for the entire bowl, so really not a bad way to spend lunch!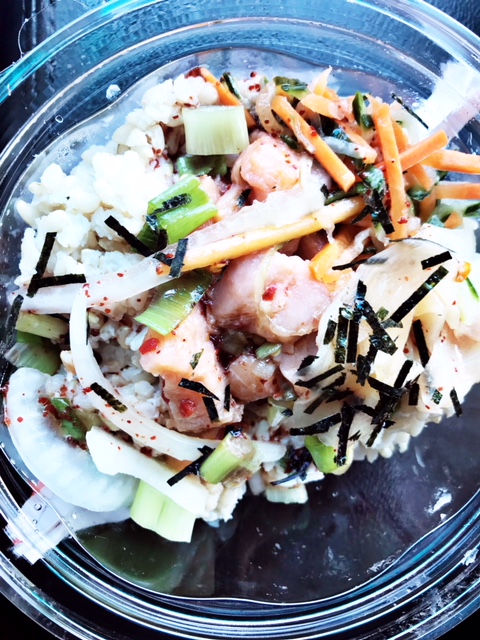 Saturday morning, my sister and her crew were over at our house bright and early to help us do a few things around the house. Words cannot describe the gratitude and appreciate I have for their time and hard work. My BIL spent several hours on a VERY tall ladder painting our foyer area mostly by himself. It looks SOOOOO good now that it is all done! I got a lot of boxes packed up (home decor and stuff from our guest room) while my sister and the boys hung out with Zoe. I feel like we really knocked a lot off our to-do list with them. And Zoe absolutely adores my sister and had so much fun playing with her and the boys. She cried every time my sister left the room and it was hard for her to wave good bye as they drove off in the late afternoon.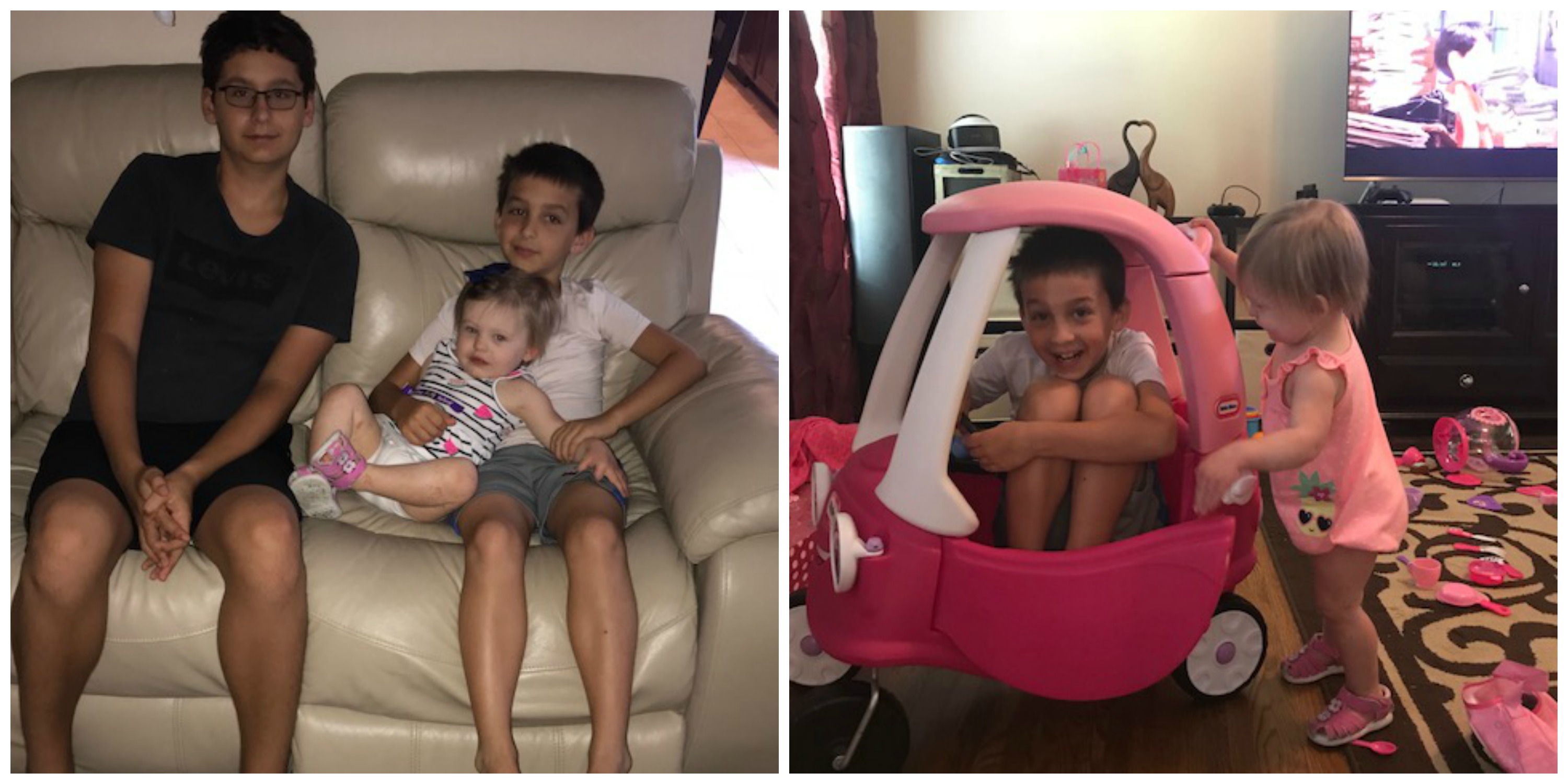 In order to get to the very top of the wall over our stairs, we had to use this handy little paint brush holder contraption. It was pretty cool watching my BIL do it so patiently and perfect!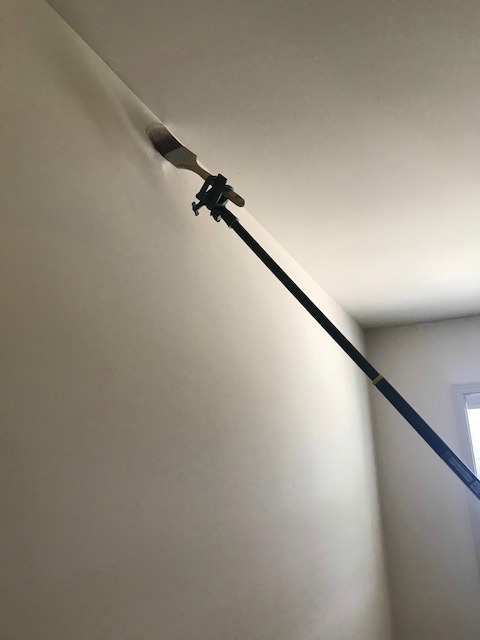 To thank them for their time, I made sure we had lots of snacks available! I had gotten some dips and other fun things at Trader Joe's, and Chris went out and got Landmark BBQ and brought it back for everyone. This Spinach Kale dip from TJ's is low in calories and only 1 WW point per serving. It was seriously SO GOOD and everyone liked it better than the much higher in calorie sour cream spinach dip. Get you some!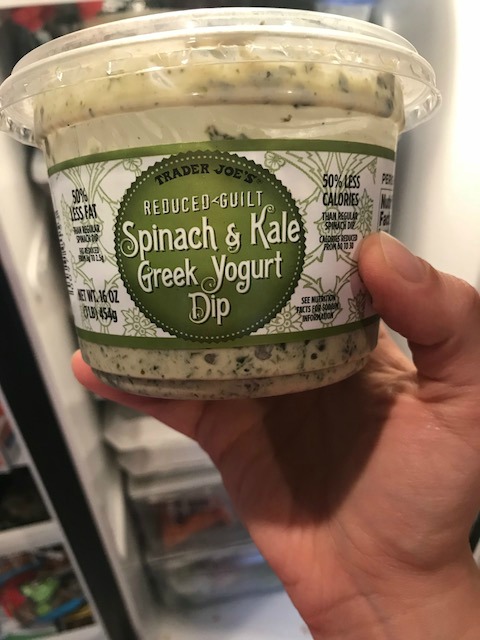 Also not to be missed, is the caramelized onion and feta cheese pastry puffs. These things were divine! As Zoe said, mo peas!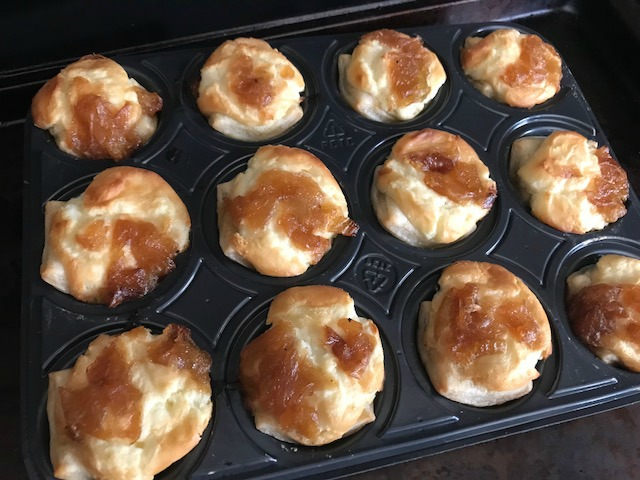 Other weekend things included getting rid of a trash bag full of stuff from the master bathroom and two trash bags out of our bedroom. Why do we have so much shit??? All the cabinets in the kitchen were organized, cleaned and purged. The pantry was half way cleaned, I will get to the rest of it some time this week. The guest hall linen closet and laundry room were re-organized. Now we have the big stuff left…like tackling the garage and moving stuff to a storage unit. Fun times.
Zoe and I made a Target run Sunday morning and ran into two daycare friends there. Funny how we all end up at the same place at the same time. When we got home, Chris was laid out on the couch with a really high fever. 🙁 He was miserable all day yesterday and staying  home from work today. I hate to see him down. And I also hope that whatever he has doesn't spread to the rest of us! It doesn't look like much fun. This week I am just going to focus on knocking out as much as I can a  work during the day, and doing all the cleaning that didn't happen this weekend a little at a time each night this week. I really hope to clear out the guest room and paint it next weekend. Right now that room is full of all the boxes I packed, and a bunch of other stuff!
I hope you all have a great week! Linking up with Biana.