I might be in a little  bit of a food coma from the weekend. It started out Friday with a stop to Dunkin to get an iced coffee. I couldn't resist the blueberry cake donut. It is my absolute favorite. And then for lunch I went to Whole Foods and got brown rice spicy tuna sushi. DELICIOUS!!!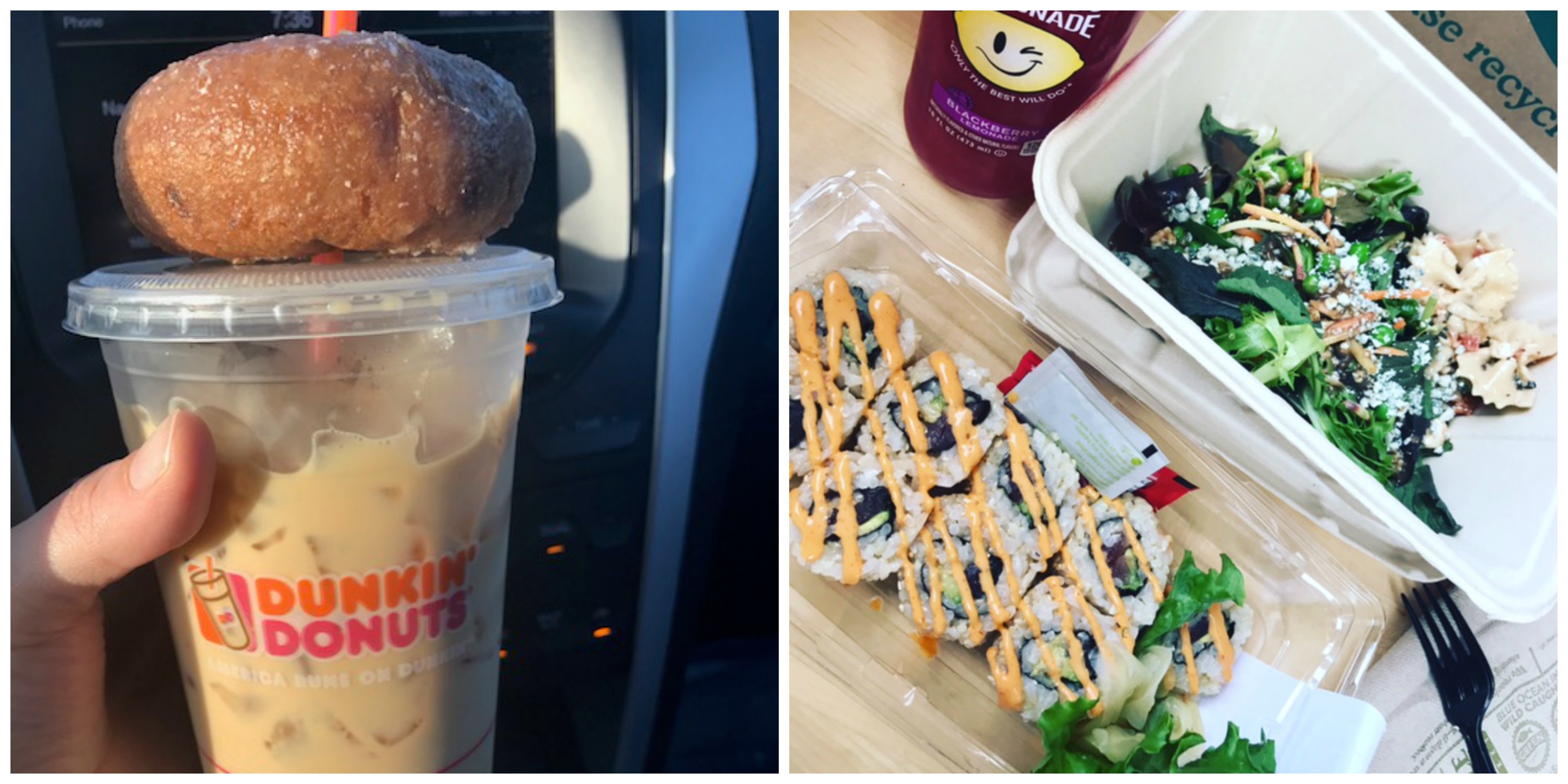 And then on Saturday, we took Zoe to Crazy Horse for dinner. This is one of our absolute favorite places to go for a nicer meal or steak. You would never expect this gem of a place in our tiny little town. We met a friend there and we ordered pretty much all the appetizers. We had a crab cake, boom boom shrimp and bacon cheesecake. You read that right. BACON CHEESECAKE. It was served with tomato jam and fresh baked croutons. You guys. YOU GUYS!!!! So good! Zoe surprised me and was obsessed with the crab cake. Girlfriend ate half that thing by herself. She also indulged in the bacon cheesecake as well. Her and I split the filet and baked potato as our main course. Forgot to snap a picture of that.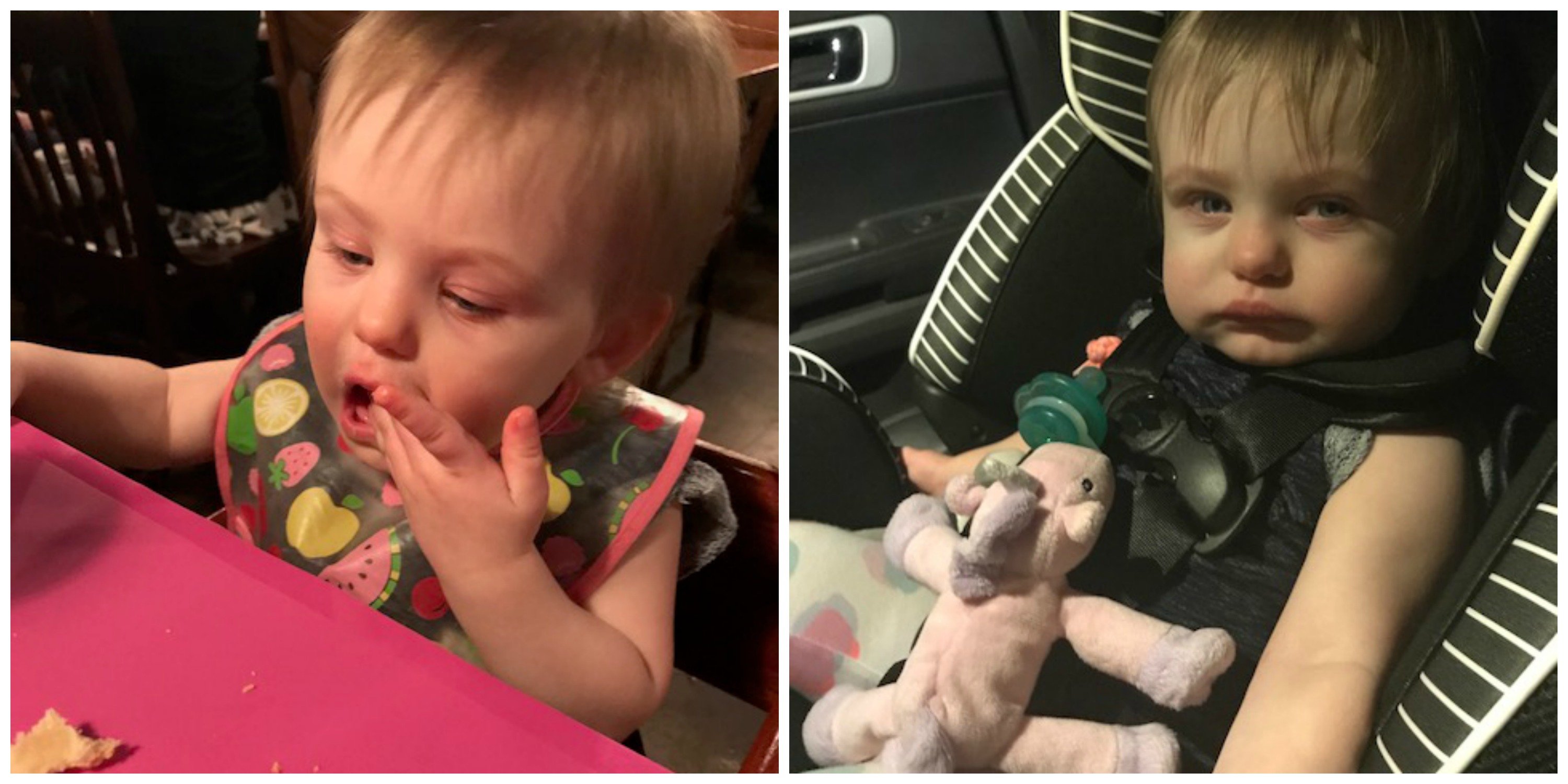 Look at her in her car seat when we got home, in her own food coma. We were at the restaurant for a really long time. Nearly three hours. She was an angel the entire time.
Sunday we headed out to do our grocery shopping and stopped at Sonic on the way home for a cherry limeade. Chris needed a car-dog. (hot dog in the car on the way home, duh)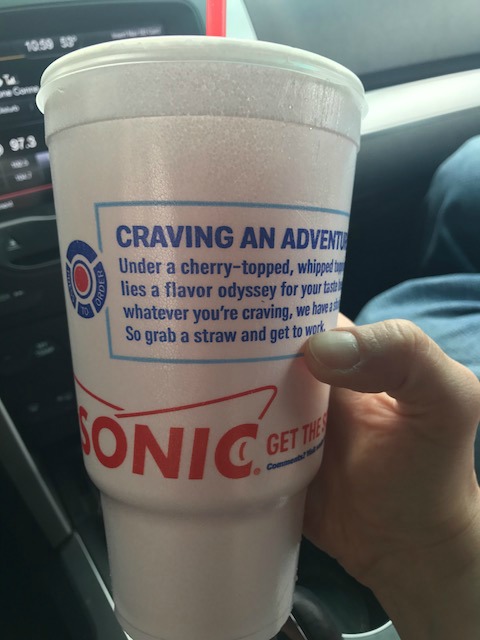 While Zoe napped, I baked some homemade chocolate chip cookies. This was her first time having one and it is safe to say that she is a HUGE fan. Look at her OMG face.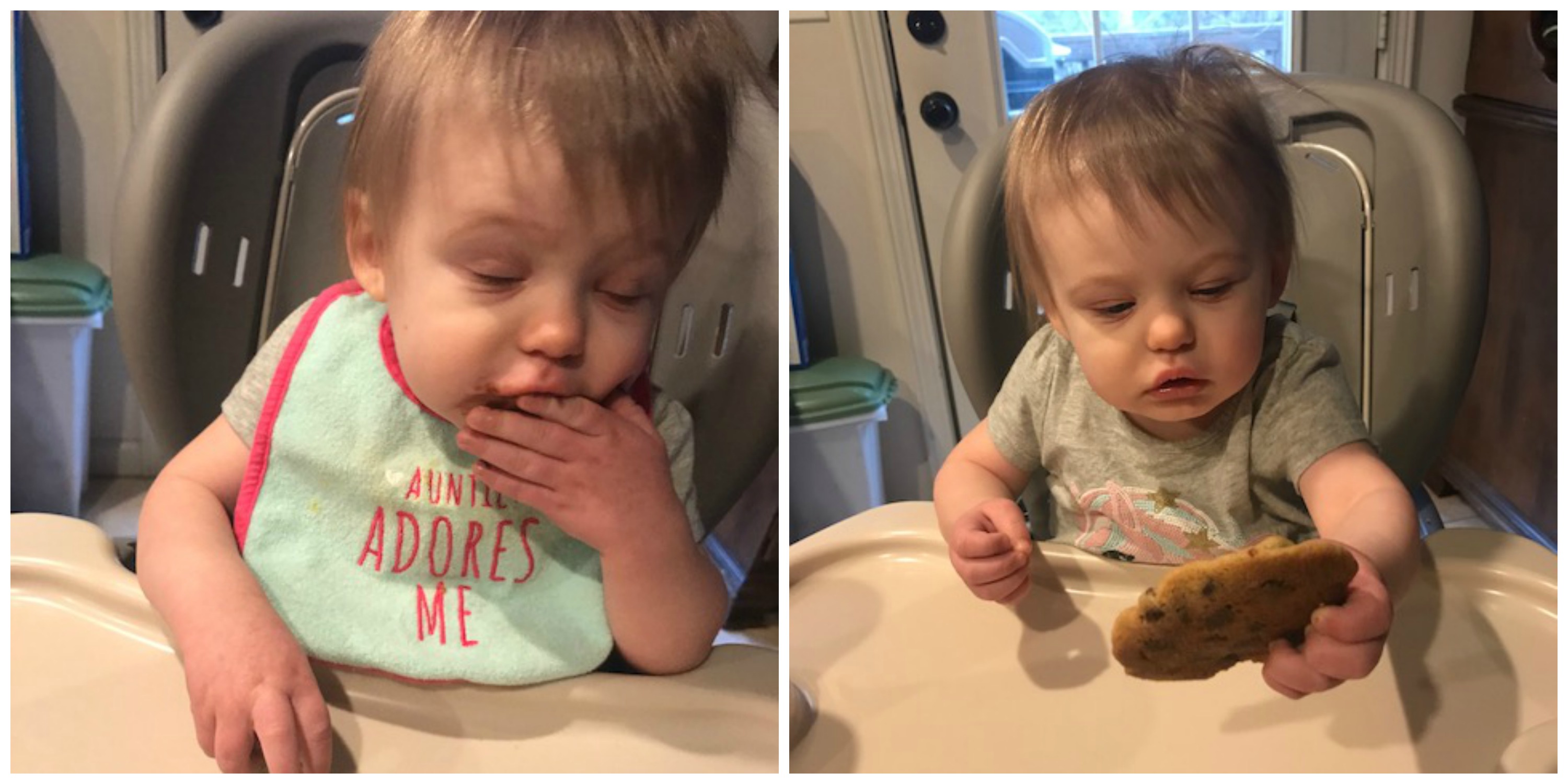 For dinner last night, Chris suggested that we try to make homemade burritos. They turned out SO amazing!!!! I will be sharing my recipe later this week. Trust me when I say you don't want to miss them. They were better than any restaurant.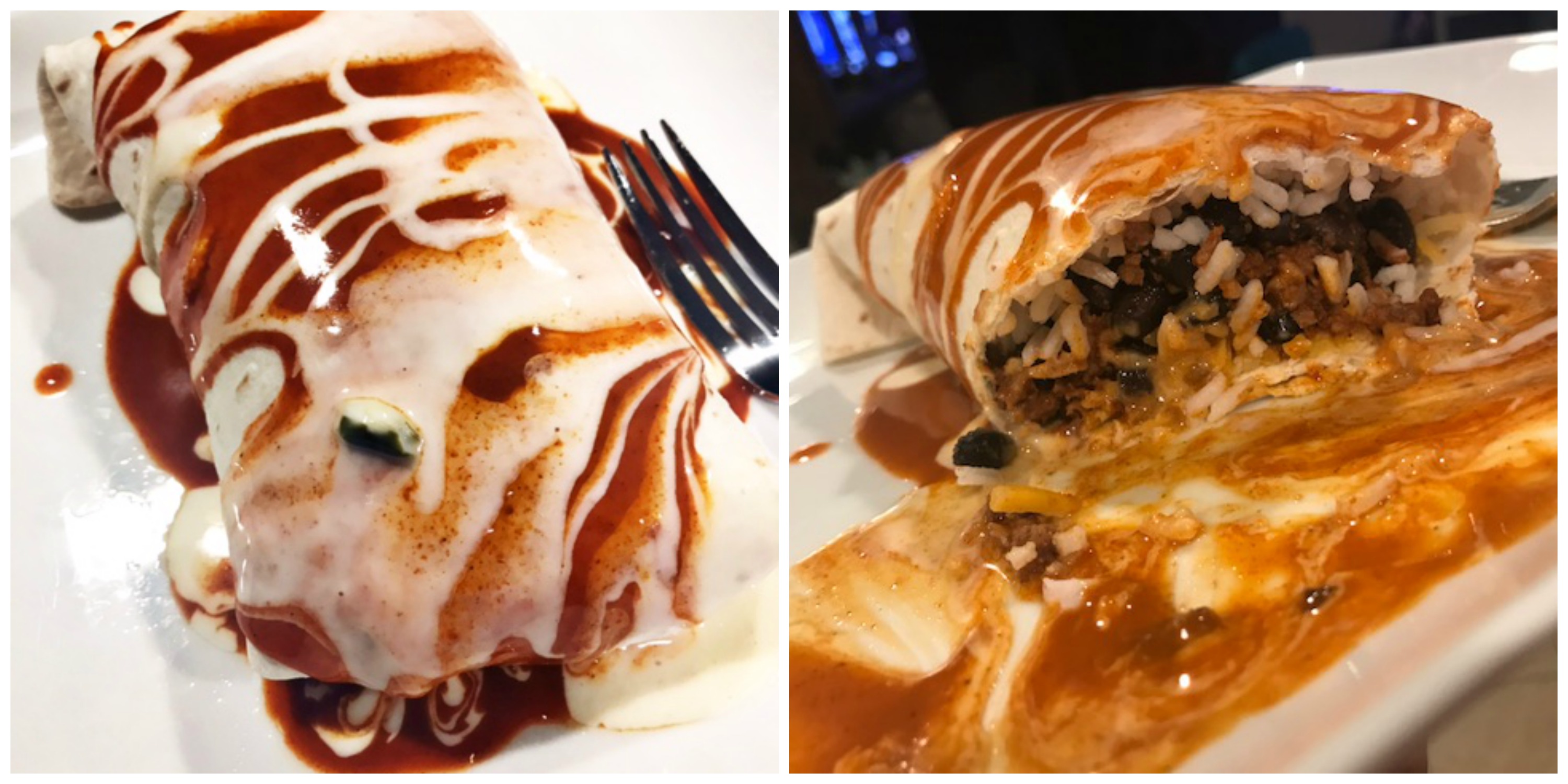 It has been rainy and gross on and off here for weeks now. We have had mild temperatures though, so we can't complain. We have even got to have some outside fun too. Even on dreary days, it can still be beautiful. Look at my ride in this morning.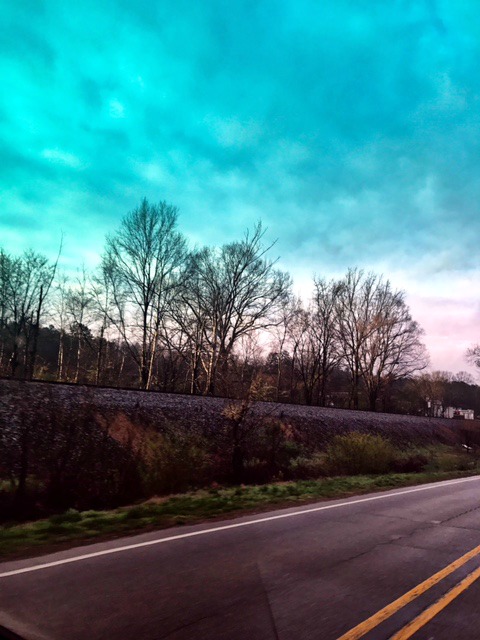 Maybe I am just in a good mood from all those endorphins I encountered on the treadmill this morning. That's right folks. I ran for the first time this morning since I got pregnant. Spoiler alert, I still hate it. But damn it feels good after!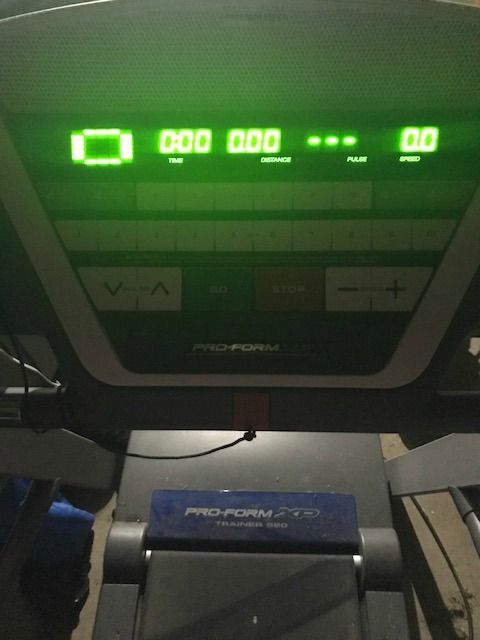 Me and that treadmill got reacquainted this morning and it reminded me who is boss. There is something cathartic about running in your garage on a piece of machinery at 4am, right? I hope you all had a wonderful weekend. Linking up with Biana and Lindsay.