Today is Zoe's first day of daycare and I am sure to be in a puddle of tears right now. We went to the open house last week and one of her teachers asked to hold her and she was hysterical when I was right there. I can't even imagine what it is going to be like when I drop her off this morning. I will for sure be the mom ugly crying in the hallway on the way out! Ugh, I can't think about it anymore….
This weekend was a good one! We started our Friday night out with some turkey taco sweet potato nachos. They were delicious!!! Such a good and fairly healthy way to ring in the weekend!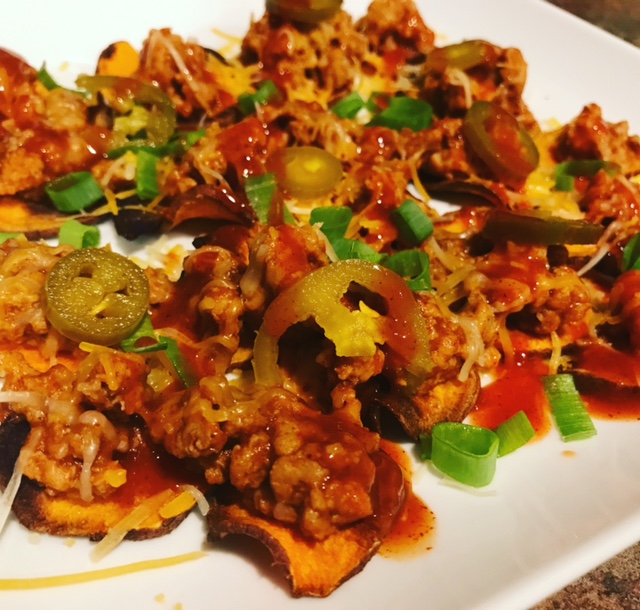 Saturday morning during Zoe's nap, I cut the backyard. Then we headed out to do a little shopping. We scored some major sales for Zoe at Nordstrom Rack and Bargain Hunt. Gotta start putting together her fall wardrobe for the next size up. Fun fact, Zoe loves looking through her new clothes when we get home. Just the way my mom and I always have a "day in review" after we go shopping. She even modeled a headband in her best pose.

We grabbed a late lunch at the Tavern, where Zoe sat in a high chair like a big girl and had so much fun. She might have stared at our crab dip and my burger while she had her bottle. I think she wants the rest of her teeth to hurry on up!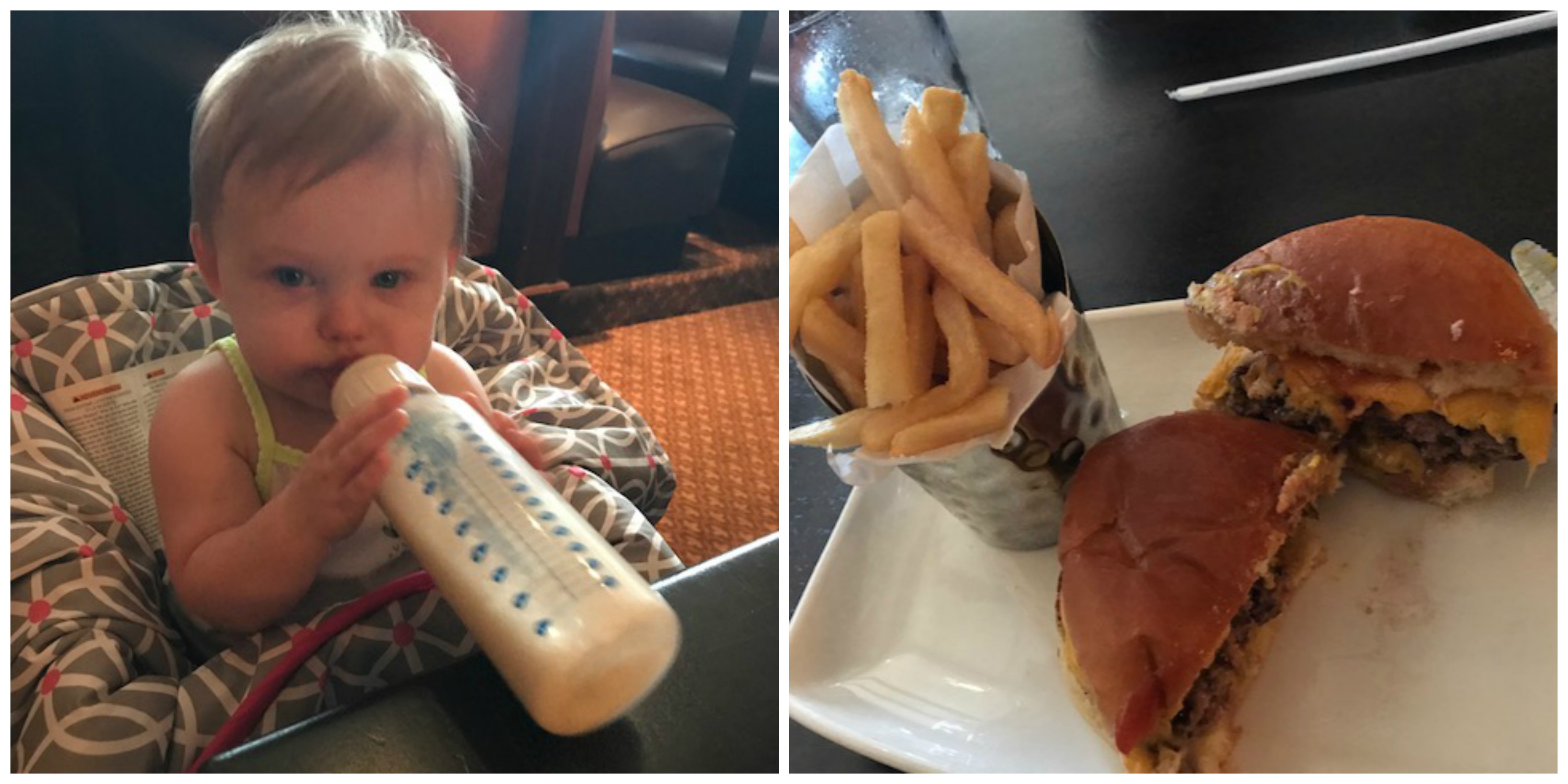 There was a family that walked past our table on the way out. An older man was at behind them all and he looked down at Zoe and smiled and said, "You know, she was that small just yesterday…." Speaking of his daughter who was in front of him and probably my age. Funny how fast they grow, huh?
Saturday night we played many rounds of Zoe's favorite new game. Peekaboo! She is obsessed! She even grabs the curtains behind her bouncer to hide behind now. It is the cutest thing ever.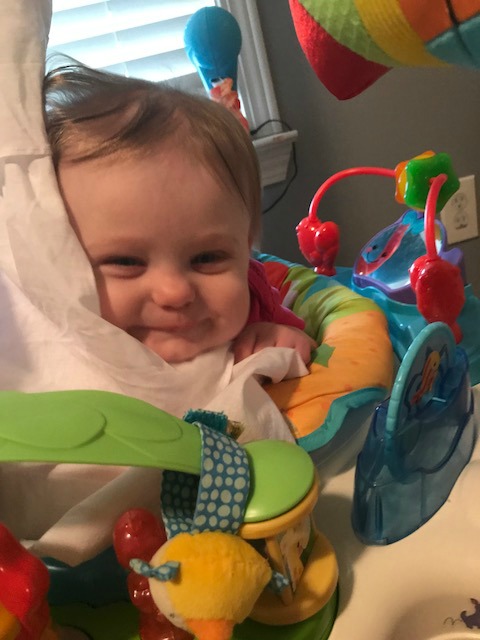 Sunday morning I cleaned up around the house some, meal planned and grocery shopped. We picked up some Olive Garden to go for lunch. They were out of cheese ravioli, so I decided to try the three cheese stuffed shells. O.M.G. SO GOOD! I cant remember the last time I had stuffed shells, probably when I lived with my parents! My mom used to make them all the time.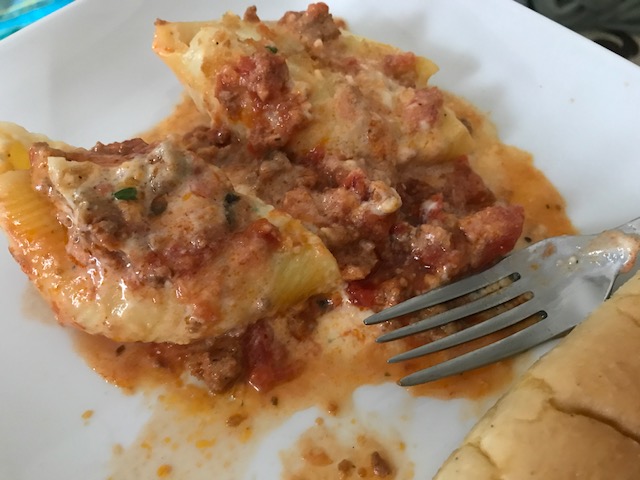 I pretty much snacked off my plate the rest of the day while we caught up to the current season of Ballers. We also tried Goliath and worked through a few episodes of it. It really hooked us in!
Will Billy Bob Thornton ever be anyone other than Bad Santa? I think not. It's a good show, check it out if you are looking for something to binge.
Sunday evening I started getting together everything that I need to send Zoe to daycare with and started reading Roanoke Girls. Can't believe the book link up is tomorrow!!!
One more picture because everyone deserves to ride into Monday on a unicorn. She has the princess wave down.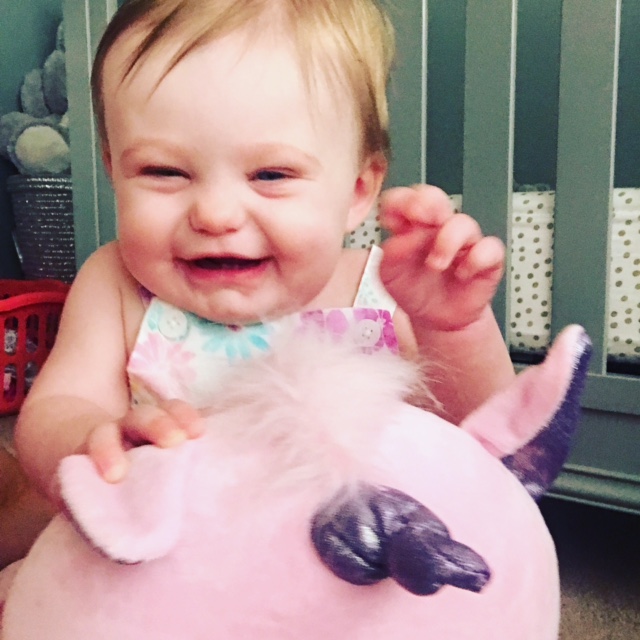 Linking up with Biana. I hope you all have a fabulous week. If you are looking for me, you can probably find me under my desk crying and staring at the daycare cameras on my phone.