I had to double check the date this morning, last day of July already?? Sometimes I sit on the couch Sunday night winding down and I think….how is the weekend already gone? What did we even do?? Work days never go by that quickly, am I right??
Saturday morning, I was out bright and early during Zoe's morning nap cutting the side yard. Man was it HOT!!! I got 3/4 of the way down that huge hill and decided to quit for the day. I had stepped in no less than about 15 aunt piles and had bites all up and down my legs. And a damn armadillo decided to dig holes all over the place, and I had rolled my ankle in one of them. I hate those nasty animals and their gross looking tails. Ew.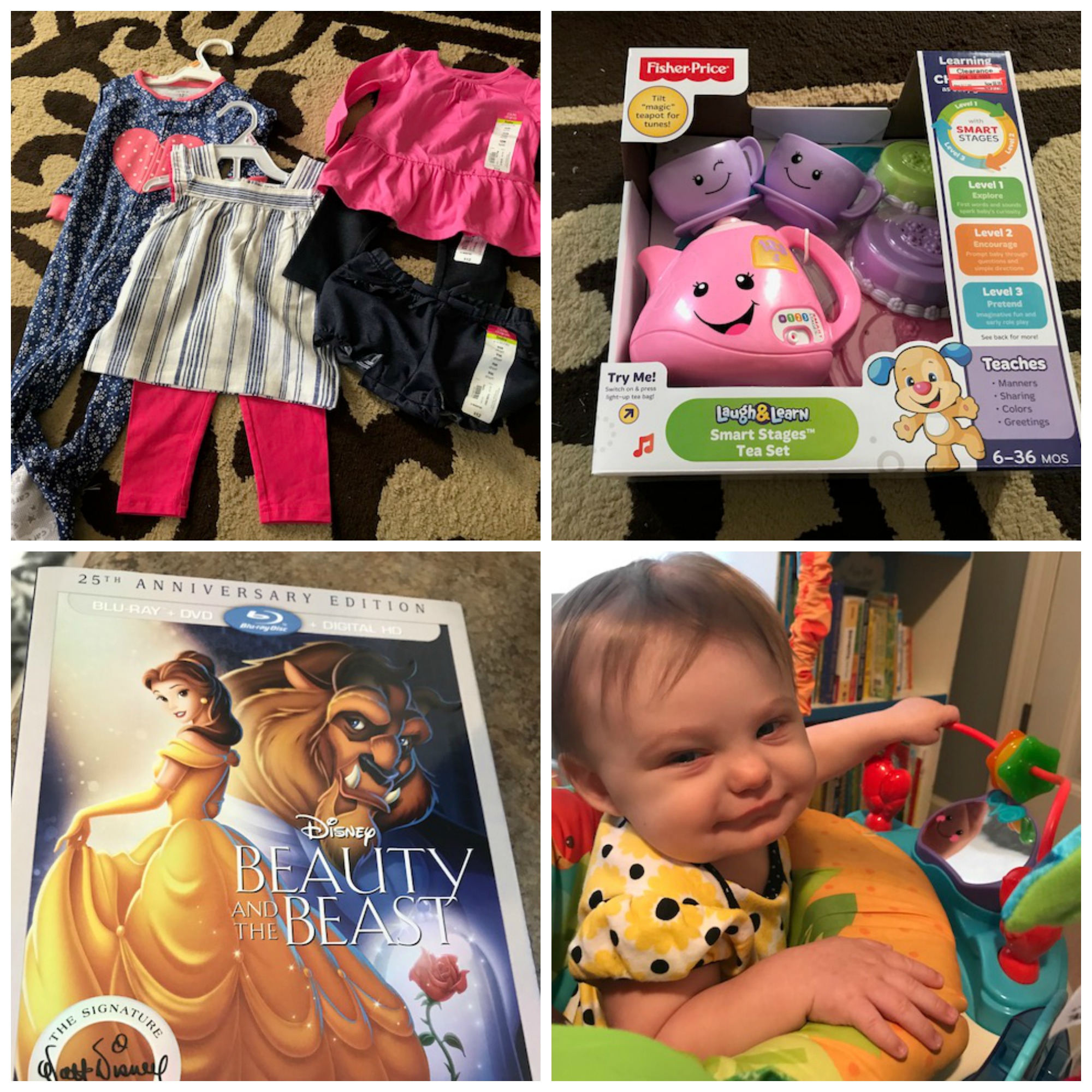 Chris's friend was coming over to watch Tomorrowland with him, so Zoe and I decided to have a girls day! We headed out to JcPenney and Target. JCP was having a Black Friday in July sale and I scored all the clothes for Zoe in that picture above for $17!!! Target had some toys on clearance, so I scooped up that tea party set for $8.98. Every princess needs tea party supplies!!! Cartwheel had a coupon for 20% off all BlueRays and DVDs so I grabbed my favorite, Beauty and the Beast, for Zoe to kick off Christmas shopping. I want her to have a strong collection so what better time to start! I also grabbed some groceries and then headed over to Moe's BBQ to pick up some lunch for the boys.
Saturday night I wasted an hour and a half of my life watching Catfight on Netflix. Have you seen this movie?? I had really high hopes for it because Sandra Oh and Alicia Silverstone were in it. You guys, if you haven't watched it….DONT!!! It was the dumbest movie I have ever seen. I don't even know why I finished watching it? I think out of curiosity to see what the point of it was? Spoiler, there wasn't one. Sandra Oh should have stuck with Grey's.
Sunday morning during Zoe's nap, I finished cutting the side yard and then tackled the front. I have to say I have our grass looking pretty darn good!!! The rest of the day was spent playing with Zoe, making sweet potato BBQ nachos with the leftovers from Saturday, and Chris and I make a huge dent in the first season of Ozark. Now that is a good show!!!!

This is my last week working from home, so cue all the tears. I am going to be soaking up every last second of this extra time with Zoe and enjoying my mornings without that nasty commute downtown. I woke up this morning and worked out to get my week started right. I lost 2 pounds last week and 2 pounds the week before that. My goal is to be at my pre-pregnancy weight before Zoe hits 40 weeks old. I figure 40 weeks on, 40 weeks off. I have 8 more pounds to go! I will be getting a little time in with one of my nephews this week. Hopefully finish up the audiobook I have been listening to before it is due back to the library. And I am hoping my new glasses will be in so I can go pick them up one day this week!
I hope you all had a wonderful weekend. Best wishes for a quick and painless Monday! Linking up with Biana.