Hello, middle of February. What?! This weekend came and went so quickly! Don't they always? I saw so many snow pictures on Instagram from all you ladies up north and you know what we were doing here? Turning on our air conditioning and wearing short sleeves with temps over 70 degrees! But then it dropped to 40 last night and I woke up this morning to it being 66 inside our house. Southern problems.
Zoe had her two month wellness check up on Friday. She did real well during the whole thing, until it was time for her vaccines. My poor baby! She was all smiles and then the mean nurse stuck her in her thigh two times and she screamed and made noises I have never heard come out of her. She then proceeded to give me the "I trusted you" side eye while I was trying to get her dressed again. I don't know if it was harder on her or me?!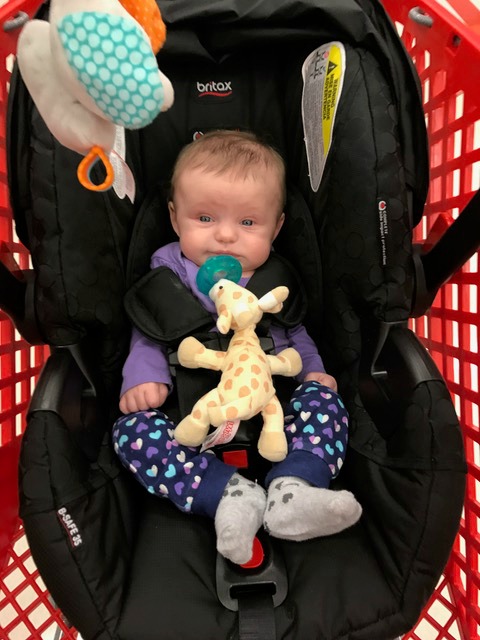 Chris and I stopped by Target and Best Buy after and then picked up Marcos pizza to take home since out little bear was tired.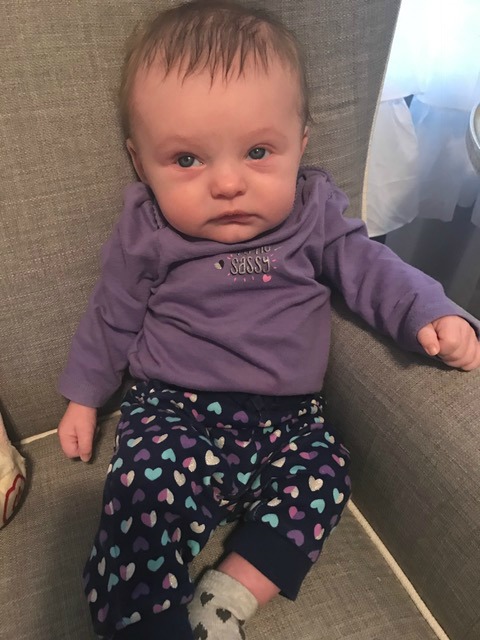 See, she was still not amused when we got home….
Saturday we headed to Babies R Us to return a few things that we aren't going to us. It's funny when you create a registry and think something is so important, but then you never even open it! We picked up a humidifier and a Bumbo seat while we were there. Look at my big girl sitting up all on her own with this thing!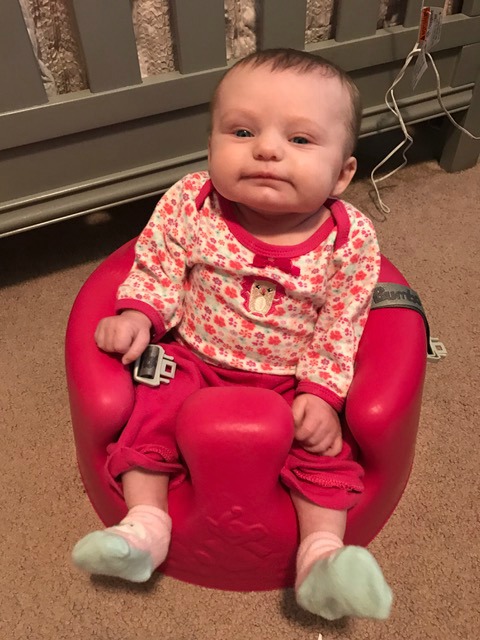 Zoe fell asleep, so Chris suggested we go to Outback and share some cheesy fries and a drink. It was almost like a date since someone slept the entire time. We ordered some coconut popcorn shrimp as well, and I got a strawberry peach sangria. It was delicious!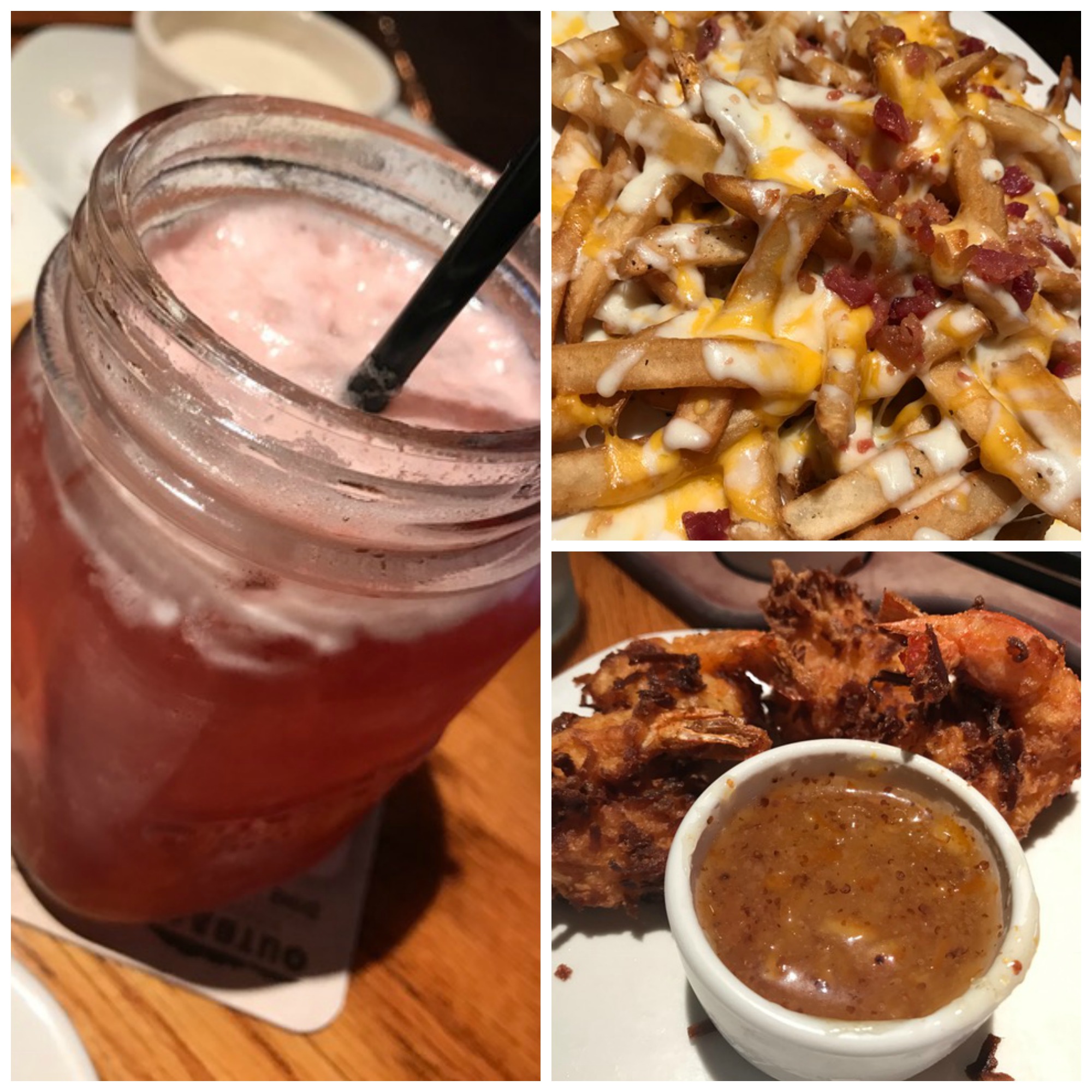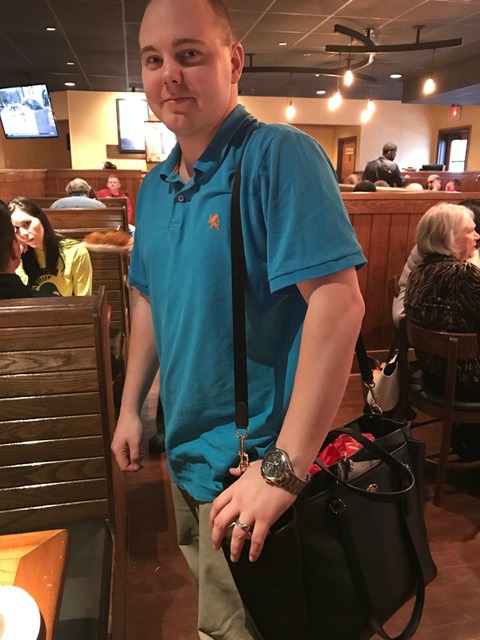 Sunday was all about meal planning and grocery shopping. I ordered the Molten Chocolate Frappucino since it was only out for a limited time. It was delicious and not as sweet as I thought it was going to be which is a good thing. Any moms out there have any tips on how to have more space while grocery shopping with a car seat??? Zoe's doesn't have anything I can hook it to up in the child seat so I am walking around strategically placing things all around her. Luckily I haven't had a grocery avalanche yet, but it is only a matter of time. I know it will get easier when she can sit in the seat and we wont have to worry about her carrier.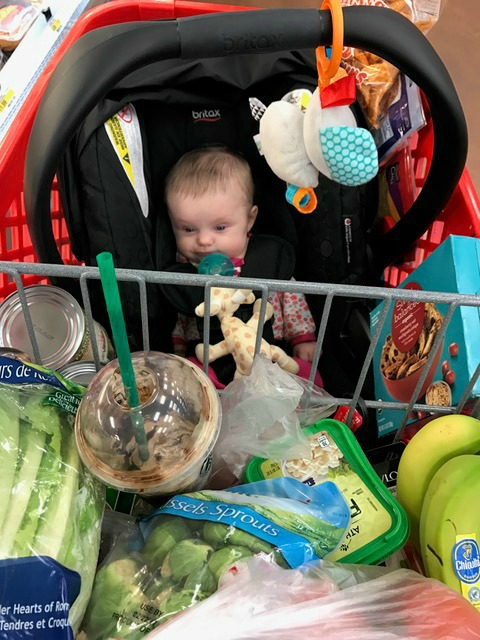 We also grabbed a few things for Zoe for Vday at JcPenney. I went looking for something for me and came out with something for her. Of course! She is in 3 month clothes right now, but I figure in two months when it is warm all the time she will probably be in the next size up so I went with that. Besides, 6 months was the smallest tutu that they had and I wasn't passing that up!! I got all three of these items and a work out tank for me for $17.12!! If that isn't a bargain, I don't know what is.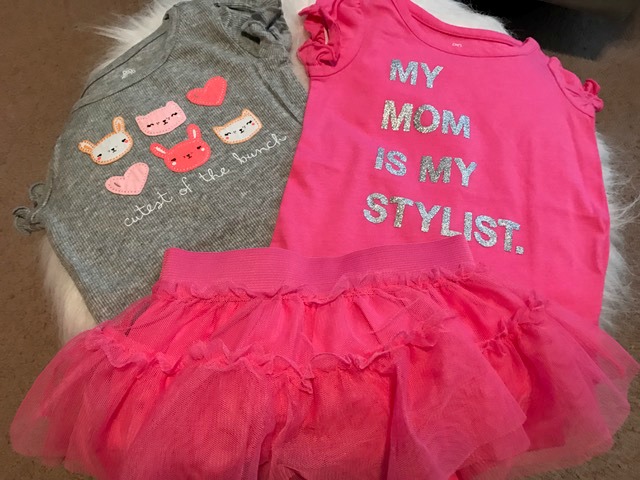 For seven years I have made Chris lasagna for Valentine's Day. This year is no different. I actually made it last night and we will have it left over Tuesday. I don't get home until 7pm the nights I go to the office since I have to go pick up Zoe, and lasagna take some time.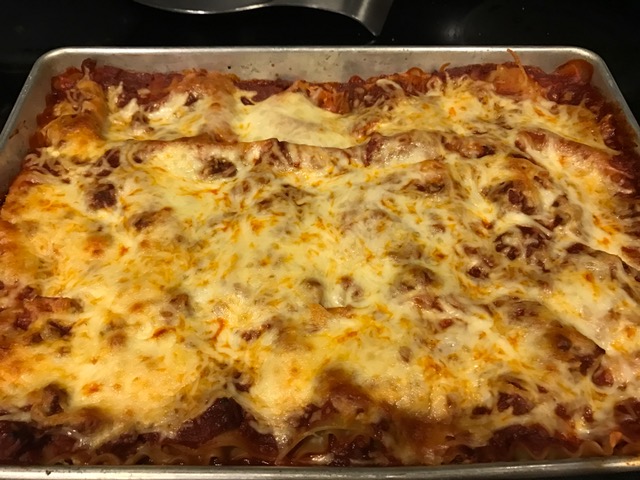 I hope you all had a fabulous weekend! Linking up with Biana.