What a title. I mean, I don't really want to call it weekend things on a Wednesday….or shove this all in a Friday post. You know? It has been a long week and it is only Wednesday. Work is nutso, there must be something with the moon because Zoe has been testing my every last nerve that I have left, and just other life things that make you wish you weren't an adult.
We did have a fabulous weekend. We watched some Christmas movies and made homemade hot chocolate and smores.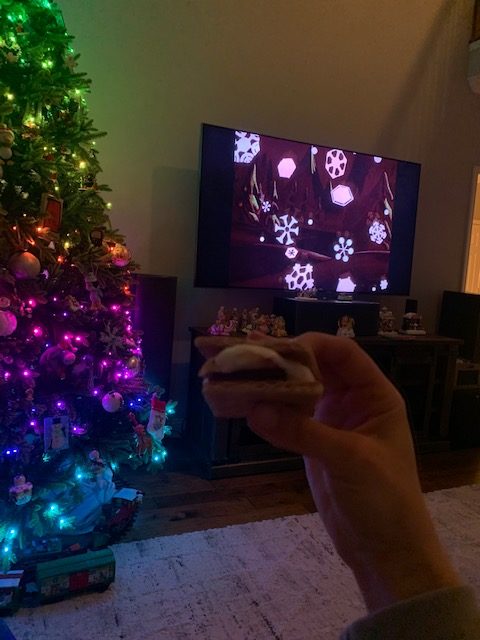 I have found my new favorite adult beverage of all time. Half apple cider, half amaretto, dash of cinnamon. Freaking amazing. Don't take my word for it, a few of you messaged me that you tried it after seeing it on my stories and are in love as well. Don't sleep on this. How much longer can we find apple cider in stores?? I am stocking up!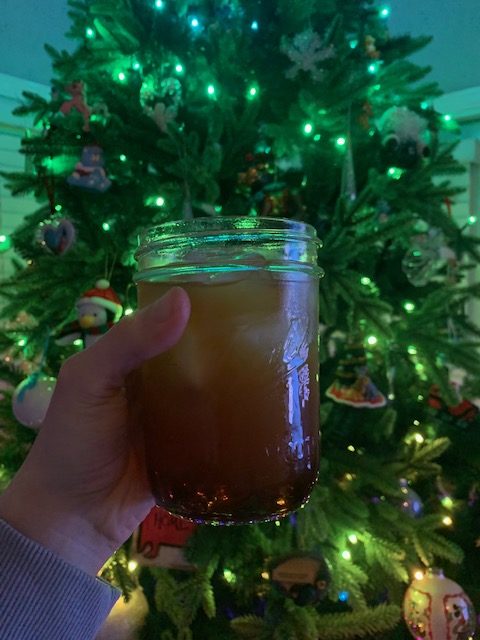 Zoe goes through cycles with her toys. She got Violet last year for Christmas, and while she has always liked her and she makes an appearance fairly often for a few minutes at a time….she is in heavy rotation now. I think it is really sweet to see her brush her teeth and put her to bed every night.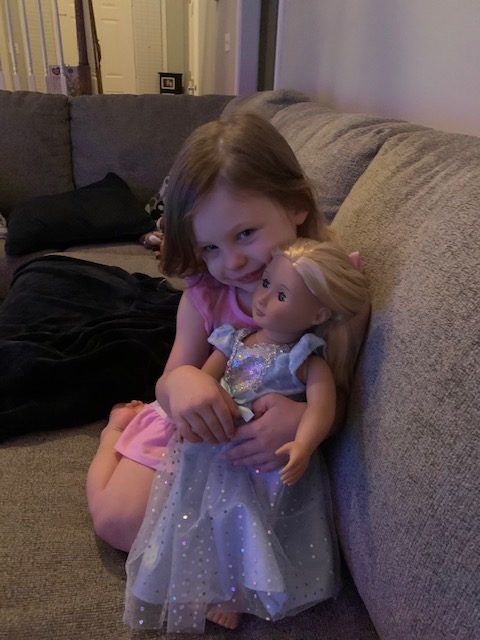 I cant wait to take Zoe to the American Girl store in Atlanta sometime next year. Given that things calm down. I think that it will blow her mind.
Saturday night, Chris and I poured some drinks and got busy in the basement unpacking the million boxes of video games that we have. We got them all unpacked, and I think he is still working out some placement of things down there…but the games are done!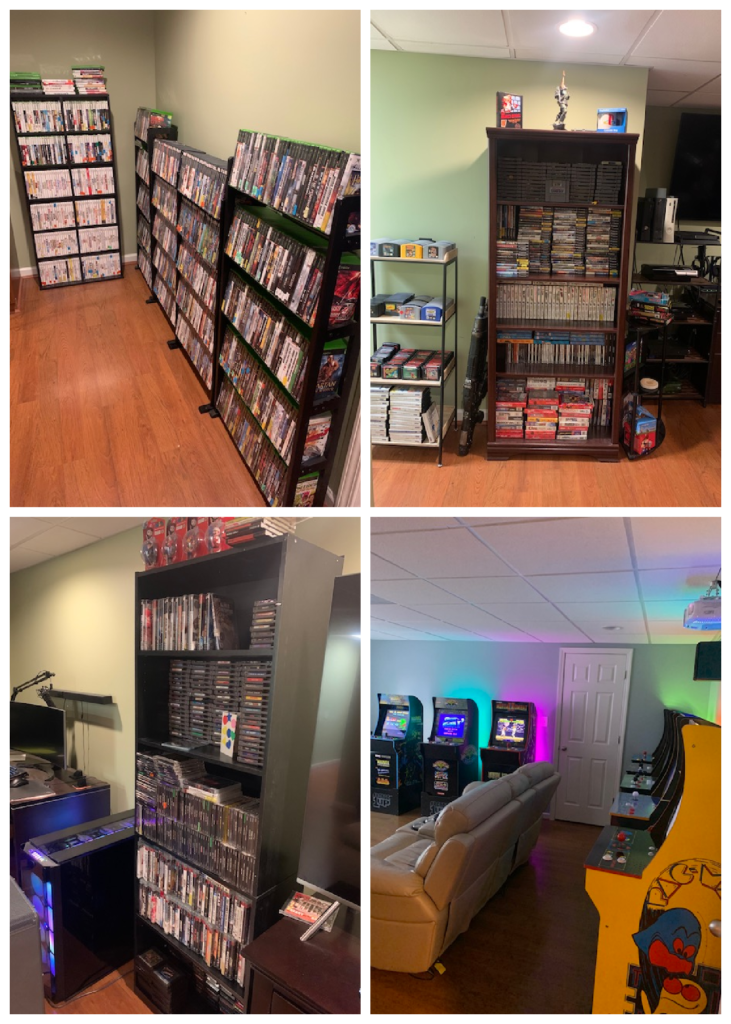 Now to find the time to play all of them!!!
Sunday morning, Zoe and I were up early making a white chocolate oreo pie with homemade whipped cream. Zoe said it is the best pie she ever had. It was pretty damn delicious.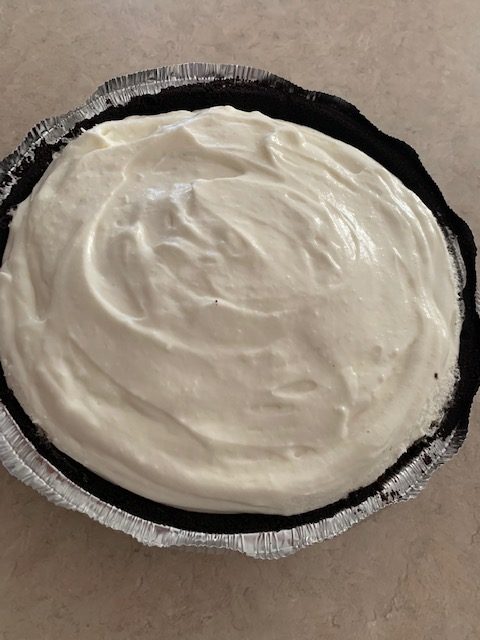 We then got started on breakfast, making biscuits from scratch (what a labor of love!!!) and gravy for them with a few other things. I declared that the kitchen was officially closed after that. But we all knew I was bluffing and I ended up making homemade fettucine alfredo for dinner later that day.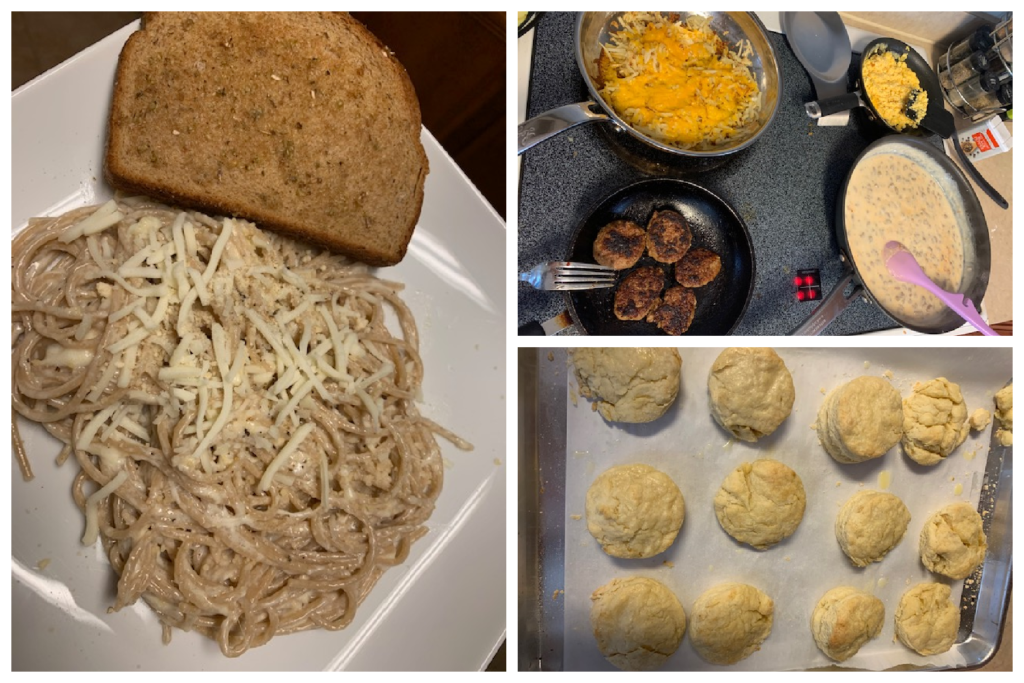 It has definitely cooled down here this week. We had to turn our heat on, as it is dropped in the 30s overnight! I am pretty sure my neighbors think I am nuts, outside walking at 6am in the weather…but I am not quite ready to give up my morning walks just yet. That fresh air has been so good for me before the start of my work day. I still have that northern blood running through me, the cold never bothered me anyways.
I didn't realize that Thanksgiving was next week until I looked at the calendar Monday morning before my meeting. I can hardly believe it! This will be the first year ever that I do my own thanksgiving meal. It is really depressing to think about. It will just be the 3 of us. Not family late lunch. No Black Friday shopping all night and the next day with my mom. I hate this pandemic so much sometimes. It has taken so much from us all. I am going to focus really hard on remaining positive and making the most of our day. Maybe we can make some new traditions. Do you have any Thanksgiving traditions? Are you planning on spending it alone this year, or are you braving a larger gathering?
So many decisions this year that I have not enjoyed making. As we round the corner after next week, we are coming up on Zoe's birthday and Christmas too. I wish people would have taken things more seriously this year. I wish everyone would just wear a damn mask and do their part to help contain this shit. This is my absolute favorite time of year, and I am trying to do everything I can to make it as fun and normal as I can. But inside it kills me a little more each day. Then I look on social media and see all the hate and think to myself, maybe I am glad we aren't going out places and seeing all these assholes. It is nice to live in our little bubble and ignore a lot of the stuff going on.
This guy isn't mad about it…