You all know my love for Janet Evanovich and her Stephanie Plum series, so I was so excited to see she had a new book coming out in another series. There is just something about the way that she writes that I really like.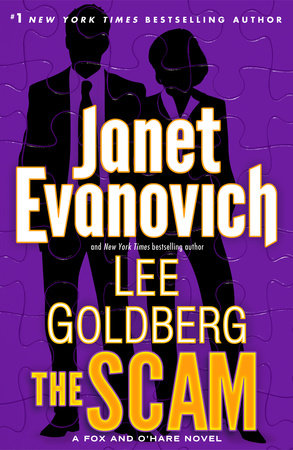 I would like to note that I haven't read the previous three books in this series, but was able to just pick this one up and enjoy without feeling left out. The Scam is #4 in a series about FBI agent Kate O'Hare. It would appear to the outside world that Kate is on Nick's trail to bring him down when secretly, Kate and Nick team up to take down other criminals.
This whole book is setting up for a con to take down Evan Trace who runs a casino in Macau for others to launder money through. Trace's customers are criminals, mobsters, dictators and terrorists. Nick and Kate go undercover to launder money in hopes to take Trace down. They team up with a Somali pirate, a Canadian actor and Kate's father who is an ex-solider.
What I liked that is different about this series over the Plum series is that Kate is a capable FBI agent. She is a kick ass female character who  is in control. Stephanie Plum was about as qualified to be a bond agent as I am. While I love the Plum novels like no other, it is nice to read about a capable female! Girl power!
You get a little bit of cat and mouse between Nick and Kate as they flirt with each other. There is plenty of Evanovich's humor thrown in. You learn a little about the secondary characters, and all around this was a great read. Nothing too deep or crazy, I consumed it in a matter of just a few days. I will be looking forward to the rest of the series!
I was provided a copy of this book  by the publisher and author via NetGalley in exchange for an honest review.